passionate people
Former University of Michigan football player Dhani Jones tackles his passions
Posted on Sat, Jul 31, 2010 : 6 a.m.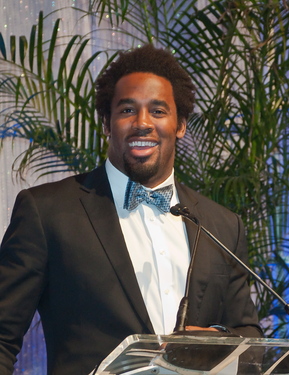 Between hosting a travel show, playing football and sporting his signature bow ties, Dhani Jones has never had a problem expressing himself. His passion for sparking conversation has led him to help others find their voice, inspiring them to pursue their own passions.
"My passion is effecting change through conversation," said Jones. "I think a lot of people go through life without knowing what they want to do. My passion is sparking that level of conversation so people understand what they want."
This dream is something very personal to the Cincinnati Bengals linebacker and star of travel show, "Dhani Tackles the Globe." Jones cited his time at the University of Michigan as one of the biggest catalysts for his desire to pursue this passion. He said that his experience on the U-M football team as well as the strong academic program helped to shape him into the person he is.
"It's a defining moment when you go to college," he said. "You learn so much about yourself, so you're able to understand what you want to do and where you want to go because you have access to so many different people and experiences."
It was during his senior year at the university that his childhood best friend, Kunta Littlejohn, had been diagnosed with cancer. Littlejohn gave Jones a piece of unforgettable advice. He said, "If you want to be anybody, you've got to wear a bow tie."
Although at first he was reluctant, Jones wore a bow tie as support for his friend and it became his signature after Littlejohn recovered from his illness. In 2005, Jones developed the company, Five Star Ties. From this company sprang Bow Ties for a Cause, a line of bow ties made specifically to raise awareness for causes.
"Bow Ties for a Cause allows people to speak about their passions and communicate through the bow tie," explained Jones. "People used to wear those Livestrong wristbands. Here's another way that people can express themselves."
Passionate People
Dhani Jones
Age: 32
Hometown: Potomac, Md.
Occupation: Professional football player, television host, philanthropist and creative partner
The story: Former U-M football player, Dhani Jones, talks about discovering his passions and urges others to do the same through conversation.
One of his goals is to give something back to Ann Arbor, the city that inspired his passions. Jones, in collaboration with former U-M coach, Lloyd Carr, is currently working on a special bow tie for the Mott's Children's Hospital. He hopes that people, especially U-M alums, will purchase these bow ties in order to raise funds for the hospital.
"I want this bow tie to be the most visible bow tie in the world because there are so many alumni supporters," he said. "We need to find cures and heal children from whatever sickness and wounds they have."
Jones also hosts his own television show on the Travel Channel called "Dhani Tackles the Globe." In this show, he travels to different countries across the world and participates in local sports and pastimes. He said that this has been a great opportunity to learn more about other people and himself. It has also afforded him the opportunity to be a teacher to others.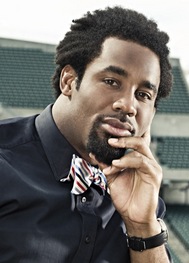 "As an individual you can only do so much but as a collective you can do so much more," he said. "You take all the learning you gain from across the world and give it to more people."
Jones also partakes in his other passions in his spare time. His other interests include music and poetry.
"Music and poetry are ways people connect, much like sports and travel," he said. "These words and conversations with the rhyme and meter allow people to entertain while communicating, while describing what they love or are passionate about."
Jones continues to spark conversation, teach and learn. He still has many goals and projects in mind for the future.
"I want to educate, to reach out, to travel the globe to understand other people, to be a profound football player, to impact the game's outcome, to become a creative-minded individual, to provide a different perspective because all people are different, but so similar," he said.
"There are plenty of roadblocks, but that's part of life," said Jones. "But if you are motivated and you are truly passionate about it, you'll run through them. You reckon it's the greater good. It's the future, the present and it needs your support."
For more information about Bow Ties for a Cause, contact Chad Williamson, director of philanthropy, by phone at 813-293-8969 or by e-mail at cdwilliamson@clintonschool.uasys.edu
Ellora Gupta is a junior at the University of Michigan with a strong interest in passionate people. If you want to share your passions or the passions of others, please contact her at egupta@umich.edu.