MLive.com:

Pure Michigan video showcasing Michigan Stadium, Ypsilanti Water Tower to debut at Detroit Lions opener

Posted on Wed, Sep 5, 2012 : 2:04 p.m.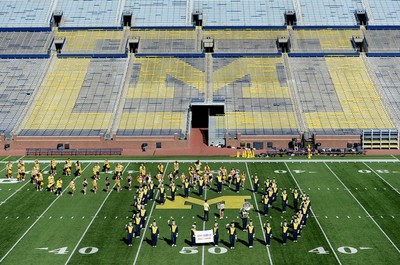 Melanie Maxwell I AnnArbor.com
The Pure Michigan video that captured 50 Michigan cities, including Ann Arbor and Ypsilanti, will be shown during the halftime of the Detroit Lions home opener this Sunday at Ford Field, according to MLive.
Status Creative founders Rob Bliss and Jeff Barrett created the video during a seven-day trip around the state. The organization is known for its successful Grand Rapids Lip Dub video.
Only those at the game will see the premiere of the video, but after it airs around 2:45 p.m., it will be available to view on demand on the Pure Michigan website and on YouTube, MLive reports.
"We're very close to a finished product," Barrett said. "We've got just a few touchups. It's looking good and we're excited to share this video with Michigan."
AnnArbor.com previously reported that the Ann Arbor portion of the video was shot at the Michigan Stadium and featured 40 members of the University of Michigan Marching Band, 40 cheerleaders and 25 dance team members participated in the Ann Arbor portion of the video shoot and sang a modified version of the song "Good Time" by Owl City and "Call Me Maybe" singer Carly Rae Jepsen.
More than 100 people showed up for the Ypsilanti shoot at the water tower on Cross Street to participate in a 5-second clip to be featured in the promotional video.
Read the full MLive story here.