Posted on
Wed, Nov 10, 2010 : 8 a.m.
Susan Messer, author of 'Grand River and Joy', shares the joy of writing
By Trisha Paul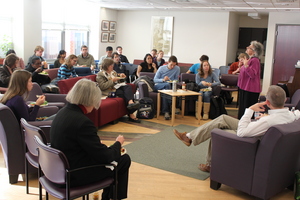 Over the crunching of salad, the tearing of potato chip bags and the chewing of sandwiches, Susan Messer's voice spoke out to the group of Honors students and faculty who sat in front of her. The interesting thing is, even though I had never met her before, I felt like I had heard her voice before.
And in a way, I had. Through her novel "Grand River and Joy," which was the summer reading book for the Honors Program students at the University of Michigan, I had been able to hear her voice through her words. And now, here she was, sitting with us and telling us about her life and her experiences.
Lunch with Honors is one of the many unique opportunities that the Honors College offers to its students. Guest speakers like Messer representing a variety of disciplines speak to the Honors students about their experiences and discuss their interests with us over a casual meal. With this being my first Lunch with Honors, I have to admit, I was impressed. Susan Messer wasn't just talking to us about her life, but she was talking with us. It really was an open discussion, and the atmosphere in the room reflected what the Honors College is about by creating an environment for intellectual discourse.
Susan Messer told us about her life and the experiences that led to becoming a writer. She grew up in Detroit, which is where "Grand River and Joy" takes place, and majored in anthropology at the University of Michigan. She was offered an editing job, for which she had no prior experience, based on her hard-working and determined nature. Through the influence of a close friend, she began to immerse herself in the writing world by attending writing workshops.
"Life just happened to me," Susan Messer emphasized. "It was all the little things that led me to become a writer."
She had never wanted to be an editor or a writer, but it just happened. She explained to us how her experiences took her on the path to being a writer. She began to set aside time each week, every Sunday morning, to sit down and write. Over time, she would start to think about what she would write throughout the week, and her time to write soon began to seep into other days. After short stories, essays and years, Messer felt ready to delve in to one of her short stories and start a novel.
After Messer had told us a little bit about herself, we had the chance to ask her questions. Some people asked about how being an editor has affected her writing process. Other people asked her for advice as a writer, like how she overcomes writer's block, how to get your writing read and published or how to create a plot for a favorite character.
"You can find inspiration everywhere," Messer explained.
One person asked her about what her favorite part of the writing process is. "Discovery," Messer replied. The writing process and the thinking that goes along with has been a learning experience. "Writing has become a part of my identity," Susan Messer explained.
As someone who loves to write, it's hard not to be inspired by Susan Messer's passion for writing. "Grand River and Joy" is an eloquently written book that not only looks at the 1967 Detroit riots/rebellions in a different light, but it also reveals Messer's unique writing style and voice. As a reader, I felt like I could really connect with the characters because of the way she showed us their lives.
One of the reasons that this book was chosen as our summer reading book was to introduce students to the city of Detroit. Through the Semester in Detroit program, students have the opportunity to spend a semester living, learning, working, and being a part of the Detroit community. For many students, especially those from out-of-state, exposure to Detroit's unique culture through the novel has interested them in what the city and this program have to offer.
It was impossible to hold back a smile while listening to Susan Messer talk about what it is like to be a writer and what writing means to her. In many ways, she was able to express a lot of the ways that I have often felt about writing. Just being in that room surrounded by others who were enthusiastic or curious about what it means to be writer was exciting. As hard as a career as a writer must be, writers like Susan Messer truly love what they do. And it was inspiring to be able to see that for myself.
Susan Messer signed my copy of "Grand River and Joy," leaving me with one last lingering thought:
"We are ALL Detroiters."
Trisha Paul is a freshman at the University of Michigan who writes about her first year at college. She is a former editor of The Emery, Huron High School's student newspaper.