Posted on
Sun, Jan 1, 2012 : 3:57 p.m.
New University of Michigan women's hospital sees its first Baby New Year
By Janet Miller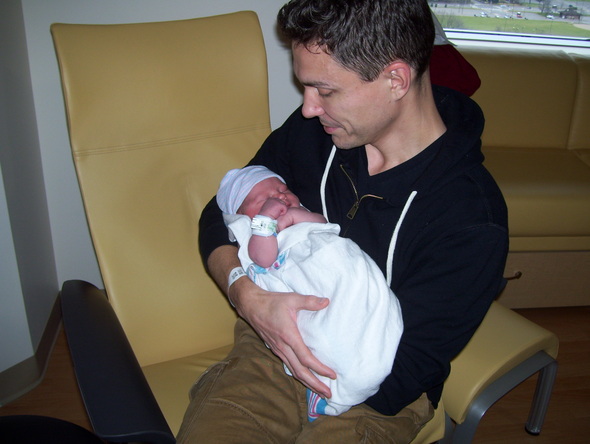 Photo courtesy U-M Health System
Little
Jacob Donovan Wisniewski
was heralded into the world to the sound of noisemakers and the clinking of champagne glasses when he made his debut at 5:55 a.m. on New Year's Day.
While his due date was Dec. 29, Jacob, tipping the scales at 8 pounds, 8 ounces, took his time and became the first baby born at the University of Michigan's new Von Voigtlander Women's Hospital in 2012.
Jacob is the son of Samantha Tarras and Mark Wisniewski, of Berkley.
Baby Jacob has other bragging rights: He was born at his mother's workplace. Tarras, a general surgeon, is completing a surgical intensive care unit fellowship at the U-M Health System.
"We knew there was the possibility of being the first baby of 2012 but thought that by that hour, someone else would have delivered their baby," said Tarras, who labored overnight.
Jacob is the hospital's first New Year's Day baby: On Dec. 4, the U-M's C. S. Mott Children's Hospital and Von Voigtlander Women's Hospital moved to a new $754 million, 1.1 million square-foot facility that is home to cutting-edge specialty services for newborns, children and women.
For his efforts, Jacob was given a goodie bag that included a Hail to the Little Victors onesie, hospital officials said.