Posted on
Tue, Apr 9, 2013 : 10:24 a.m.
YMCA kicks off 'Pedaling for Parkinson's' program; Ypsilanti Senior Center hosts free gardening talk
By AnnArbor.com Staff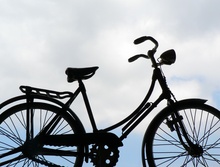 From a cycling program for those diagnosed with Parkinson's disease to a free gardening talk on perennials at the Ypsilanti Senior Center, here's a roundup of some of the stories posted on AnnArbor.com's
Community Wall
over the past week:
By: Jan Hack: ANN ARBOR YMCA initiates Pedaling for Parkinson's Program
The Ann Arbor YMCA is initiating a Pedaling for Parkinson's exercise program for people diagnosed with idiopathic Parkinson's disease.
By: Gardener: Perennial Combinations with Janet Macunovich
With 30 years experience as aprofessional gardener, Janet has a lot to share about practicality, beauty, fun and great ideas for you to use in your own garden.
By: janawritesalot: Michelle Chamuel of Ella Riot/My Dear Disco auditions for The Voice
By: Rebecca Parten: Memory in the Mirror Workshop in Ann Arbor: May 5 @ 2pm
By: The Whole Brain Group: Donuts and Inbound Marketing
By: Erin K. O'Neill: Experience and Ice Cream: Apply for Summer Internship at Ingenex Digital Marketing
By: Janet Hawkins: MI-SBTDC Offers Counseling on Export Opportunities
By: Deb Kern: Summer Internships Available at the Humane Society of Huron Valley and Walk & Wag and RUN Kick-Off Party - Join Us!
By: AndrewBronstein: Stand Up For Common Sense Gun Reform (OFA Washtenaw)
By: Detroit Ensemble Theatre: Captain Buffalo at the Detroit Ensemble Theatre
By: Jennifer Springstead: Committee to Ban Fracking in Michigan Ann Arbor Kick Off Event April 10th
By: Vicki Coury: Lincoln Schools Now Accepting 2013-14 School of Choice Applications
By: Ilene: Meet the New Ann Arbor Pioneer Football Coaches
By: Amy Mackens: Finish Line Youth Foundation Donates to Camp for Children Affected by Cancer
By: KidneyMI: All Michigan Noodles & Company restaurants to host a fundraiser with the National Kidney Foundation of Michigan
AnnArbor.com's Community Wall is a spot for local people to post local stories, news and announcements. To post a story, sign in to AnnArbor.com, then go to www.annarbor.com/community and use the Got News? Tell Us function at the top to submit your news. If you have a photo to add, e-mail it to us at community@annarbor.com, and we'll insert it into your story.