Posted on
Fri, Jun 22, 2012 : 3:12 p.m.
2 dead, 5 seriously injured following rollover accident on US-23
By Kyle Feldscher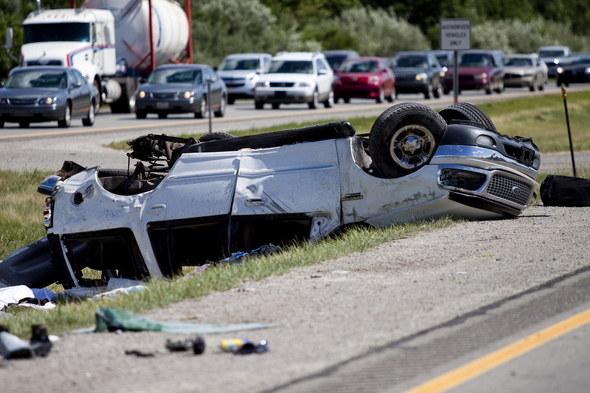 Jeffrey Smith | AnnArbor.com
Ashley Siegel's age has been correct. She was 11, not 12.
Two teenagers are dead and five other people are injured after a rollover accident caused by a suspected hit and run driver on southbound US-23 south of Michigan Avenue just before 3 p.m. Friday afternoon.
Joyce Williams, spokeswoman for Huron Valley Ambulance, said two teenagers died at the scene of the accident and five others were transported to local hospitals, including three in unstable or critical condition.
A total of five HVA ambulances were either on scene or heading to the area just after 3 p.m., Williams said.
Reports from the area of the crash indicated traffic was backed up and at a standstill on both Michigan Avenue and US-23 just after 4 p.m.
Update 3:25 p.m.: Washtenaw County dispatchers said southbound US-23 will be closed down at Michigan Avenue as the Michigan State Police Brighton post and the Pittsfield Township Fire Department respond to the scene.
Drivers are encouraged to avoid the area.
Update 3:36 p.m.: A second person has died from injuries sustained in the accident, Williams said. Both of the deceased are reportedly children. Their ages and genders were not immediately known.
Five other people were transported to local hospitals, Williams said.
One person was taken in critical condition to U-M hospital in one ambulance, she said. A person in unstable condition and a person in stable condition were taken to U-M in a separate ambulance, Williams said.
Another ambulance took two other people in unstable condition to St. Joseph Mercy Hospital, Williams said.
Information on how the accident happened and how many vehicles were involved was not immediately available.
Update at 4:27 p.m.: Police are investigating the incident as a hit and run and are searching for a silver Honda Odyssey with heavy front end damage.
Police said the Odyssey struck the full-size Ford Expedition carrying seven people, causing it to roll several times before coming to rest on its roof in the median. A child was pinned inside the SUV and died, while another died outside of the vehicle, according to Pittsfield Township Fire Department Captain Craig Liggett.
Liggett said the Expedition was still in one piece but was torn apart in the wreck.
"It's still in one piece but the contents are every where," he said.
Williams said the deceased were two teenagers, one boy and one girl. One child who was in a car seat was transported in stable condition to U-M Hospital.
Update at 4:37 p.m.: Sgt. Mark Thompson of the Michigan State Police said the Odyssey was moving into the left lane, in a space already occupied by the Expedition. The van sideswiped the SUV, Thompson said.
"It moved to the left lane and struck the vehicle that was already in the left lane," Thompson said, "causing it to lose control."
The Odyssey continued to drive southbound after hitting the Expedition, Thompson said. The vehicle should have heavy damage and a temporary paper license plate in the window, he said.
Police are continuing to investigate the collision. Anyone with information on the crash should call the Michigan State Police anonymous tip line at 1-866-638-4847
12:50 a.m.: The vehicle was a white 1999 Ford Expedition, occupied by driver Dawn Siegel and her four children and two step-children, MSP said in news release. According to witness accounts, the Expedition was traveling in the left lane of southbound US-23 when it was "cut off" by another motorist. Siegel attempted to avoid the motorist by swerving onto the median shoulder. She lost control of the vehicle and it rolled over several times.
Jordan Siegel, 14, and Ashley Siegel, 11, suffered significant injuries and were pronounced dead at the scene by the Medical Examiner. Dawn Siegel, Chris Siegel, Madison Owens, Erica Fox and Brooklyn Siegel were transported to the University of Michigan Hospital and St. Joseph Mercy Hospital for injuries of varying severity. All parties are listed in stable condition, and the family has been notified.
The driver of the other vehicle, possibly a Honda Odyssey, was reported as possibly being a female possibly around 40 years old. The suspect vehicle continued southbound on US-23. Anyone with information that could help identify the driver of the suspect vehicle are asked to contact the Michigan State Police - Brighton Post at 810-227-1051.
Check back to AnnArbor.com for more details on this accident as they become available.

View 2012 Washtenaw County Traffic Reports in a larger map
Crime reporter John Counts contributed to this story
Kyle Feldscher covers cops and courts for AnnArbor.com. He can be reached at kylefeldscher@annarbor.com or you can follow him on Twitter.