Posted on
Tue, Jul 16, 2013 : 2:26 p.m.
1 killed in single-vehicle rollover on M-14 near Barton Drive
By Kyle Feldscher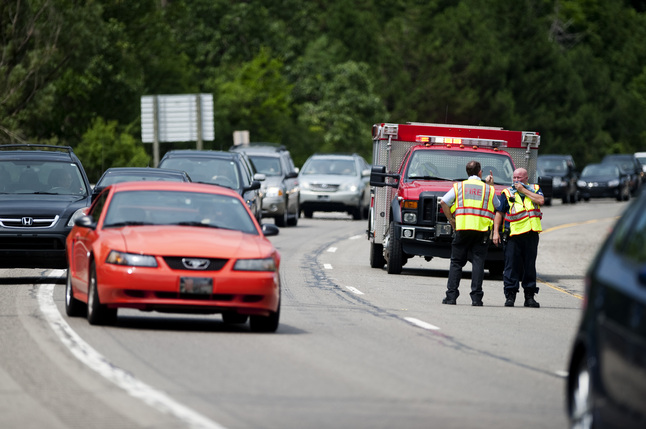 Daniel J. Brenner | AnnArbor.com
Update: Police identify woman killed in single-vehicle rollover
One person is dead after a single-vehicle rollover crash on westbound M-14 near Barton Drive Tuesday afternoon, according to medical officials.
Huron Valley Ambulance spokeswoman Joyce Williams said one person died after a crash between the west triple interchange of M-14 and U.S. 23 and Barton Drive in Ann Arbor Township. First responders went to the scene at 1:20 p.m. Tuesday.
The Washtenaw County Sheriff's Office put out a Nixle alert telling drivers to avoid the area, as the left lane was closed for an undetermined amount of time.
As of 3 p.m. Tuesday, both lanes were closed on the road, according to dispatchers. The highway reopened about 3:35 p.m. Tuesday for normal traffic.
Michigan State Police troopers confirmed one person died in the crash, but did not immediately release more information just before 2:15 p.m. Tuesday.
It's not immediately clear what type of vehicle rolled over during the crash. The red vehicle came to rest on its roof and hood in the left lane of the roadway and what appeared to be debris from the interior of the car littered the highway.
Traffic was backed up about a mile to the interchange with U.S. 23 and drivers were turning their vehicles around and heading east to get off the freeway just before 3 p.m. Tuesday. Traffic was not moving at all about 3 p.m.
Most of the debris from the crash was contained to the left lane of the roadway.
Beaumont Medical Transportation and Livingston EMS were on scene at the crash in addition to HVA, Williams said. Ambulances from Beaumont and Livingston were in the area of the crash at the time it occurred, she said.
Check back to AnnArbor.com for more information on this incident as it becomes available.

View Untitled in a larger map
Kyle Feldscher covers cops and courts for AnnArbor.com. He can be reached at kylefeldscher@annarbor.com or you can follow him on Twitter.