Posted on
Mon, Apr 22, 2013 : 4:20 p.m.
1 man dead, 1 stable after explosion at Dexter Utilities Department
By Kyle Feldscher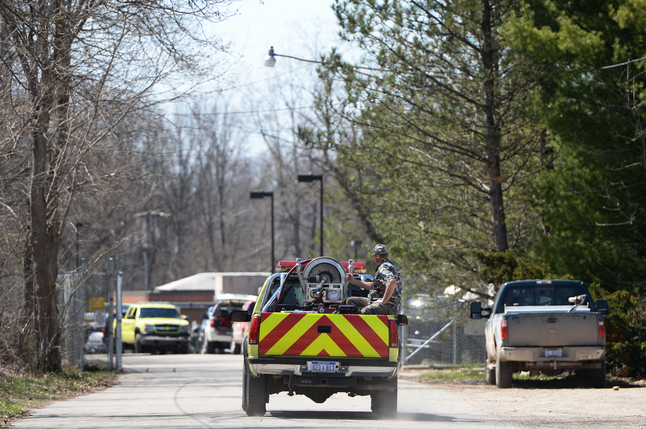 Melanie Maxwell | AnnArbor.com
One of the men injured in an explosion at the Dexter Utilities Department died Monday afternoon, according to a Huron Valley Ambulance official.
Spokeswoman Joyce Williams said at 4:10 p.m. Monday that one of the men died at University of Michigan Hospital from injuries suffered during the explosion.
"One patient has died and the other is in stable condition," Williams said in a text message.
Emergency personnel were dispatched at 1:39 p.m. to the Dexter Utilities Department, 8360 Huron St. for a report of an explosion. Dexter Area Fire Department Chief Loren Yates said methane gas in a holding tank exploded while the men were working. He said firefighters believe both men were inside the tank when the explosion occurred.
One man was blown out of the tank by the force of the explosion and other workers assisted the other man out, Yates said. The men were disassembling the tank when the explosion took place, he said.
The men were found on the roof of a nearby building, Yates said. Their names have not been released.
"We're saddened to learn about the death of a person who was working on a village project," said Village President Shawn Keough. "Our thoughts go out to the family."
Assistant Village President Courtney Nicholls said the two men were working on the concrete lid of a holding tank that collects sewer waste when the explosion occurred.
The men work for a firm sub-contracted out to work on a $3.3 million sludge handling improvement project, which got underway in October 2012, Nicholls said.
The main contractor for the project is A.Z. Shmina, Inc.
Members of the village's utility department were meeting Monday afternoon with state and Occupational Safety and Health Administration officials to discover exactly what went wrong.
"It's not affecting the operation of the plant," Nicholls said, adding that water and sewer customers will not see any change in service.
The men were transported by Huron Valley Ambulance to U-M Hospital. Survival Flight was called in to assist in the rescue, but did not end up transporting either of the men, Williams said.
The Washtenaw County Technical Rescue Team and the Chelsea Area Fire Authority assisted Dexter firefighters in the rescue. The Washtenaw County Sheriff's Office was also on scene and is investigating the explosion, Yates said.
Huron Street was closed about 100 yards away from the intersection with Broad Street to allow for investigation.

View Dexter explosion in a larger map
Crime reporter John Counts contributed to this story.
Kyle Feldscher covers cops and courts for AnnArbor.com. He can be reached at kylefeldscher@annarbor.com or you can follow him on Twitter.