Posted on
Thu, Jul 21, 2011 : 2:50 p.m.
101 F: Temperature hits triple digits on east side of Washtenaw County
By Juliana Keeping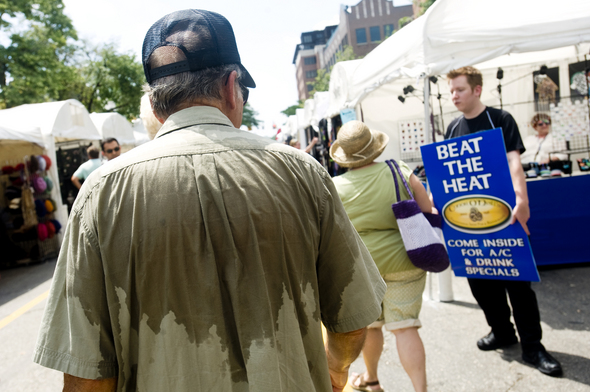 Melanie Maxwell | AnnArbor.com
The temperature hit
101 degrees
at about 2 p.m. Thursday
near Willow Run Airport
, according to the website
Weather Underground.
Ann Arbor is close behind, with a reading at 98 in mid-afternoon and the possibility of a triple-digit reading remaining, according to forecasters.
When was the last time the area got that hot?
The answer for the area: July 1988.
Washtenaw County saw three 100 degree days in 1988 - June 25 and July 6 and 7 - according to the National Weather Service.
Before that, the mercury hadn't hit 100 degrees since 1966. That year, it reached 102 degrees on July 2 and hit 100 July 3.
The highest recorded temperature at the University of Michigan weather station of all time was 105 degrees, reached in 1934, according to the NWS.
The weather station entails meteorological instruments encased in a small shelter on U-M North Campus.
Dennis Kahlbaum, the U-M weather observer who gathers local data for the NWS, said he won't know the official high temperature for the area until he visits the station at 6 p.m. today.
Meanwhile, the heat wave became official today. It's the fifth straight day over 90 degrees and the third at 95 or above, which is how the National Weather Service officially defines a heat wave.
And that 101 temperature? It actually feels like 114, due to the heat index calculations.
Juliana Keeping covers general assignment and health and the environment for AnnArbor.com. Reach her at julianakeeping@annarbor.com or 734-623-2528. Follow Juliana Keeping on Twitter