Posted on
Mon, Jan 9, 2012 : 2:59 p.m.
Community High School seeks more diversity as lottery process begins this week
By Danielle Arndt
Parents, teachers, administrators and students are doing more to educate prospective parents on the Community High lottery process and to make the alternative Ann Arbor high school accessible to a more diverse population, the school's dean said.
The effort comes because Community typically turns away about 70 percent of incoming-freshmen applicants.
"The sad thing is we don't get to know the other students who apply," said Dean Jennifer Hein.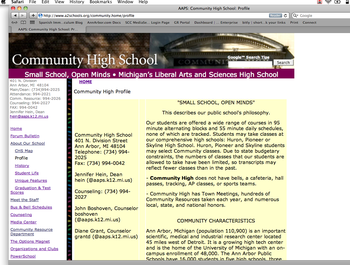 Community has 114 spots available for the upcoming 2012-2013 academic year.
Application packets became available Monday and can be picked up at all AAPS middle schools, the Balas Administration Building and Community High School. Parents also may download a copy from www.a2community.org.
"We have the largest Caucasian population of all of the high schools (in AAPS)," Hein said. "But in the last four years, we have seen an increase in diversity and we are currently working very hard to reach out to a more diverse student population, which includes race, ethnicity, socioeconomic status and students that are different styles of learners."
She said Community's School Improvement Team has spent time meeting and speaking with a variety of "collaborators," such as the University of Michigan and the Black Parents Student Support Group.
"We really want parents of all types to look at us as an option and to have what they need to make an informed decision about whether our expectations match their particular student," she said.
Hein said it is difficult to control diversity because the Community lottery uses a random, "double-blind" drawing process to select its students and there are no academic or demographic criteria to apply.
But she said the more students that apply, the better the chances are of improving diversity as well as academic success, which she added is always a goal.
Additionally, Community students have traveled to each of Ann Arbor's six middle schools to try to get younger pupils excited about Community.
Parent Teacher Student Organization Co-chairwoman Emily Nease said Community typically sees the greatest number of applications from Tappan, Slauson and Forsythe middle schools and the lowest number is likely from Scarlett.
Another step administrators have taken to improve accessibility is to offer a Sunday orientation session for parents and interested eighth-grade pupils. Hein said this is the first time Community has hosted a weekend session.
The first of five available orientations for families will take place from 7 to 8:30 p.m. Tuesday. Four additional sessions are scheduled prior to the official lottery day, which is Feb. 14. They are:
Jan. 18 — 7 to 8:30 p.m.
Jan. 22 — 2 to 3:30 p.m.
Feb. 2 — 7 to 8:30 p.m.
Feb. 9 — 7 to 8:30 p.m.
All of the orientation meetings will be conducted at the school, 401 N. Division St.
To be considered for a spot in the freshmen class, families of current eighth graders must be residents of the district at the time of application and attend one of the five orientation sessions. Applications are due to Community's main office by 4 p.m. Feb. 10.
In 2010, more than 400 eighth-graders vied for the 114 ninth-grade spots. Hein said it was the school's largest applicant pool to date.
Of the children not selected, another approximately 260 had their names added to a waiting list to be called at any time throughout the students' four years, Hein added.
She said the one thing she would like parents to understand before filling out an application is the decision should be about finding the best "fit" for their child.
"All of the high schools in Ann Arbor are very good, so we are all very fortunate to have great opportunities for students," Hein said. "This is a campus where the class work is very rigorous.
"… There are no bells, no hall passes, so the level of independence and the level of academic curiosity a student has is very important."
Nease agreed. She said her two daughters were "on the bubble" of being among the first 114 numbers selected. After several potential students declined their spots, both of Nease's daughters were offered a place.
"For some students, it's devastating (to not get in)," Nease said. "So I always feel a little bit guilty when I say both of my girls 'won' — and it really is, you feel like you're winning a prize."
Nease, who has helped with the lottery in the past — not when her children went through the process — said there are student, teacher, parent and administrative representatives in the room at the time the numbers are drawn.
"So there is no way anyone can get away with any shenanigans," she said.
The names and numbers are then posted on Community's website, doors and the doors of all the middle schools, Hein said.
Community was founded in 1972 and is one of the oldest public magnet schools in the United States, according to its website. Students who attend Community are often very involved in setting and designing their own curriculum.
Visit the website for more information.
Staff reporter Danielle Arndt covers K-12 education for AnnArbor.com. Follow her on Twitter @DanielleArndt or email her at daniellearndt@annarbor.com.