Posted on
Fri, Nov 2, 2012 : 12:49 p.m.
12 highlights from Tom Hayden's speech at the University of Michigan: 'The Port Huron Statement wrote us'
By Ryan J. Stanton
Several hundred people overfilled a large auditorium on the University of Michigan campus Thursday night to hear Tom Hayden reflect on the legacy of the Port Huron Statement.
Hayden, a U-M alumnus and former editor of the Michigan Daily, was one of the original members of the 1960s activist group Students for a Democratic Society.
He's famous for drafting the Port Huron Statement, which was adopted at the group's first convention in 1962 and became a central document of the New Left movement of the 1960s. It served as a manifesto for what's referred to as "participatory democracy."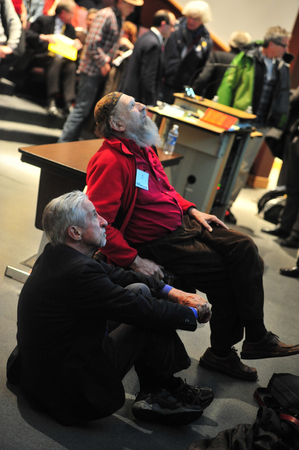 Ryan J. Stanton | AnnArbor.com
"The idea that students were in and of themselves an agency of social change was an idea that only became new in the 1960s," he said of how the statement inspired others.
His speech touched on his time as a freedom rider in the south, the assassination of John F. Kennedy, the rise of Lyndon B. Johnson and the escalation of the Vietnam War.
Hayden, now 72 and living in California, said he was glad to be surrounded by old friends and familiar faces from his college days in Ann Arbor.
"I didn't think it was possible to organize a reunion of SDS, but I thought you could organize a reunion about Port Huron and then you could smuggle in everybody else," he quipped.
At another point, he stated: "The university has to own us. The university created us. Are we the bad ones? As far as I know, I graduated with flying colors. I didn't have any problems."
Hayden's one-hour speech, titled "The Future of Participatory Democracy," marked an end to the second day of a three-day conference reflecting on the statement's 50th anniversary.
Other highlights from his speech:
1. On how the Port Huron Statement came to be: "I wrote it. I drafted it. I fought the elders and some of my friends to get it even considered at the convention. The convention revised it. They told me to go away and rewrite it again. It was never voted on. That's why it's called a living document. It was approved as a living document." He then added: "This is where I may seem to be leaving my senses: What I want to argue to you is that the Port Huron Statement wrote us."
2. On becoming a freedom rider in the south. "Here's what I recall happening: I was summoned by the Student Nonviolent Coordinating Committee with my wife Casey to go on a freedom ride from Atlanta to Albany, Ga., around my birthday in December 1961. I was at the time a field secretary … and reporting to Al Haber. I really wanted to be with Casey and I wanted to be with the freedom riders and the black students in the south because, in their experience, I had found something that I had never found in my life, which was a purpose worth dying for."
3. On drafting the Port Huron Statement from a segregated jail cell in Albany, Ga., after a freedom ride: "I was told to write this, and so I started writing it when I was in this jail. … Jail is the cradle of the Port Huron Statement, in a sense. I got out of jail and I started writing drafts."
4. Hayden said it was a coalescing of sometimes contrary perspectives. "You'll find this is the key to reading Port Huron: It's like an orchestra. There are many instruments, many voices. If you think for a minute that I agree with everything in it, you're wrong. I was an orchestrator of many thoughts pushing us towards adopting a generational perspective, a statement."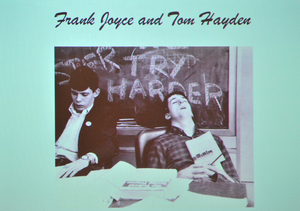 Ryan J. Stanton | AnnArbor.com
5.
On the movement that started in the 1960s: "The intent was not to remain on the margins, but to represent what we thought were the mainstream needs of the American society and build a progressive majority and eventually a progressive government that would be elected to office."
6. On when it started to go wrong: "It started, I think, first with the murder of John F. Kennedy and by implication the subsequent murders of so many other people who might have been the leading figures in this national coalition. And when John Kennedy was murdered, he had just fulfilled some of the SDS agenda, which was he presided over the march on Washington after first being against it. We felt — we could understand — that through our pressure, even the president could be moved and turned around a little bit. Secondly, he gave the speech in 1963 advocating our position on nuclear weapons, which was a step toward the abolition — a small step, you would say — but a limited nuclear weapons treaty with the Soviet Union, and a speech at American University against the Cold War as a concept. You can call that tokenism, but these two things are just indicators that we actually were on the path. To what future, we didn't know, but this was all anticipated in the drafting of the statement."
7. On the statement's role elsewhere: "Johnson gave his Great Society speech here on this campus not far from this building and the person that wrote the speech, Richard Goodwin, borrowed from the Port Huron Statement, the values section, to write the Great Society speech, and he credited the Great Society speech to SDS, to the Port Huron Statement, to myself, and they even modeled their anti-poverty community action programs after what they thought SDS was doing."
8. Hayden talked about his growing skepticism in the 1960s. "If your president was being murdered, and anybody that succeeded him was subject to murder, there could be no reasonable assumptions about anything. And if another president came to campuses and said, 'I'll never draft you to fight a war in Southeast Asia,' and then turned around and put 185,000 American kids in Southeast Asia within the first year after his election, that was also emotionally, politically, intellectually destabilizing. The Port Huron dream seemed to be no more. Our coalition was very affected by this because, unbeknownst to us, the CIA and the FBI were deeply involved in our organizations."
9. Hayden said a number of positive changes happened after Port Huron and this was one of them: "SNCC and its friends got the Voting Rights Act by 1965. They had taken, in the words of Chuck McDew, in my presence, a blood oath to do or die and give it five years and see where they were. And damned if they didn't achieve the Voting Rights Act in five years."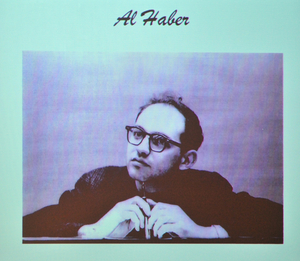 Ryan J. Stanton | AnnArbor.com
10.
Reflecting on the statement's legacy today: "We achieved more in a shorter period of time than any previous or subsequent generation of American radicals. If you want to make a comparison, look at the hundreds of years under slavery, the rebellions that took centuries to gain elementary voting rights."
11. Hayden said the statement brought together people from many backgrounds. "Ideas don't come out of one person's head. Ideas are nothing if they're individual ideas. The real genius of Port Huron was to orchestrate the greatest possible unity of people who already knew each other, respected each other, in some cases loved each other and couldn't necessarily get over all of their political disagreements but knew that they had to be creating the uncreated conscience of their times."
12. On the importance of the 50th anniversary: "If we don't remember our history, no one will. If we don't re-claim it, if we don't define the legacy, if we don't define the lessons, if we don't examine for future generations, it's not clear who it would be left to. And a lot of people have wanted SDS to die for a very long time, and I'm here to assure them that we will, but naturally — organically."
Ryan J. Stanton covers government and politics for AnnArbor.com. Reach him at ryanstanton@annarbor.com or 734-623-2529. You also can follow him on Twitter or subscribe to AnnArbor.com's email newsletters.