Posted on
Wed, Feb 15, 2012 : 5:58 a.m.
New AirRide shuttle service from Ann Arbor to Detroit Metro Airport to start in April
By Ryan J. Stanton
Ann Arbor residents are expected to have a more affordable and convenient option for getting to Detroit Metropolitan Airport starting in April.
The Ann Arbor Transportation Authority's governing board plans to vote Thursday on a contract with the Indian Trails bus company to provide a new airport shuttle service.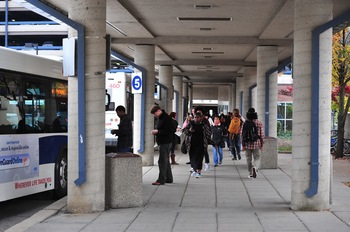 Ryan J. Stanton | AnnArbor.com
The service, which is being called AirRide, would provide 12 daily roundtrips from Ann Arbor to the airport and would be operated by
Michigan Flyer
, a subsidiary of Indian Trails.
"Throughout the transit master plan development process, we were told by residents that they needed a convenient, affordable and reliable way to get to the airport," AATA CEO Michael Ford said in a statement. "Partnering with Michigan Flyer could help us fill that need."
Tickets are expected to be offered at an introductory rate of $10 for a one-way trip. The regular adult fare would be $12 with a reservation or $15 without a reservation.
The standard price for roundtrips would be $22.
Discounts would be offered for seniors, the disabled and children. Volume discounts also may be available for groups of up to eight individuals when traveling together.
AATA plans to contract with Indian Trails for two years at a cost of $2.56 per service mile. The total cost is not to exceed $700,000 per year without the consent of AATA's board.
Under the public-private partnership, Indian Trails would retain the first $250,000 of fares collected each year of the contract. Fares collected in excess of $250,000 each year would be used to offset the cost to AATA of the AirRide services provided by Indian Trails.
Michigan Flyer currently operates eight roundtrips between Ann Arbor and the airport for $15 one-way. The AirRide partnership would offer four additional trips at reduced fares.
Additionally, a proposed partnership with the Ann Arbor Downtown Development Authority would allow for parking at the Fourth and William parking structure for just $2 per trip, with a two week maximum stay, according to AATA officials.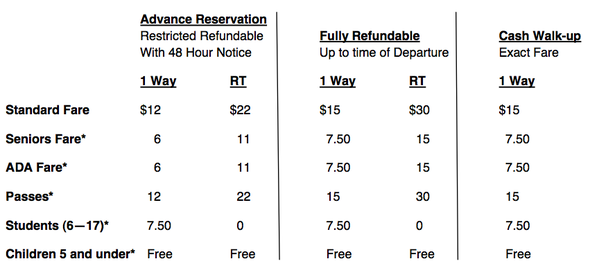 Noting that Gov. Rick Snyder has made increased public transportation collaboration in Southeast Michigan a priority, AATA officials said the new service further demonstrates AATA's commitment to providing regional transportation solutions.
The new partnership improves regional transportation options by connecting the Ann Arbor transit system with the SMART bus system for Wayne, Oakland, and Macomb counties, said Gordon Mackay, president of Indian Trails, the parent company of Michigan Flyer.
Plans call for AirRide buses to pick up passengers at the corner of Fourth Avenue and William Street across from the Blake Transit Center downtown and at a stop near the Briarwood Mall near Interstate 94 on Ann Arbor's south side.
At Detroit Metro Airport, the AirRide buses would drop off and pick up passengers at the International Arrival level of the McNamara Terminal, and at the Ground Transportation Center at the North Terminal.
New low-emissions Michigan Flyer buses offering free wireless Internet and restroom amenities are expected to be used for all trips.
AATA also is engaged in discussions with the Ann Arbor Convention and Visitors Bureau and the University of Michigan to assist with promotional support for the new service.
Ford said there still are some operational details to be worked out, but the convenience and affordability of the service would be a win for the entire region.
Ryan J. Stanton covers government and politics for AnnArbor.com. Reach him at ryanstanton@annarbor.com or 734-623-2529. You also can follow him on Twitter or subscribe to AnnArbor.com's email newsletters.