Posted on
Wed, Jun 8, 2011 : 5:59 a.m.
13-story student housing project 'The Varsity' proposed to rival 411 Lofts in downtown Ann Arbor
By Ryan J. Stanton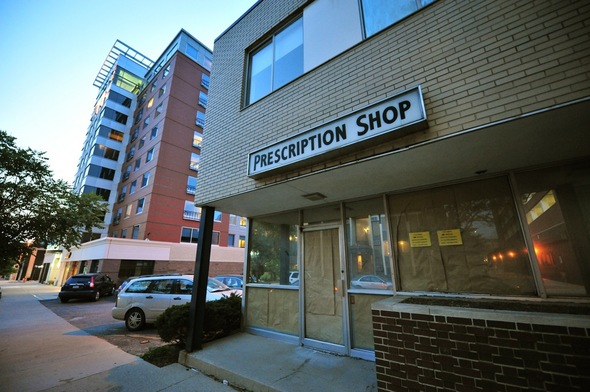 Ryan J. Stanton | AnnArbor.com
The first downtown development to face the scrutiny of Ann Arbor's new design review process will be a student high-rise proposed for 425 E. Washington St.
Wendy Rampson, the city's planning manager, announced the news at Tuesday night's Planning Commission meeting. She said the city's planning department received preliminary design plans on Friday from a firm based out of Maryland.
"It's called The Varsity and it is a 13-story, 173-unit student housing proposal that would go on a site that fronts on Washington and also on Huron," she said. "The Design Review Board just got approved at council, and so this would be the very first project they take on."
The project is expected to go before the Design Review Board on June 22 where the newly formed board will provide suggestions about design features, relying on the city's new downtown design guidelines. The Ann Arbor City Council took action this week to establish the new process for reviewing the design of proposed downtown developments.
Under the new process, developers are required to submit preliminary design plans to the seven-member Design Review Board, along with an application and fee, prior to applying for site plan approval. The ordinance requires a meeting with the Design Review Board, but implementation of the board's suggestions is merely voluntary.
The ordinance applies to downtown projects that propose to add floor area, are zoned D1, D2 or PUD, and are not in a historic district.
Mayor John Hieftje unveiled the names of the seven members expected to serve on the Design Review Board during Monday's City Council meeting: Tamara Burns, Paul Fontaine, Chester Hill, Mary Jukari, Bill Kinley, Richard Mitchell and Geoffrey Perkins.
The project being called The Varsity would stand next to the Sterling 411 Lofts, another upscale student high-rise built in recent years on Washington Street. The plans for the 0.59-acre site call for a 178,550-square-foot building rising 143 feet tall.
A two-story office building known as the Ann Arbor Professional Building has stood on the site for the past five decades. Rampson said there are a few tenants left in the building but it's mostly vacant. There used to be a pharmacy, but it's gone now.
Records show the project is being proposed by Potomac Holdings of Bethesda, Md., which has an option to purchase on the property. According to media reports, Potomac Holdings currently is working on a 323-bed student apartment project at the University of Baltimore.
Developer and lawyer Michael Concannon of the Concannon Co., 1785 W. Stadium Boulevard, purchased the property at 425 E. Washington in October 2007 for $3.2 million.
By February 2008, Concannon was publicly talking about building an 18-story student housing project on the site, but those plans never came to fruition. It's unclear at this point whether Concannon has any involvement in the latest proposal for the site.
The plans include 77 parking spaces. The developer is proposing a configuration that includes driveways off Huron and Washington to different levels of a parking structure.
Rampson said the city has been dealing with an architect based out of Washington, D.C., but Ann Arbor architect Brad Moore also is representing the developer locally.
Moore could not be reached for comment Tuesday night.
"They've provided a full package of renderings and a preliminary layout," Rampson said. "We haven't reviewed any of it yet, so it'll be interesting to see how this all works."
Ryan J. Stanton covers government and politics for AnnArbor.com. Reach him at ryanstanton@annarbor.com or 734-623-2529. You also can follow him on Twitter or subscribe to AnnArbor.com's e-mail newsletters.