Posted on
Thu, May 10, 2012 : 2:59 p.m.
13-year-old Ann Arbor middle schooler a budding iPhone app developer, entrepreneur
By Pete Cunningham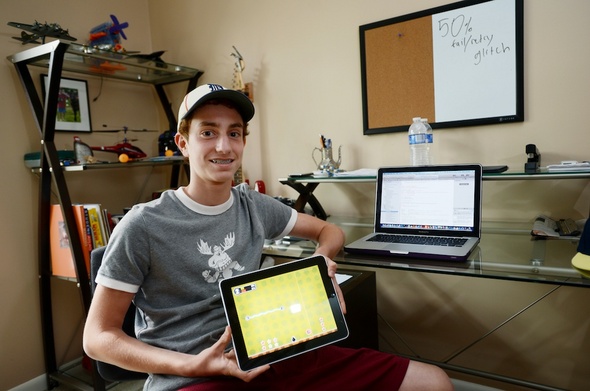 Melanie Maxwell | AnnArbor.com
Entrepreneurship. Creativity. Business savvy.
For Ann Arbor's Henry Abrams, there's an app for that.
Abrams, an eighth-grader at Tappan Middle School, is by most accounts an average 13-year-old. He's on a travel soccer team, takes guitar lessons and walks his neighbors' dogs for a little spending cash.
But in his spare time, Abrams is anything but average. He develops iPhone applications, has been an editor for a book on video game development software and runs his own company, Red Sky.
It bears repeating, Abrams is 13-years old.
Game On
About a year and a half ago, Abrams and his father, Terry Abrams, a photography instructor at Washtenaw Community College, started looking into how to create a computer photo program. Though nothing ever came of their original idea, during his research, Henry became fascinated with the idea of creating video games.
"I really like video games, so I thought it'd be pretty cool to make my own," Abrams said.
Using the game building software GameSalad, Abrams learned the basics of writing code for iPhone games. Under his online alias RedSky — a nod to his curly red hair — Henry became a regular on the GameSalad and Touch Arcade online forums, began contributing more and more and even uploaded some YouTube tutorials on various subjects in addition to creating his own games.
"He's basically taught it all to himself," said Terry Abrams. "He would go to YouTube, go to online forums and come to me and ask questions, because I'm familiar with some photo stuff, but what I showed him was miniscule. He just has gone on his own."
The same has gone for Abrams' business.
Using money saved from playing guitar near his father's booth at the Ann Arbor Art Fair during the summer, Henry became an Apple Certified Developer and launched Red Sky. He has created four iPhone applications: Soccer Copter, Soccer Skills, Bumper Balls and the recently released Hot Shot, which was a featured application in the Apple's online "New and Noteworthy" section last week.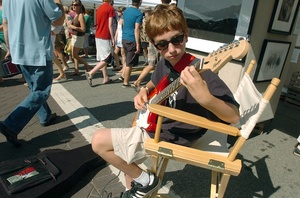 Ann Arbor News file photo
Henry drafts press releases himself, which he distributes via email, Facebook and Twitter to help
gain some publicity
. He also had T-shirts — and an apron which his mother, Lisa, is very proud of — printed that he's given out to family and friends.
It seems to be working. Soccer Skills has more than 1,500 downloads and because of a feature Henry included, he can even see where it's being used.
"It uses the (iPhone's) GPS…Every time the app opens up a pin pops up (on a map)," Abrams said. "I checked the downloads (one day) and there were just pins popping up everywhere in China, which was pretty cool."
Abrams said his first three apps took on average two to three months each to create, but Hot Shot took seven. He said he'd work on it for an hour a day on average, more on weekends.
Set to an urban backdrop, the game has players navigate a basketball around various obstacles and into a moving trashcan by tilting the phone back-and-forth.
There are 100 levels and it's just simple and complicated enough to be mind-bogglingly addictive. In three weeks, the game has been downloaded more than 100 times from the Apple Store.
Abrams collaborated with a graphic designer on the background graphics and with a California-based musician, Kevin Taiwo Famuyiro, on the original rap music played in the background.
"It was actually pretty easy to send stuff," said Famuyiro, who met Abrams on the GameSalad forum. "I basically asked him what kind of music he wanted, and I produced, recorded and mixed the music, and showed him what I was currently working on at the time."
For every 99-cent download from the Apple Store, Henry makes 70 cents. He's not getting rich of the venture just yet, but he's getting other satisfaction.
"My friends, they play it in German class and they'll play it at school," Abrams said. "When I see they like it and start to get addicted to it, I really like that."
Famuyiro said the game is gaining popularity in his circles in California.
"Even my Mom loves the game, and I could never get her to play any game before this one," Famuyiro said.
Abrams has never come across a random person playing one of his games at the airport, mall or anything like that. His eyes get wide at the idea.
"That would be awesome," Abrams said.
Because of his prominence on GameSalad forums, Abrams was paid $700 to be an editor for the soon-to-be-released book "Learn GameSalad for iOs." He's also made custom games for people and learned a tough business lesson along the way: Get payment up front, which he learned when a client shorted him on final payment after the work was complete.
Abrams said he doesn't tell the people he works with his age, but he doesn't necessarily hide it. The homepage of his personal website includes it, and the cracked voice in the YouTube tutorials is a dead giveaway.
"None of the people I have worked with know that I'm a kid," he said. "They've never asked my age, so I figured I would get better results if they didn't know."
The Future
Abrams is working on a game currently, but he's put it on halt because he wants to learn more about coding and three-dimensional graphics, skills he plans to learn at iD Tech Camp at Princeton University over the summer
"Before I do 3-D stuff I want to learn more real code," Abrams said. "I want to learn more code so I can code more complicated things."
Basically, he wants to be able to learn the skills necessary to translate the ideas floating around in his head onto a computer or phone screen near you.
Abrams' ultimate goal is to create games for major systems, like Xbox, and he appears to be heading in the right direction.
In case you forgot, Henry Abrams is 13 years old.
Contact Pete Cunningham at petercunningham@annarbor.com or by phone at 734-623-2561. Follow him on Twitter @petcunningham.