Posted on
Sun, Jan 20, 2013 : 5:59 a.m.
Ann Arbor apartment building that caught fire had history of code violations
By Ryan J. Stanton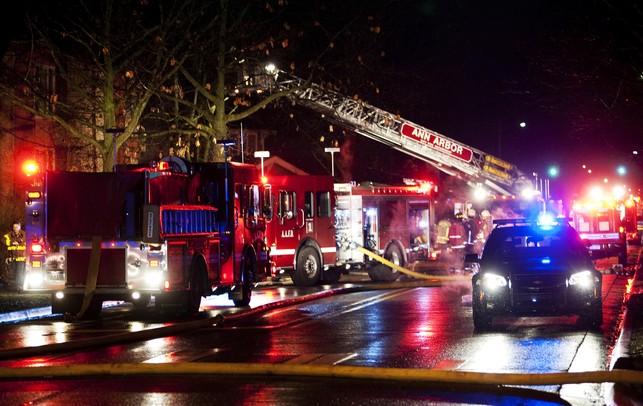 Daniel Brenner I AnnArbor.com
A six-unit apartment building that
caught fire last Sunday
was cited four months earlier by the city of
Ann Arbor
for code violations, including missing smoke detectors, city records show.
Sumedh Bahl, the city's community services administrator, said the city's rental housing inspectors normally try to go back within 60 to 90 days to make sure a landlord has corrected any violations, but for some reason they never went back after the Sept. 13 inspection.
"I don't see anything in the file which indicates why we haven't gone back there after September," Bahl said, unable to say whether the code violations were addressed.
The apartment building at 1310 Packard is listed in city records as having two studios, three one-bedroom units and one two-bedroom unit. Its maximum occupancy is 13 people.
Police and firefighters rescued four people from the burning building last Sunday night. Ann Arbor police were first to the scene shortly after the fire was reported about 9:05 p.m.
Officers ran into the burning building and rescued a resident in a second-floor apartment. Firefighters who arrived a short time later rescued three more people from the third floor.
Daniel Brenner | AnnArbor.com
Fire Chief
Chuck Hubbard
said residents put towels over their heads to block smoke, but three residents and three police officers still went to the hospital for treatment of smoke inhalation.
Hubbard said the cause of the fire remains undetermined, and the case is still under investigation. He said he wasn't aware of the code violations before speaking with AnnArbor.com.
City records show the property has been cited for numerous code violations in recent years, including everything from missing smoke detectors to deteriorated and leaking pipes, torn or missing window screens, noncompliant electrical outlets and potholes in the driveway.
Records show the city posted an "uninhabitable building" notice on the property on March 21, 2011, in an attempt to get the landlord to address some of the outstanding issues. The notice alerted the landlord that the building's certificate of occupancy was being suspended.
"No person shall lease or otherwise make a dwelling or rooming unit available for occupancy if a certificate of compliance is not in effect for the unit," the notice read, citing Chapter 105 of the Ann Arbor Housing Code. Violations are punishable by a fine not less than $200.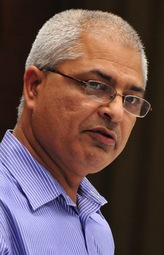 The owner is listed as the High-Way Company International of Ann Arbor, which could not be reached for comment for this story.
Property Manager Jill Mitchell spoke briefly with AnnArbor.com on Thursday but declined to answer questions until she had an attorney present. She did not return phone calls after that.
Bahl said he's reviewed the files and it seems the landlord responded to the March 2011 notice and brought the building into compliance with city code by September 2011. But when the building was next inspected on Sept. 13, 2012, a city inspector identified more violations.
The inspector was able to gain access to four of the six apartments on Sept. 13, and three of them needed smoke detectors added, according to the violation notice. The inspector wrote "add smoke detector in bedroom" for two of the units and "replace missing smoke detector" for another unit.
The inspector also cited concerns about a bad light switch and electrical outlets that needed ground-fault circuit interrupter protection to help prevent electrical shocks.
Ralph Welton, Ann Arbor's head building official, said he didn't think any of the violations cited in September had to do with the start of the fire.
Welton said there were no major safety issues that surfaced during that inspection, so he felt comfortable with the four-month timeframe that passed without a re-inspection.
The city has five rental housing inspectors responsible for inspecting tens of thousands of rental units in Ann Arbor on about a three-year cycle. Even with that level of workload, Welton said, it's not often they miss the window of 60 to 90 days for a re-inspection.
"As a rule, we're on time with that," he said.
'It's invaluable to have smoke detectors'
Newer building codes now require smoke detectors in bedrooms, Welton said, and the city is working to bring rental houses in Ann Arbor into compliance with that.
Just because the city asked for smoke detectors to be installed in bedrooms of some of the units at 1310 Packard, he said, doesn't mean they didn't already have smoke detectors elsewhere.
Welton said he visited the site after the fire and couldn't tell if there was a smoke detector in the unit that caught fire because most of the ceiling was torn out, but he did see some in other units.
Welton said it's "always an uphill battle" for his department to keep smoke detectors in rental housing units, and to keep them active.
"As quickly as they're installed, there's a tendency to pull them out," he said, adding tenants get annoyed with them when the alarm sounds while they're cooking. "It's invaluable to have smoke detectors that are actually functioning properly in these houses."
Bahl said the way the city's rental housing inspection program works, properties are inspected about once every 30 months. He characterized the inspections done at 1310 Packard and the violations that surfaced as business as usual, and he said nothing jumped out as alarming.
"There could be cases where the building is dangerous and we would evacuate the people, but this was not a dangerous building at that point," he said.
Daniel Brenner I AnnArbor.com
Even when the building was technically deemed uninhabitable, Bahl said, the situation wasn't dangerous enough to initiate evacuation proceedings.
"We do so many inspections ever year and you will find these kinds of things," he said. "This is part of a normal process of rental housing inspections."
In any event, Bahl said, the landlord will have to make some improvements to the now-vacant building since it is uninhabitable after the fire.
Bahl and Welton both agreed staffing issues are not to blame for city inspectors missing the window of 60 to 90 days for reinspecting the property.
"We have enough staff," Bahl said, adding the city has made special effort in the last two and a half years to make sure every property gets its first inspection on a 30-month cycle.
Asked how widespread issues with housing code violations are among rental properties in Ann Arbor, Bahl called it a "mixed bag."
"There are some that are very well maintained," he said. "There are some that get their certificate of compliance on the very first inspection, and some that are not in good shape."
Fire Marshal Reka Farrackand said there were smoke detectors in the building last Sunday, but she couldn't say which apartments had them and which might not have had them. AnnArbor.com has filed a Freedom of Information Act request for the incident reports.
Farrackand said she couldn't comment on the code violations because the fire department, which has six inspectors who handle commercial properties, doesn't handle rental housing inspections.
"I think the housing department is doing a good job on their inspections on the rentals," Farrackand said. "We're continuing to do the fire and safety inspections for commercial."
Mayor John Hieftje said he hadn't heard about the code violations before speaking with AnnArbor.com. He said that's not typically information that comes across his desk. But generally speaking, he said, he thinks the city is doing a good job with inspections.
"If you look back at what we've done in the last couple of years, particularly in the last budget, we've really picked up prevention, so there's more inspections going on," he said. "And it's obviously very important that everybody should have smoke detectors."
Council Member Stephen Kunselman, D-3rd Ward, said the problems that were cited with the building, including lack of smoke detectors, are definitely a concern.
"It's certainly the responsibility of the building owner and the property owner," he said. "I don't fault the building department necessarily. I don't know anything in that regard, so I'm not going to point fingers or anything like that. I'm certain the administration is looking into it to see if there's anything we missed."
If there's a need to make some changes or ramp up enforcement, Kunselman said, he's sure that'll happen.
"It's certainly tragic," he said of the fire. "And thank God nobody was seriously hurt, but it certainly again puts a focus on our issues of firefighting."
Kunselman said his main question was whether the city had adequate firefighting capability to handle the fire. Hubbard said that wasn't a problem.
Council Member Sabra Briere, D-1st Ward, said she's unsure whether what happened at 1310 Packard will prompt a review of the rental housing inspection program. She said she's heard of cases in which college students are living in rental housing that's not in compliance with city code.
"I've had students complain about the conditions in their buildings and then discover that particular building didn't have a certificate of occupancy," she said.
"I don't think this is an isolated incident," she added. "I've talked to the occasional landlord here and there who feels the city's rules and regulations about what needs to happen on the interior and exterior of their rental property are onerous and frivolous and not a benefit to the community. I've talked to the occasional landlord who is very resentful of these things."
Ryan J. Stanton covers government and politics for AnnArbor.com. Reach him at ryanstanton@annarbor.com or 734-623-2529. You also can follow him on Twitter or subscribe to AnnArbor.com's email newsletters.