Posted on
Sat, Feb 6, 2010 : 12:15 p.m.
14-year-old girl remains missing, Ann Arbor police say
By Amalie Nash
Updated story:Â Second man arrested in Ann Arbor sexual assault investigation; missing girl found
Update at 12:15 p.m.: Ann Arbor police say Woodrow Williams voluntarily surrendered and is in custody. However, Selena Riggins has not been found. Check back for details on this developing story.
A 14-year-old girl last seen in Ypsilanti on Thursday remains missing this morning, Ann Arbor police said.
Police also confirmed the case is tied to the sexual assault of a 15-year-old girl in an Ann Arbor hotel on Wednesday evening.
Selena Leroux Riggins is believed to be with Woodrow Roosevelt Williams II. An Amber Alert was issued Friday.
Ann Arbor police originally said another man may have been traveling with them. But after media outlets broadcast photos of Wayne William Rankin in connection with the case, he surrendered to police and said he wasn't involved, investigators said.
Ann Arbor Detective Bill Stanford said Riggins and a 15-year-old girl met Williams and Rankin on a bus. Riggins, who is originally from Canada, had recently moved to Ypsilanti to live with an aunt.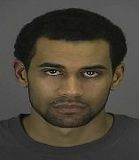 The two girls and two men went to A Victory Inn and Suites hotel on Washtenaw Avenue Wednesday evening, Stanford said. The 15-year-old reported to police Thursday that she "woke up" in Ypsilanti near Washtenaw Avenue and North Mansfield Street and believes she was sexually assaulted by at least one of the men, police said.
Ann Arbor detectives are awaiting toxicology results to determine whether the girl was given drugs, police said.
Rankin was arrested after he surrendered Friday, and police said they're seeking sexual assault charges. Washtenaw County Jail officials said Rankin remains in custody and is scheduled to be arraigned this afternoon.
Riggins was last seen around 5 p.m. Thursday near downtown Ypsilanti, Stanford said. It's unclear at this point whether Riggins was abducted, Stanford said.
Both Rankin and Williams have criminal histories, Stanford said.
Williams is 25, black, 6 feet tall, 180 pounds, with brown eyes, black hair and a tattoo on his right arm, the Amber Alert says.
Riggins is white, 5 feet, 3 inches tall, 125 pounds with brown eyes and brown hair.
Stanford said they still may be in southeast Michigan. Numerous tips have come in since the Amber Alert was issued, but none have led to Riggins, Stanford said.
Anyone with information can call 911 or Ann Arbor police at (734) 794-6911.