Posted on
Tue, Jun 18, 2013 : 10:18 a.m.
$1.4M wind project at Pioneer High School advances to next stage in 8-3 vote
By Ryan J. Stanton
After a nearly 40-minute debate Monday night, the Ann Arbor City Council has decided to move forward with the next phase of a wind energy project at Pioneer High School.
The council voted 8-3 to approve a $49,883 contract with CDM Smith for engineering services as the project heads into the environmental analysis phase, which includes further study and public outreach before an actual contract to construct a wind turbine comes back to council for approval.
Ryan J. Stanton | AnnArbor.com file photo
"I think this is going to be a lively debate in the community about whether this should be there or shouldn't be there, and there are pros and cons on both sides," said Council Member
Marcia Higgins
, D-4th Ward, adding she wasn't going to stand in the way of letting that debate happen.
"This finally gets it out to the community to let the community have the dialogue that we've kind of been hoping we would have," she said.
The three council members in favor of killing the project before it advances any further were Sumi Kailasapathy, Sally Hart Petersen and Jane Lumm.
Lumm and Kailasapathy both relied heavily on an email they received from Gregory Tarle, a physics professor at the University of Michigan who questions the $1.4 million project. The city received a federal grant for the project and isn't planning to spend any of its own cash.
Kailasapathy, D-1st Ward, said it's still taxpayer money, though, and she's not convinced — based on the data Tarle has presented — that the turbine will even move. She said she now regrets her vote from earlier this year to accept the federal grant money for the project.
"We do want to spend it, but we want to spend taxpayer dollars wisely — not to show if you put the project on the wrong place, it's not going to work," she said.
"It's not too late. We really need to rethink this," she added. "I know it's federal dollars coming in, but it's not free dollars — it's taxpayer money. And it's our duty to be good stewards of that money."
Tarle emailed council members in April, saying he was concerned about spending such a large amount of taxpayer dollars for a project he doesn't think will produce good results. He said he teaches a class called "Energy for our Future" at U-M and effective wind turbines must be sited in places where the wind velocity is high and steady or where there are frequent high velocity gusts.
He argued wind resources are marginal at best in Ann Arbor, and a better place for a turbine would be near the shores of Lake Michigan — or better yet, offshore.
Lumm said given Tarle's expertise in the field, she found his arguments against the wind energy project to be "quite compelling."
Council Member Sabra Briere, D-1st Ward, called city staff up to the lectern Monday night to reiterate why they thought it was a good project.
Brian Steglitz, a senior utilities engineer for the city and project manager, reminded council members that funding is coming from the U.S. Department of Energy, and the project is intended as an educational demonstration of wind energy.
He said New York-based Wind Products Inc., the developer the city is partnering with, is willing to guarantee the turbine will produce a minimum of 66,000 kWh of electricity per year. Pioneer High School would be the beneficiary of that arrangement with reduced electricity costs.
"The data we've received from the developer indicates that it will produce power," Steglitz said. "It's not a tremendous amount of power. We're talking about a 60-kilowatt turbine. It will offset a portion of the power of the high school. It won't be all the power, just a portion of the power."
Even if the turbine doesn't produce power, Steglitz said, the developer is willing to guarantee a certain level of production and will offset the cost to the school. He went on to indicate the school might save a few thousand dollars a year in electricity costs.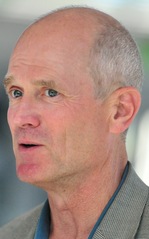 The school's only responsibility is providing the space for the turbine. The developer would be responsible for operation and maintenance.
Though there has been talk in the past of potentially two turbines going in at Pioneer High, city staff indicated it's now just a single turbine standing 120 feet high with 60-foot diameter blades.
City officials said part of the challenge has been that the turbine has to be located on the site of whatever it's powering. City Administrator Steve Powers said the city searched as far as East Lansing for a place to install a turbine and Pioneer High School is "really our last location."
"I think it's a same that East Lansing isn't going to put up a maize and blue windmill for us, and I mean that," Briere responded.
Council Member Stephen Kunselman, D-3rd Ward, said he was willing to support the project based on the fact that it's intended to be educational.
"This is just going straight into the school. It's going to run a couple outlets basically," he said, adding it looks like the turbine would be running about 30 percent of the time.
"Some of that time, there will be students in a class, as part of this educational effort, who will have the opportunity to look at a data center that shows its output, shows the wind speed, shows the generation, shows temperature, shows all the environmental factors of what's going on, and how much power is going into the school," he said.
Mayor John Hieftje said he hears the concern that Ann Arbor isn't the best location for wind energy, but he said it's also not the most ideal place for solar.
"And we see probably the largest utility in our state wanting to install solar here, and it seems to work fairly well" he said. "We have people who are putting solar on their homes."
Hieftje said he did a quick calculation and determined the turbine could offset the carbon emissions of about 16 houses the size of his own.
"I've never expected that this wind generator would generate a lot," he said. "I'm actually happy with 66,000 kWh, and I'm guessing that's probably a conservative number … so I think it is worth exploring this to the next stage and getting the public input and doing the environmental study."
Hieftje said he doesn't disagree with the professor's email, but it's worth pointing out the U.S. Department of Energy is interested in seeing the project move forward.
"I don't know nearly as much about this as they do, and I don't think anyone here at the table does, so I'm happy to follow the lead of the U.S. Department of Energy," he said.
"I think they're very well aware that it's not going to produce much energy, and it's always been about the educational component," he added. "It might be a real bonus for our high school kids."
Kailasapathy raised concerns about the potential for noise pollution and wondered if the turbine would cause headaches or other side effects.
Steglitz said those kinds of concerns could be examined as part of the upcoming environmental assessment. He said project officials will be visiting a college in Indiana with a similar turbine to figure out everything they can about its operation and its impacts.
The City Council voted in January to accept a $951,500 federal grant for the project. The $484,390 local match for the grant is made up of $18,590 in city staff and $465,800 worth of work provided by Wind Products Inc. for the equipment and installation.
As for the costs to own and operate the turbine, city officials said, those will be handled in the agreements among the parties, but there will be no net cost to the city.
Ryan J. Stanton covers government and politics for AnnArbor.com. Reach him at ryanstanton@annarbor.com or 734-623-2529. You also can follow him on Twitter or subscribe to AnnArbor.com's email newsletters.