Posted on
Tue, Oct 19, 2010 : 1:50 p.m.
$160,000 furniture cost for new police-courts building draws concerns from Ann Arbor City Council
By Ryan J. Stanton
(This story has been updated with additional information regarding the city's fund balance.)
Keith Zeisloft, administrator of Ann Arbor's 15th District Court, was put in the hot seat Monday night as Ann Arbor City Council members grilled him on a $160,000 expense request for unbudgeted furniture items needed for the new police-courts building.
Council members appeared caught off guard by the expense, which Zeisloft acknowledged he knew was coming for some time — he said he just didn't know how much it would be.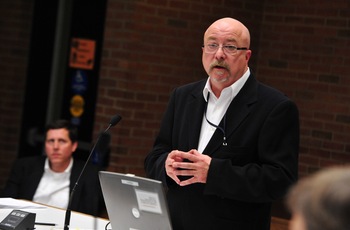 Ryan J. Stanton | AnnArbor.com
Council Member Marcia Higgins, D-4th Ward, said she was "flabbergasted" that Zeisloft didn't at least put a placeholder line item in the courts budget four months ago.
"I think it would be very prudent if you knew in the beginning that this was something that we were going to need," she said. "We see placeholders in the budget all the time."
"That may be, and I'll concede that to you," Zeisloft responded. "I didn't put it in the budget because I had no idea how much it would be — quantity or the dollar amount — and I was hoping that it would be rather minimal in comparison to the entire cost of the project. I'm afraid I can't offer you a better answer than that."
The city is spending nearly $50 million on the police-courts building, which is taking shape next to the existing city hall building at the corner of Fifth and Huron. The city's police and courts staff are expected to move into the building by the end of the year.
The council postponed approving the $160,000 expense Monday night, asking Zeisloft to come back with an itemized list of actual furnishings needed and the cost per item.
Zeisloft said he had conversations with Tom Crawford, the city's chief financial officer, about the furnishings for the court several months ago when the budget was being prepared. He said he decided not to include the expense in the budget because he didn't have detailed floor plans yet.
"The specific designs for each floor had not been determined," he said. "I can tell you that there was, on my part, an awareness that we would need some furnishings. That was evident from the very beginning. But it was not possible to tell at the time when the budget was being put together exactly or even remotely the amount of furnishings that would be needed."
Zeisloft said the furnishings — including items like chairs for jurors — are essential to the operations of the court. He said he plans to be as frugal as possible and not exceed $160,000.
The city's 15th District Court currently occupies a leased spaced in the Washtenaw County courthouse, but the city has been asked to vacate the space by the end of this year so the county can move its juvenile court into the location.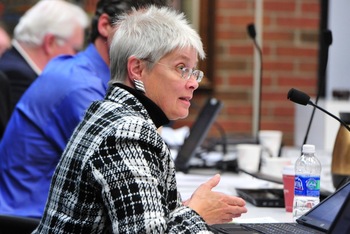 Ryan J. Stanton | AnnArbor.com
Mayor John Hieftje questioned whether the city could purchase, at a reduced rate, the juror chairs from the county since they won't be needed for a juvenile court. Zeisloft said he'd look into that.
"It gives us an opportunity, if you'll explore that, to be as frugal as possible," Hieftje said, calling the $160,000 "an expense that we certainly hadn't expected."
Council Member Sabra Briere, D-1st Ward, was the first to question the expense Monday night. She wondered how the City Council could afford to spend $160,000 that wasn't budgeted, in addition to another item on Monday's agenda — a budget request by the planning department to take more than $153,000 out of the city's general fund balance for master planning projects, including corridor design standards.
The $153,000 budget request by the planning department was approved by a 9-1 vote, with Higgins voting no. Council Member Stephen Rapundalo, D-2nd Ward, was absent.
"Some people would be curious how we can open that general fund budget up and take about $300,000 out of it when we've been saying that we don't have a lot of flexibility in that budget this year," Briere said, asking Crawford for an explanation.
Crawford told Briere that the general fund budget includes an undesignated fund balance of about $10.8 million, which he said equals about 13 percent of general fund expenditures. He said the city tries to maintain a fund balance equal to 8 to 12 percent of expenditures.
City records show the city's undesignated fund balance as of June 2009 was $10.67 million. The city's budget for the current year showed the city would be spending that down to $7.8 million by next June, but Crawford clarified today the city finished this past fiscal year with small surplus and the estimated undesignated fund balance for June 2011 is projected to be $10.1 million, $700,000 less than the figure he cited during Monday's meeting.
City Council Member Stephen Kunselman, D-3rd Ward, wondered about the city's financial health Monday night and asked Crawford whether and to what extent there'll be another major budget deficit next year. Crawford said he hasn't come up with a revised financial forecast, but the cuts the city put into effect this year will help lessen any potential shortfall.
The purchase request by the court proposed buying the furniture and equipment from ISCG Inc., a Royal Oak-based company with an office in Ann Arbor. Zeisloft said ISCG has provided furnishings and equipment to the court before and is a pre-approved Washtenaw County vendor with Washtenaw County Sheriff's Office court security clearance.
Zeisloft said the court owns a significant existing inventory of furnishings and equipment that will be repurposed and reused in the new Ann Arbor Municipal Center, an inventory that includes the judges' and the magistrate's office furnishings, all probation department furnishings and equipment, office chairs and miscellaneous office desks, worktables and printer stands.
Other necessary furnishings and equipment not in the court's inventory, he said, include courtroom furnishings, case management staff and judicial staff workstations, jury assembly and jury deliberation room furnishings and other miscellaneous office furnishings and equipment.
Earlier this month, the City Council approved a resolution to pay Clark Construction, the construction manager for the Ann Arbor Municipal Center project, $31,000 for the purchase and installation of audio visual equipment in a newly renovated city hall basement meeting room. Funding for the purchase was included in CTN's capital equipment fund.
Ryan J. Stanton covers government and politics for AnnArbor.com. Reach him at ryanstanton@annarbor.com or 734-623-2529.