Posted on
Fri, Dec 7, 2012 : 5:58 a.m.
18-year-old injured in fall from sixth floor of U-M's Mary Markley dorm
By Cindy Heflin
Editor's note: This article has been corrected to note that limiters were on Mary Markley windows before Courtney Cantor's death.
University of Michigan police are investigating what caused an 18-year-old's 43-foot fall out of a sixth-floor window at Mary Markley residence hall in the early morning hours of Nov. 18.
The man, an Ohio resident, was visiting friends on campus and suffered significant injuries, University of Michigan police spokeswoman Diane Brown said. He was apparently on the ground outside the dormitory for several hours before anyone discovered his injuries.
He was treated at University Hospital after the fall but has since been released, Brown said. She said she could not provide information about whether he went home or to another hospital or any information about his condition. The university did not release his name.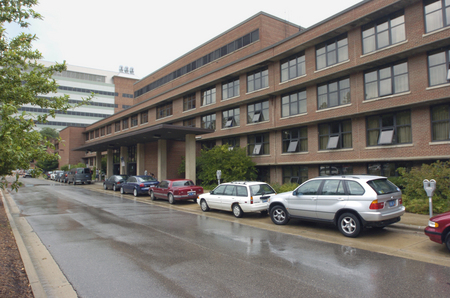 File photo
Mary Markley, a freshman co-ed residence hall, is the same dormitory from which University of Michigan student
Courtney Cantor
fell to her death on Oct. 16, 1998. Cantor also fell out a sixth-floor window, but her fall was 58 feet, investigators said at the time. Because Markley is built into a hillside, part of the building is below ground level.
Limiters, which are devices to keep the windows from opening all the way, were in place on the windows at the time of Cantor's death, as they are today, said Peter Logan, director of communications for University Housing.
In the Nov. 18 incident, police believe the man went out the window between 4 and 7 a.m. "Around 9 a.m., he was able to get himself near the front door area, kind of around the corner, and someone let him in," Brown said. He then contacted his friends and they took him to the emergency room, she said.
Brown said she could not elaborate on the nature of his injuries.
University of Michigan police were not aware of the incident until the afternoon of Nov. 19, when they were notified by housing security, who had been told about it by university risk management personnel, who were informed by the hospital, Brown said.
The investigation has not yet determined whether the man had been drinking or using drugs, Brown said, and it's not clear why the man went out the window. Other people were in the room sleeping when the incident happened, she said.
"We've not received any information of foul play," Brown said. "At this time there's nothing that indicates this was anything other than an accident."
It's not clear how far the window was open. It was not broken, Brown said.
Brown said the university does not believe anyone witnessed the man's fall. But she encouraged anyone who may have information to call police at 734-763-1131
Asked to comment about whether there are concerns about the safety of the windows at Markley, University of Michigan spokesman Rick Fitzgerald noted the police investigation is still ongoing. "Part of that is taking another look at the windows that do have limiters on them that limit how far they open. I'm not sure that we know enough about this situation yet to take any further action, but obviously we're very interested in the investigation continuing."
Cantor, 19, fell through the window in her sixth-floor dorm room sometime in the early-morning hours of Oct. 16, 1998, and onto concrete 58 feet below. Her body was found about 5 a.m. near a loading dock by a food service employee reporting to work.
Authorities said Cantor had been drinking earlier that night at a fraternity party but was not legally drunk when she fell. An investigation was unable to determine exactly what happened, but investigators speculated that Cantor might have been trying to open or shut the window from her loft bed when she fell out.
Several members of a fraternity, which was disbanded after Cantor's death, pleaded guilty to furnishing alcohol to a minor.
Cantor's father, George Cantor, settled a lawsuit against the university for $100,000. Cantor, who was a Detroit News columnist at the time, said he sued U-M because a lawsuit is a way to bring about change. The suit alleged that U-M was negligent in protecting his daughter and that the windows of her dorm, Mary Markley Hall, were unsafe. The suit, which sought damages in excess of $10,000, said U-M had a contractual obligation to warn his daughter about the dangers of alcohol and drug use.
George Cantor died in 2010 at the age of 69.