Posted on
Sat, Mar 23, 2013 : 5:56 a.m.
182-mile Race Across Michigan raises money for Special Olympics
By Lisa Carolin
Sixty-three runners from the University of Michigan Running Club will be on their feet to begin a run at 6 a.m. Saturday from Hart Plaza in Detroit to South Haven, 182 miles away.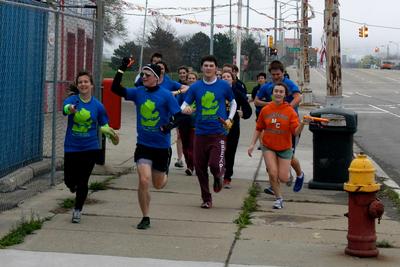 Courtesy Greg Sollish
They're following Michigan Avenue out of the city and will make their way to Ann Arbor, where they will take Geddes Road to Huron Street to Jackson Road and then make their way to Old U.S. 12 right to Kalamazoo.
The last 33 miles of the run take place on the Kal-Haven Trails, which takes them to the beach of Lake Michigan in South Haven.
This is the fifth year of the Race Across Michigan, a 24-hour race to raise money for the Special Olympics, and the runners are no strangers to this kind of challenge. The Michigan Running Club is made up of 200 dues-paying members, all full-time U-M students, ranging from former varsity runners to those who run a few times a week to stay in shape.
"A couple of Michigan Running Club members were out on a run and started joking about running across the state some years ago," said Greg Sollish, one of the co-directors of the race, describing how the idea for the race was created. "When they realized it was actually possible, they decided to do it for charity, and the Race Across Michigan was born."
Runners run between two to six legs of the race at a time throughout the day and rest in between. For example, a group of runners will say they want to run six miles and will be met by vans six miles down the road. When the runners arrive, the next group leaves, and that goes on for the entire run.
Each runner will run between 10 and 25 miles of the race. Last year's Race Across Michigan was completed in 22 hours, 26 minutes and 4 seconds, and runners hope to break that record this weekend.
Sollish says the Michigan Running Club, the largest athletic club on the campus of U-M in Ann Arbor, has had a long partnership with the Special Olympics. Donations are raised through participants asking family and friends, and with the help of businesses in the Ann Arbor area.
"We meet up with some of the athletes (Special Olympians) before we race to decorate batons and make posters and will run a leg with some of the them as we come through Ann Arbor," said Sollish.
Last year's Race Across Michigan raised $10,000, and this year's goal is to raise $15,000.
Learn more about Race Across Michigan and donate funds online at the group's website.
Lisa Carolin is a freelance reporter. Contact the AnnArbor.com news desk at news@annarbor.com.