Posted on
Tue, May 22, 2012 : 1:47 p.m.
$1.8M in water and sewer rate hikes get initial OK from Ann Arbor City Council
By Ryan J. Stanton
The Ann Arbor City Council gave initial approval Monday night to nearly $1.8 million worth of increases in water, sewer and stormwater rates
The new rates will kick in July 1 once given final approval next month. They're needed to maintain debt service coverage and funding for necessary capital improvements, according to a staff memo from Marti Praschan, a financial manager in the city's public services area.
The rate adjustments will provide revenue increases of 3.25 percent in water, 4.25 percent in sewer and 4 percent in stormwater, according to Praschan's memo.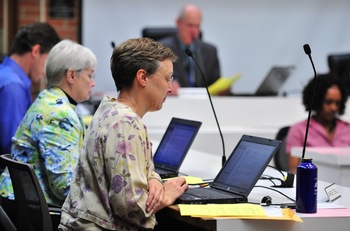 Ryan J. Stanton | AnnArbor.com
That's projected to increase revenues in water, sewer, and stormwater by $664,834, $916,577 and $184,064 respectively.
The impact of the increases on the average single-family customer is $19.40 per year, a net increase of 3.21 percent if consumption is unchanged from last year, Praschan said.
A public hearing on the rate increases will be held on June 4 before the council votes to give final approval at second reading that night.
The city's drinking water rates for most residential customers are tiered based on usage. The city measures usage in units equal to 100 cubic feet of water or 748 gallons.
A typical single family bill is calculated with 21 units per quarter, is in the second tier for stormwater and receives a 10 percent discount for payment on or before the due date.
But even at the highest rate, the city's charges for drinking water are still significantly less than a penny a gallon.
The city is undertaking one of the largest capital improvement projects in its history: a complete rebuild of half the city's wastewater treatment plant.
City officials say the fact that the city is embarking on such a major project is one reason why utility rates have steadily increased, and why the city's utility funds show surpluses year after year. That money is being stockpiled for projects like this.
Ryan J. Stanton covers government and politics for AnnArbor.com. Reach him at ryanstanton@annarbor.com or 734-623-2529. You also can follow him on Twitter or subscribe to AnnArbor.com's email newsletters.