Posted on
Tue, Aug 7, 2012 : 8:48 p.m.
Kailasapathy beats Sturgis in 1st Ward race for Ann Arbor City Council
By Ryan J. Stanton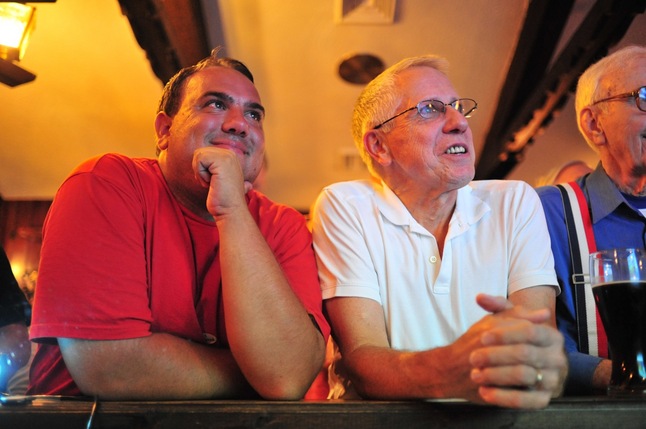 Ryan J. Stanton | AnnArbor.com
With all 10 precincts reporting,
Sumi Kailasapathy
has defeated fellow Democrat
Eric Sturgis
in the 1st Ward primary race for the Ann Arbor City Council.
The final vote count was 863-628, giving Kailasapathy 57.7 percent.
"I congratulate Sumi for a great race and I'm going to fully support her," Sturgis said while at a gathering at Heidelberg. "Obviously in November she's running unopposed, but I'm going to encourage the people who supported me to support her and I want to thank all of my supporters and the people who helped me."
Kailasapathy and Sturgis were competing for the open seat being vacated by Sandi Smith, who announced earlier this year she wouldn't seek re-election.
Sturgis ran with backing from a number of Mayor John Hieftje's political allies, while Kailasapathy ran on a platform heavily critical of the mayor and council majority's agenda. That included speaking out against plans for a countywide expansion of transit services and a new train station in Ann Arbor — two ideas Sturgis believes the city should pursue.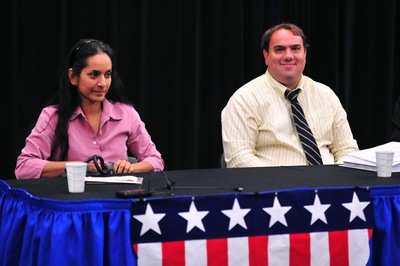 Ryan J. Stanton | AnnArbor.com
The 1st Ward race was perhaps the ugliest of the four contested races for the City Council in this year's primary. At their first debate in June, the two candidates bickered over whether Kailasapathy should be allowed to have her signs posted outside the Arrowwood Community Center.
Sturgis later criticized Kailasapathy for supporting Republican candidates in the past, while Kailasapathy fired back by pointing out Sturgis donated to Rick Snyder's campaign for governor.
When Sturgis complained he was under siege with personal attacks, Kailasapathy defended the right of local blogger Patricia Lesko, one of her political allies, to write pieces questioning Sturgis' academic credentials. Lesko's speculation that Sturgis didn't really have an associate's degree from Oakland Community College later proved false, though.
Lesko also called out Sturgis for saying he planned to finish his bachelor's degree at Eastern Michigan University when he wasn't yet enrolled. Sturgis showed up to a debate last month with a letter of acceptance from EMU, as well as his transcript from OCC, and jokingly offered Lesko a copy of his birth certificate proving he was born in the U.S. in case she wanted that, too.
Sturgis said just before Tuesday's primary that he and Kailasapathy had smoothed things over and each planned to support the other if voters decided they were the better candidate.
"I think Sumi and I are on better terms," he said.
But on election day Sturgis complained again about handmade signs for Kailasapathy that were posted around town, some allegedly taped to stop signs and other public fixtures.
Sturgis said he's going to focus on finishing his bachelor's degree before he thinks about his political future, but he's not ruling out running for office again. But for now, he said, he looks forward to trying to work with Kailasapathy as the 1st Ward's next council member.
Ryan J. Stanton covers government and politics for AnnArbor.com. Reach him at ryanstanton@annarbor.com or 734-623-2529. You also can follow him on Twitter or subscribe to AnnArbor.com's email newsletters.