Posted on
Sat, Apr 3, 2010 : 11:10 a.m.
2 in critical condition following blaze on South State Street in Ann Arbor
By Amalie Nash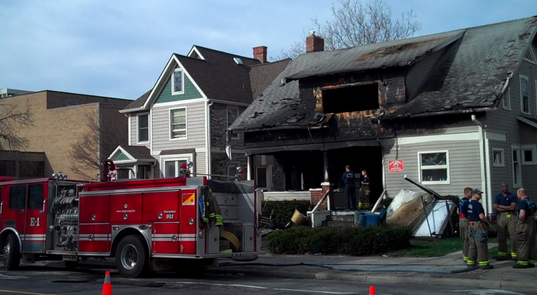 Edward Vielmetti | AnnArbor.com
Two occupants of a home
gutted by fire
early today were critically injured, officials said.
A third occupant also was taken to the hospital following the 5:30 a.m. blaze at 928 S. State St., said Ann Arbor Police Chief Barnett Jones, the safety services administrator.
Ann Arbor Assistant Fire Chief Greg Hollingsworth said it appears seven people - all in their early 20s - were inside the home when the fire started.
Hollingsworth said the call came in as a porch fire. When firefighters arrive, one person exited the home on fire, another person's legs were on fire, and someone jumped from a second-story window. Firefighters rescued two people off the back porch roof.
"When a fire starts on a porch, it gets so intense by the time it breaks into the home," Hollingsworth said. "The stairwell acts as a chimney, and there's no way to easily get out."
Two men and one woman were injured, and all were taken to the University of Michigan Hospital. One man and the woman were in critical condition, Hollingworth said.
One of the injured occupants is a University of Michigan student, officials said. That student was released from the hospital to his parents Saturday afternoon, according to University of Michigan police spokeswoman Diane Brown.
Photos by Ron Gubry
The cause has not been determined. Two other fires involving cars and trash cans also were reported overnight, including one that consumed three cars on Church Street, officials said.
Hollingsworth said investigators are looking into any possible connections between the fires. He said the car fire was suspicious because the vehicle that first ignited hadn't been driven in a couple days, meaning it didn't overheat and start on fire.
The displaced residents were being moved into another rental home owned by the landlord, officials said.
A team of seven Red Cross volunteers assisted five of the eight residents affected by the fire, according to a statement from the Washtenaw County American Red Cross. Representatives from the Dean of Students' office at the University of Michigan were at the hospital to provide assistance.
South State Street was closed following the fire. As of 10:15 a.m., the northbound lanes were reopened, and one lane southbound remained blocked.
Hollingsworth said investigators will be on the scene most of the day.