Posted on
Sat, Jan 29, 2011 : 7:27 a.m.
2 injured in house fire on Ann Arbor's west side
By Amalie Nash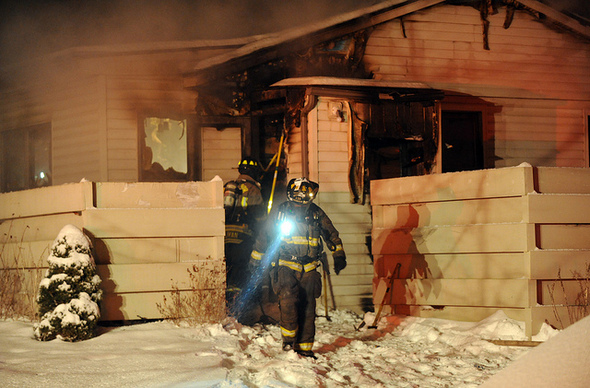 Lon Horwedel | AnnArbor.com
Updated story: 1 dead, 1 in critical condition after fire on Westaire Court on Ann Arbor's west side
Ann Arbor firefighters rescued an unconscious man and woman from the basement of a home on the city's west side early today after a fire broke out on the first floor, fire officials said.
Both were taken to the University of Michigan Hospital as CPR was being performed, and both had a pulse by the time they arrived, Ann Arbor Fire Capt. Jim Budd said.
Two other people who were inside the home at 2275 Westaire Court escaped injury and were outside when firefighters arrived, Budd said.
The fire in the 1,500-square-foot ranch was reported at 5:01 a.m. Budd said he did not know who called to report the fire.
When crews arrived, about 20 percent of the home was on fire, and it was spreading, Budd said. The two occupants who made it outside told firefighters two others were still inside, Budd said.
Firefighters found the man and woman in the basement, and they were unconscious from smoke inhalation, Budd said. They were rushed to the U-M Hospital; an update on their condition was not available at 9:30 a.m., Budd said.
All 20 of the city's firefighters on duty responded to the scene and got the fire under control by 6:19 a.m., Budd said. Crews are expected to be on the scene most of the day doing overhaul while fire investigators attempt to pinpoint the cause of the blaze.
Budd said it's too early to determine what may have caused the fire, but it appeared to start on the first floor.
The house is still standing, but the interior was gutted by the fire, Budd said.
It's unclear whether all four people lived in the home. Budd said all appeared to be in their 20s.