Posted on
Mon, Nov 12, 2012 : 12:26 p.m.
Now on Twitter: 20-pound carp fished out of Ann Arbor's West Park pond
By Amy Biolchini
A 20-pound common carp workers removed from a pond Friday in Ann Arbor's West Park has joined the esteemed company of the North Campus Cougar and the Dexter Bear.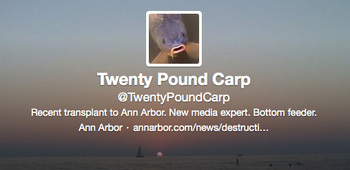 From the Twitter profile of @TwentyPoundCarp
The fish, which is now swimming in the Huron River, has its own Twitter account: @TwentyPoundCarp.
The profile surfaced over the weekend after an AnnArbor.com story detailed how the city's Natural Area Preservation program workers removed the carp from the pond at the park.
NAP program workers speculated that the only way the 20-inch-long carp got into the West Park pond is if someone had put it there.

The carp was destroying vegetation in the pond, which was built in 2010. The pond is a part of a greater stormwater management system built by the city of Ann Arbor, and is intended to filter out pollution in a constructed wetland setting.
Workers released the carp into the Huron River Friday because they believed that's where it came from in the first place, though the Michigan Department of Natural Resources had advised them to destroy it because a permit is needed to transfer a fish from one public body of water to another.
Amy Biolchini covers Washtenaw County, health and environmental issues for AnnArbor.com. Reach her at (734) 623-2552, amybiolchini@annarbor.com or on Twitter.