Posted on
Thu, May 26, 2011 : 9:21 a.m.
2011 is now the wettest spring on record in Ann Arbor; flood warning still in effect, more rain expected
By Cindy Heflin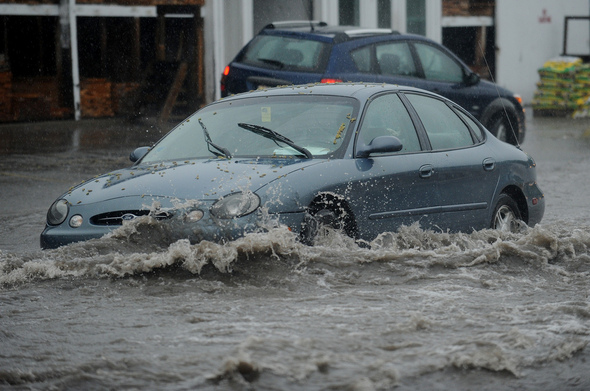 Melanie Maxwell | AnnArbor.com
It's now one for the record books. The spring of 2011 is officially the wettest spring on record in Ann Arbor.
The heavens dumped 3.48 inches of rain on the University of Michigan's north campus weather station in the 24 hours ending at 7 a.m. this morning. That's where University of Michigan weather observer Dennis Kahlbaum collects rainfall totals and reports them to the National Weather Service.
Ann Arbor has received 16.66 inches of precipitation in March, April and May, beating the old record of 16.61 inches set in 1943, Kahlbaum said this morning.
The 24-hour rainfall total ranks as the sixth highest on record. The highest was 4.54 on Aug. 6 in 1998. Though the one-day total wasn't a record, it still ranks as a 25-year storm, Kahlbaum said, meaning that much rain is only expected to fall in a 24-hour period once every 25 years.
And while that's an impressive statistic, because of the intensely local nature of thunderstorms, other areas around Washtenaw County and even Ann Arbor likely received even higher rain totals, Kahlbaum said, some possibly more than 4 inches.
Wednesday's storms brought flooded roads, a lightning strike that closed Ann Arbor's Northside Elementary School and a few downed tree limbs. But it caused no major power outages or other problems, according to DTE Energy and local law enforcement officials.
For the month of May, the Ann Arbor area has received 6.49 inches of rain, the sixth-highest total for the month. The record was set in 1943, when Ann Arbor received 10.49 inches.
More wet weather is in store for the area today and a flood warning remains in effect until 11:30 p.m. But relief is in sight. Summer-like conditions are expected for the weekend.
The forecast calls for scattered light showers through 11 a.m., then periods of showers and thunderstorms with a high of about 68. Tonight, showers are likely.
Friday, it will be mostly cloudy with a chance of showers in the late afternoon and a high near 60.
Things will start to improve Saturday, when the forecast calls for partly sunny skies by midmorning, but there's still a chance of showers and thunderstorms. Highs will be in the 70s. Sunday and Monday the weather turns hot, with highs in the 80s and mostly sunny skies.
.