Posted on
Mon, Dec 5, 2011 : 2:55 p.m.
2011 is the wettest year on record in Ann Arbor area
By Cindy Heflin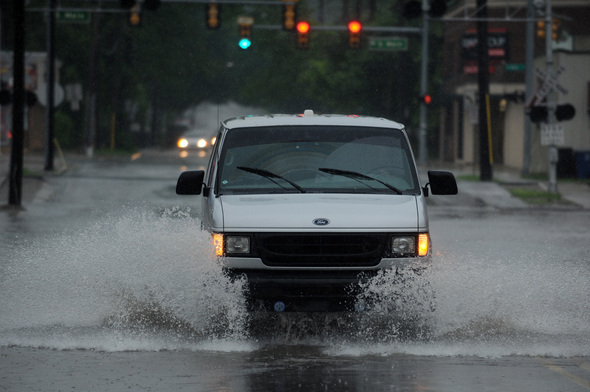 Melanie Maxwell | AnnArbor.com
The year still has almost four weeks left in it, but it's already the wettest in history in the
Ann Arbor
area.
As of 7 a.m. Monday, Ann Arbor had received 48.59 inches of precipitation in 2011, said University of Michigan weather observer Dennis Kahlbaum.
That's 4.83 inches more than the total received in 2006, the second wettest year in history, according to records kept since 1880. Average annual precipitation in the Ann Arbor area is 37.55 inches.
With December bringing in an average of 2.5 inches of precipitation for the month, we could end the year with 6 or more inches above the previous record.
The total was surprising even to Kahlbaum, who monitors rain and snowfall daily, and has a better idea than most about whether the weather has been setting records.
The reason for all this sogginess? A confluence of weather patterns in the Pacific and Atlantic.
"You can't blame it on global warming," he said. "It's just that the storm patterns have been such that they have very frequently passed by."
He noted that we had very heavy rains in the spring and early summer, which laid the groundwork for a wet year over all. Then wet weather returned for the fall.
Last month was the second wettest November on record with 5.74 inches, Kahlbaum said. The record holder for November is 1982, when 5.86 inches of precipitation fell. Ann Arbor also had the fifth wettest September on record this year.
Detroit is also approaching a record wet year with 45.29 inches so far, National Weather Service meteorologist Dave Kook said. The record is 47.69 in 1880.
As for the immediate future, Ann Arbor area residents can expect the rain to continue Monday afternoon, then possibly mix with snow after 5 p.m. Overnight more snow is possible with new snow accumulation of about an inch.
Skies will clear Tuesday with a high near 36. Wednesday and Thursday will be dry, but a chance of snow showers returns Thursday night.
For updated forecasts and conditions anytime, check AnnArbor.com's weather page.