Posted on
Sun, Mar 3, 2013 : 5:59 a.m.
2012 year of record adoptions for Humane Society of Huron Valley
By Amy Biolchini
Eager and curious, Kensy sniffed the ground and pulled her handler Mike Barkman of Ann Arbor toward the woods at the Humane Society of Huron Valley in Superior Township.
A terrier and pit bull mix, Kensy, at the age of 4, has had almost as many owners.
Under the careful guidance of the Humane Society staff, Kensy's sweet, intelligent character will help her find a permanent place to live.
HSHV had a record number of adoptions in 2012: 3,783 homeless and abused animals found homes -- about 152 more than last year -- and 857 were reunited with their families.
The Humane Society is celebrating its adoption success after a nearly rocky start to 2012, when Washtenaw County attempted to cut its $500,000 in annual contract funding for services to the HSHV in half.
Negotiations between the two parties has continued for the past year, and a new four-year contract is on the eve of being signed.
Within the next several years, the new contract would cover the actual operations costs the humane society says it incurs each year for caring for animals under the contract it has with the county.
The contract
Washtenaw County is mandated to provide animal control services by state law, which include housing stray dogs and dogs seized during cruelty investigations. In 2012, 415 reports of animal abuse and neglect were investigated.
Under the contract with the county, HSHV houses and cares for stray animals in the county, and any animals brought to the organization by animal control officers, law enforcement and HSHV's cruelty investigators and emergency rescue team.
"We are committed to our partnership with the county because we consider it a win-win for taxpayers and our community's homeless and abused animals," said Tanya Hilgendorf, executive director of the HSHV. "We have very strong outcomes, a highly effective service delivery system, and are a national model for best practices in animal care and animal cruelty investigations. These are outcomes this community has grown to expect."
Melanie Maxwell | AnnArbor.com
The Washtenaw County Board of Commissioners has been debating for the past year if it should care for more than dogs -- as is the only requirement under the
Dog Law of 1919
, and how much it should be paying to the HSHV for the services it gets in return.
The humane society sides on behalf on the way state animal cruelty laws are written to include "all vertebrae."
The initial proposal to cut the county funding in half did not sit well with the HSHV, and both parties settled on a $415,000 amount for 2012.
In 2012, the HSHV had $66,000 more in expenditures than it had in revenue.
"We anticipated a loss because of a reduction in the county contract in 2012 and made special efforts to increase our fundraising and grants to fill in the gap, but did not completely succeed," Hilgendorf said.
An analysis conducted by the Washtenaw County Sheriff's Office in conjunction with the HSHV this summer found that the services HSHV provided per the contract it has with the county total a direct cost amount of $591,622 in 2012.
Adding in the facilities costs, technology and administrative overhead into that would equal a total housing cost of $715,893 in 2012, according to the analysis.
The analysis also found that cruelty investigations cost about $235,900 in 2012, and that about $1 million in in-kind services were being provided that would bring the total value of the services the HSHV was providing to the county under the terms of its contract to $2,053,393.
After an evaluation throughout last summer, the commissioners decided late in 2012 to allow county Administrator Verna McDaniel to execute a new contract with HSHV for an amount of no more than $500,000.
McDaniel said she plans to pursue a $550,000 contract, about $460,000 of which will be paid for by the county. The remaining $90,000 will be paid for by select other municipalities in the county, McDaniel said, but those agreements are still pending.
A new four-year contract, which McDaniel initially said would be signed by early January, has yet to be inked.
"Our goal is by next year at least be covering all of our hard costs through the terms of the contract," Hilgendorf said.
The animals
HSHV is the only shelter in Washtenaw County. A total of 5,615 pets came in to the HSHV in 2012.
It has one of the highest save rates out of any shelter in Michigan at 85 percent, according to the HSHV.
The other 15 percent are animals that come in so sick or injured that they can't be saved and have to be humanely euthanized, said Deb Kern, marketing director for HSHV.
For healthy and treatable animals, HSHV says it has a placement rate of 99 percent.
Part of HSHV's adoption success is due to a number of targeted programs it employs.
From a free barn cat program that helps find placements for feral cats, to matching senior animals with senior citizens, to discounted adoptions for veterans, the humane society is able to make sure the right animals end up in the right homes.
HSHV helped 1,099 cats through its feral cat program last year, and completed 6,144 spay and neuter surgeries.
The average length of stay for cats is about one month at the shelter.
For dogs, it's about 16 days. Pit bulls and pit bull mixes take a little longer to find homes for -- about an average of 36 days, Kern said.
Kittens and puppies are adopted so quickly that they "fly out" of the shelter, Kern said.
"Some animals never make it to the website," Kern said.
During the winter months, fewer to no puppies or kittens are at the shelter. Kern said many people looking for a young animal to adopt will turn elsewhere to find a pet to take home -- including pet stores.
Kern said the puppies and young dogs brought to the HSHV through PetSmart's Rescue Waggin' each month helps combat that problem.
PetSmart charities pay for the transport of the puppies from points south, where the warmer weather proliferates the puppy production. If they were to stay in shelters in southern states, they would likely be euthanized, Kern said.
The HSHV pays for those animals once they arrive at their shelter, and the number of dogs adopted from the Rescue Waggin' count toward the total number of animals the shelter adopted out.
Funding
As a non-profit, the HSHV relies heavily on donations and volunteer hours to make its operations work.
Though HSHV knew it would be likely operating at a loss for 2012, it started the year with $11.5 million in unrestricted assets.
Of the $4,679,683 in revenue the HSHV brought in during 2012, $1,512,469 of that was of individual and business contributions, $300,777 from special events, $310,053 from bequests and $118,321 from grants and foundations.
HSHV spends about 86 percent of its funds on programs and services. Seven percent is spent on development, and 7 percent is spent on management.
The HSHV agreed to the decreased compensation in the 2012 contract.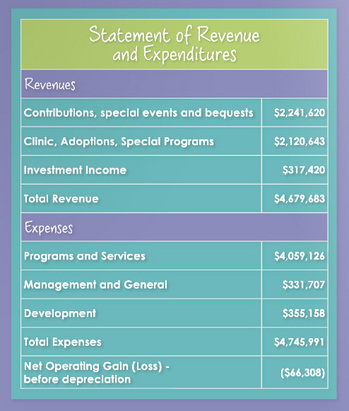 Courtesy of HSHV
However, with less of a contribution from Washtenaw County for contracted services in 2012, more of the donations are going to general operations than they are for services, Hilgendorf said.
"Donor money should be used for important mission-related services and critical prevention services, like spay-neutering and humane education," Hilgendorf said. "In the end, we do the animals, the community and our organization a disservice when we allow ourselves to be underpaid."
HSHV also has contracts with the municipalities of Plymouth and Canton to house their stray animals, which amounted to $1,972 and $47,810 in income for 2012, respectively.
Those contracts don't cover housing animals for abuse or neglect cases, cruelty investigations or for animals ordered out of a home by the court. HSHV cared for 46 stray animals from Plymouth and 112 stray animals from Canton in 2012.
Volunteers
Volunteers help with a number of operations throughout the HSHV, like cleaning cages, walking dogs, filing records in the veterinary clinic and working charity events.
About 820 volunteers contributed 62,993 hours of service to HSHV in 2012 -- which is the equivalent of 30 full-time employees. They're a main reason that the organization is able to be successful.
Barkman, who works with Kensy, is one such volunteer. About a year ago, he started walking dogs for two to three hours in the morning several days a week. It's a busy task - he handles between five to eight dogs in any kind of weather. Each dog at the shelter gets time outside twice a day.
Why does he do it?
"My love for animals," Barkman said.
Amy Biolchini covers Washtenaw County, health and environmental issues for AnnArbor.com. Reach her at (734) 623-2552, amybiolchini@annarbor.com or on Twitter.