Posted on
Sat, Jun 23, 2012 : 6:42 p.m.
Judge candidate called out for Republican leanings at Democratic Party judicial forum
By Ryan J. Stanton
Ryan J. Stanton | AnnArbor.com
Jim Fink
was put in the hot seat Saturday afternoon at the
Washtenaw County Democratic Party's
judicial candidate forum in Pittsfield Township.
Fink, one four attorneys competing for an open Circuit Court judge seat, was asked to explain his Republican leanings, while the three other candidates made it known they're Democrats.
Before the forum started, someone anonymously placed dozens of copies of a homemade attack flier carrying the headline "What Washtenaw Democrats should know about Jim Fink" in the chairs, waiting for the 50 or so audience members who showed up.
The fliers described Fink as anti-choice and anti-gay and said he supported the 2004 Right to Life petition drive to ban partial birth abortions in Michigan and the successful 2004 petition drive to amend the Michigan Constitution to prohibit gay marriage.
It also called him out for contributing money to the campaigns of a number of Republicans, including Rick Snyder, Rob Steele, Dick DeVos, Mike Cox and Mark Ouimet.
"Those of you who know me know I have been associated with the Republican Party. If you didn't know, you can read this. It's partially true," Fink acknowledged.
Fink declined to specifically address any of the allegations, saying only that he's running a nonpartisan campaign and he has support from both Democrats and Republicans.
"If you look at my website, you will find that I am supported across the board, which is what a judge should be," he said. "A judge should not be political."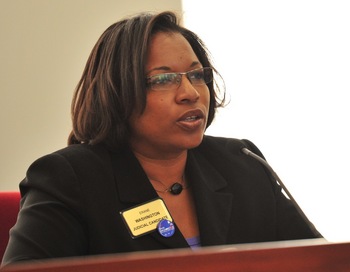 Ryan J. Stanton | AnnArbor.com
All three of Fink's opponents —
Carol Kuhnke
,
Doug McClure
and
Erane Washington
— denied having anything to do with the attack piece.
The four attorneys are competing in the Aug. 7 primary for the seat being vacated by Washtenaw County Circuit Judge Melinda Morris, who is retiring.
It's a nonpartisan race, so party affiliations won't be shown next to candidates' names on the ballot. The top two vote-getters will go on to compete in the November general election.
McClure stressed to Saturday's audience that he's a lifelong Democrat.
"In a room full of Democrats, you can trust that I share your values," he said. "And also that I know the law and that I would work very hard to make sure that our values are represented in court, and that the law is efficiently and correctly applied in a way that's compassionate."
Kuhnke said the four-way race for an open seat is exciting because it's been a long time since Washtenaw County voters have been able to elect a new judge.
"This is our opportunity," she said. "Judge Morris is the only judge sitting on the bench right now who was elected to her seat. The rest of our judges were appointed by governors."
Kuhnke, McClure and Washington all said they're pro-choice. Fink had a longer explanation, saying many people would classify him as pro-life, but as a judge he would follow the law.
"The Supreme Court has said there's a constitutional right to an abortion," he said. "And as a judge, I will follow the law because it's not up to a judge to make the law or to insert his or her personal opinions into things. We have to follow the law."
All four candidates were asked to state their opinion on whether same-sex couples should be able to adopt children.
"Same-sex adoptions are not currently allowed by court rule, I believe," Fink said. "If the law changes, I would follow the law."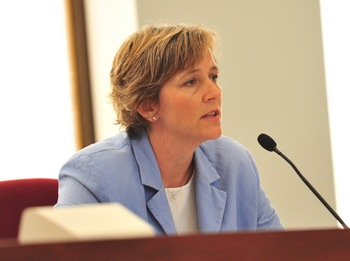 Ryan J. Stanton | AnnArbor.com
The three others said it should be allowed.
"If a child can be placed in a loving relationship — whether it's lesbian, gay, bisexual, whatever — there shouldn't be any legal impediment," McClure said. "And if there is, I would hope our Legislature would do something about that."
Kuhnke said she represents a same-sex couple that's trying to get both parents' names on a birth certificate. One of the mothers was an egg donor and the other mother carried the child to birth, but only the mother who carried the child is on the birth certificate.
"And the other one who is a biological parent of this child has not been allowed to have her name on the birth certificate, even though the two of them are raising this child together in a committed relationship," she said. "I think that's wrong."
Washington recalled there was a point in time when same-sex couples were allowed to adopt children in Washtenaw County.
"And I think that's why the people who are voting should be very aware of who they elect as judge, because the judges have the ability to go and speak with the Supreme Court justices and to speak with the Supreme Court administrators and set up rules that are specific to a court that would prevent this from happening," she said.
"And that's what happened in this county," she said. "There was some lobbying by some of the judges … so I think that it's important that the citizens of this county are aware that the views do affect the outcome of the way the courts operate."
Fink repeatedly asserted that a judge must set aside his or her own opinions while on the bench and that's what he would do.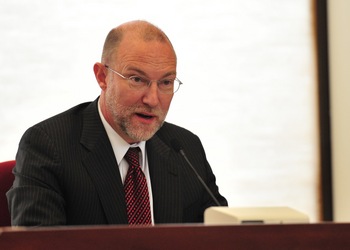 Ryan J. Stanton | AnnArbor.com
"No matter what path someone takes to get to the bench — whether they're appointed by a Republican governor, a Democratic governor, or elected — it stops at the bench and everyone gets equal treatment," Fink said. "That's my pledge."
McClure agreed with Washington that understanding a judicial candidates' values before voting them into office is important.
"You want someone who shares your values, because in the hard cases, the judge's values are going to inform what they do," he said. "And I want to bring that to the bench."
Washington said she'd set aside her Democratic leanings if elected, but she would apply the law fairly to each and every individual that comes before her courtroom.
Fink acknowledged most Democrats wouldn't even think of voting for him if this was a partisan state House race. But he said it should be different in a nonpartisan race.
"It's a judicial race and I am supported by many, many Democrats, including pro-choice Democrats, because they trust me to be who I say I am, which is someone who will follow the law and set my personal opinions aside," he said.
Fink worked for the Washtenaw County Sheriff's Office for two decades, including as a deputy, sergeant, lieutenant and commander, before becoming an attorney in 1998.
"In my law practice, I represent municipalities and small businesses, some criminal defendants and people with real estate transactions," he said.
Washington, a University of Michigan law school graduate, said she's been practicing law since 1993.
"I also have a very diverse background in the practice of law. I handled a lot of criminal defense work as a public defender for seven years and then I worked for a judge as his judicial attorney," she said. "I've been in private practice now for the past five years."
Kuhnke has been on the Ann Arbor Zoning Board of Appeals for 12 years and is president of the Washtenaw Trial Lawyers Association.
"I grew up in Milan and I have lived in Ann Arbor for 16 years," she said. "I've been practicing law for 18 years and I've spent those 18 years pursuing justice for my clients in the court. It's a great occupation, it's one that I love, it's one that I feel very passionately about."
McClure has been a partner at the Ann Arbor law firm of Conlin, McKenney & Philbrick PC for more than two decades. He talked about his experience as a volunteer for Legal Aid and the Washtenaw County Public Defender's Office on Saturday.
"I want to bring that type of commitment to the bench," he said. "I truly believe your shot is at the trial court level to get justice or not. Most people can't afford the time or cost to appeal."
Ryan J. Stanton covers government and politics for AnnArbor.com. Reach him at ryanstanton@annarbor.com or 734-623-2529. You also can follow him on Twitter or subscribe to AnnArbor.com's email newsletters.