Posted on
Tue, Nov 27, 2012 : 11:54 a.m.
Washtenaw County resolution could put $25 million for Detroit street car line in jeopardy
By Amy Biolchini
Millions of federal funds for a Detroit street car line could be in jeopardy as a coalition of Southeast Michigan lawmakers working to create a regional transit authority are separating into factions, according to a Detroit News report.
Washtenaw County officials voted Nov. 7 to soften their previously strong support of a four-county regional transit authority with a resolution that protected the county's ability to manage its own transportation funds.
Additionally, lawmakers in suburban Detroit have opposed a number of the new regional transit authority's proposed capabilities, according to the report.
The Michigan Legislature's lame duck session begins Tuesday. Without an agreement between coalition members seeking to unify the management of transit in Southeast Michigan, $25 million in federal funding for a planned M-1 Woodward Avenue street car line could be lost, according to the Detroit News report.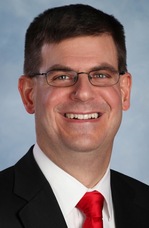 Numerous issues with the two bills that would create a regional transit authority —
House Bill 5309
and
Senate Bill 909
— concerned Commissioner
Dan Smith,
R-Northfield Township and prompted him to introduce a new resolution Nov. 7.
Ryan J. Stanton | AnnArbor.com
Dan Smith won a 6-4 majority of the board to his side with his resolution even after Commissioner
Conan Smith
, D-Ann Arbor, one of the initiative's strongest supporters, spoke at length as to his involvement and strong support for the regional transportation authority.
Commissioners Alicia Ping, Wesley Prater, Dan Smith, Rob Turner, Barbara Levin Bergman and Leah Gunn voted for Dan Smith's resolution, and commissioners Yousef Rabhi, Rolland Sizemore Jr., Conan Smith and Felicia Brabec voted against it. Ronnie Peterson was absent.
The resolution states Washtenaw County should have control of any transportation funding that is designated for the county and that the county's voters should determine when to join a regional transit authority:
"Be it further resolved that the Washtenaw County Board of commissioners opposes legislation which would include Washtenaw County in a Regional Transportation Authority, which does not protect:
The ability of county entities to manage designated transportation funding.
The right of county entities to independently manage a transit system."
The resolution had not been distributed prior to the Nov. 7 full board meeting, and both commissioners Smith spent their recess after Ways and Means meeting in a private discussion.
Amy Biolchini covers Washtenaw County, health and environmental issues for AnnArbor.com. Reach her at (734) 623-2552, amybiolchini@annarbor.com or on Twitter.