Posted on
Wed, Nov 9, 2011 : 5:59 a.m.
Fight for Independents: How Jane Lumm beat a Democratic incumbent in Ann Arbor
By Ryan J. Stanton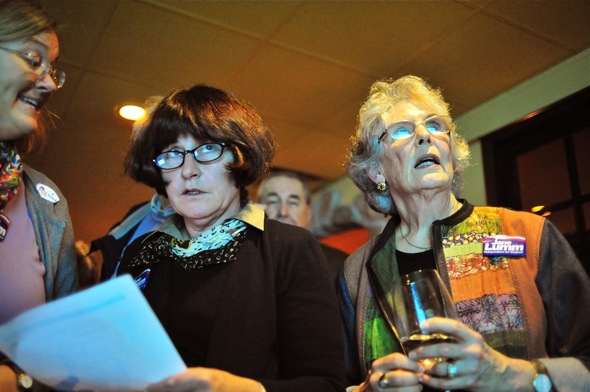 Ryan J. Stanton | AnnArbor.com
It was a bipartisan movement unlike any seen in recent
Ann Arbor
history, the coalescence of Democrats and Republicans alike, that
propelled Jane Lumm to victory
.
By many accounts, Lumm's ouster of Democratic incumbent Stephen Rapundalo in the 2nd Ward race for the Ann Arbor City Council marks a notable change.
The strong majority on council is now whittled from eight to seven, reducing the majority bloc's voting power. Lumm will serve a two-year term starting later this month.
And that's being chalked up as a major win by a long list of residents who share Lumm's concern that Ann Arbor officials have lost touch with the community's values.
"It's invigorating," Lumm said as she celebrated with a crowd of several dozen supporters at the Paesano restaurant on Washtenaw Avenue.
Lumm said she's inspired by the momentum behind her campaign. She and her supporters couldn't recall the last time an Independent was elected to the City Council.
"People are really motivated," she said. "It almost seems like there's this movement afoot to put these partisan divides behind us. Going forward, I just think it would be wonderful if the message for lots of people out there is they can do this, too."
Lumm picked up 60.4 percent of the vote on Tuesday. And she pulled it off as a known Republican running as an Independent, an impressive feat in a city that leans so heavily left and where all 11 council members for the past six years have been Democrats.
Helping Lumm was the fact that Rapundalo was vulnerable (he had never won with more than 52 percent of the vote in a general election), the 2nd Ward is more Republican-friendly than other wards, and it was an off-year election without other partisan issues on the ballot.
It also might have hurt Rapundalo that much controversy has surrounded the city's pedestrian safety ordinance, which he supported.
But the secret ingredient that tipped the scale appears to be the coalition of supporters who got behind Lumm as she raised and spent big bucks on her campaign.
"Why do I think Democrats got behind me?" said Lumm, who served on council as a Republican in the 1990s. "I think, again, it was all of this movement around concerns that we all shared. The partisan affiliations were not an issue, and it was an honor really that people could put that aside and come together."
Lumm campaigned on a promise of realigning the city's spending priorities on basic services like public safety, parks, streets and other basic infrastructure.
She stood opposed to Rapundalo on many issues, including the city's spending on public art, the pedestrian safety ordinance, and the proposed Fuller Road transit center project. She also expressed concerns Ann Arbor may have cut too deep into public safety.
"Apparently lots of folks in the 2nd Ward also share these concerns, and so I hope to do my best to provide a voice for these issues," Lumm said.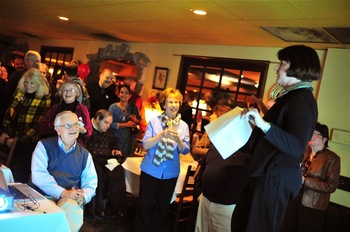 Ryan J. Stanton | AnnArbor.com
Rapundalo spoke with AnnArbor.com via phone Tuesday night while surrounded by campaign supporters at his private residence.
"Obviously the voters spoke, and I respect that," he said. "And tomorrow's another day, life goes on, and I'm sure I'll occupy my time somehow."
Rapundalo, president and CEO of MichBio, the state's life sciences association, said he's not sure what his future involvement in city government might be, but he's not ruling anything out.
"If the mayor and others feel that they could use my talents and contributions, then I certainly would honor their interest and see if I could make a go of it," he said.
He said he had no regrets about his campaign or his six years on council.
"I think I was always able to bring a very objective point of view to whatever subject at hand," he said. "I tried to be fair, I tried to be inclusive, and to go where the facts took me. So I have no regrets. I think I have been honorable all the way through."
Among those who attended Lumm's victory party were several past political candidates who tried unsuccessfully to oust incumbent council members in recent years, including Tim Hull, John Floyd, Jack Eaton, Lou Glorie, Sumi Kailasapathy and Patricia Lesko.
Peter Eckstein, an Ann Arbor-based economist formerly on the staff of the Michigan AFL-CIO, also attended. He was one of many Democrats who crossed party lines to support Lumm.
Eckstein said it's not only notable Lumm won, but that Stephen Kunselman, Sabra Briere and Mike Anglin were re-elected this year. Despite all being Democrats, they often are seen as more independent from the rest of council and, at times, minority voices on issues.
"I think what's happened in the 2nd Ward — with an overwhelming vote for an Independent against an entrenched incumbent — is a real indication of voter sentiment and the fact that people want to see a change in priorities," Eckstein said.
Kunselman agreed, saying he senses growing dissent among the electorate in response to the actions of the council majority.
"There's been this arrogance across the board," he said. "You can only thumb your nose at the electorate for so long before they catch up with you."
Lumm served as a 2nd Ward representative on council from 1993 to 1998. She later waged a long-shot campaign for mayor as a Republican in 2004 and lost to Mayor John Hieftje.
She said she wasn't planning on seeking office this year, but a number of local Democrats and Republicans recruited her to run.
The honorary co-chairs of her campaign were Ingrid Sheldon, a Republican who represented the 2nd Ward on council from 1988 to 1992 before serving as mayor from 1993 to 2000, and Leslie Morris, a Democrat who represented the 2nd Ward from 1977 to 1983.
Sheldon and Morris were among those celebrating with Lumm on Election Night. Sheldon praised the work Lumm did on council in the '90s.
"She really put her heart and soul into her job and her investigating and how she thought through issues," Sheldon said. "So the Ann Arbor public is going to be well served by having her be elected this year."
Also supporting Lumm was well-known Democrat Ted Annis, former treasurer for the Ann Arbor Transportation Authority.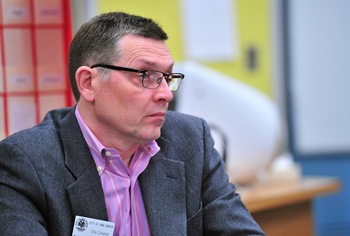 Ryan J. Stanton | AnnArbor.com
"I've known Jane Lumm for years," Annis said. "When she was a Republican, she was moderate. I love her views and she's committed to protecting our park land, something that Rapundalo was not."
Pat Johnston, the retired principal of Wines Elementary School in Ann Arbor, is another Democrat who supported Lumm.
"All my Democratic friends just told me how we needed to make a difference and make a change and I know how responsible Jane is, how she does her research, how she's fair, how committed she is to listening to her constituents," Johnston said, adding that set Lumm apart from Rapundalo.
"I think the biggest thing is Rapundalo didn't communicate to people," she said. "I know so many people who never heard from him until maybe the month before the election."
Though she's planning to be an independent voice on council, Lumm said she intends to work with all council members, including those who supported her opponent.
Rapundalo had support from Hieftje and fellow council members Sandi Smith, Tony Derezinski, Christopher Taylor, Margie Teall, Marcia Higgins and Carsten Hohnke.
"Everybody cares about this community. We just look at issues differently obviously," Lumm said. "But that doesn't mean that we can't work together."
Rapundalo's last meeting is Thursday. Lumm is expected to be sworn in Nov. 21, and she already knows there are going to be times when she's outnumbered.
"I've certainly been in the minority before and it doesn't keep me from trying," she said. "So yeah, we'll try to find some common bonds, because it's important that we work together. And if not, at the very least I can raise issues that might not otherwise be raised and discussed."
Ryan J. Stanton covers government and politics for AnnArbor.com. Reach him at ryanstanton@annarbor.com or 734-623-2529. You also can follow him on Twitter or subscribe to AnnArbor.com's e-mail newsletters.