Posted on
Tue, Nov 8, 2011 : 8:29 p.m.
Jane Lumm beats Stephen Rapundalo in 2nd Ward Race for Ann Arbor City Council
By Ryan J. Stanton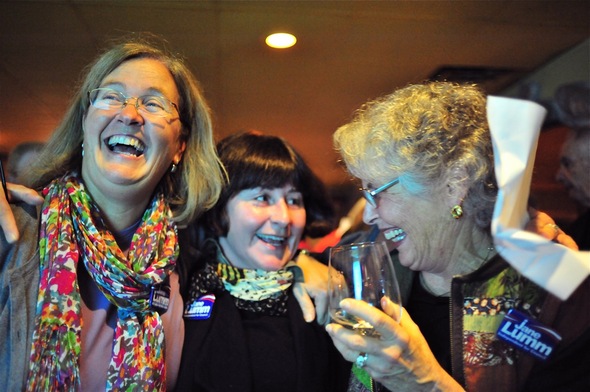 Ryan J. Stanton | AnnArbor.com
Read Washtenaw County election results here.
With all precincts reporting, challenger Jane Lumm has defeated incumbent Stephen Rapundalo in the 2nd Ward race for the Ann Arbor City Council.
The vote count was 2,079 to 1,359, giving Lumm a solid edge over Rapundalo. Cheers erupted shortly before 8:30 p.m. at her election night party at Paesano on Washtenaw Avenue where Lumm later gave a victory speech to a crowd of several dozen supporters.
Percentage-wise, Lumm picked up 60.4 percent of the vote. Rapundalo is said to be with supporters at his private residence and is not welcoming the media.
Many expected the race to be close heading into Tuesday's election. Lumm's surprise Independent campaign this year gained support from both Democrats and Republicans who share her concern that Ann Arbor officials have lost touch with the community's values.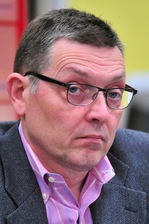 Lumm campaigned on a promise of realigning the city's spending priorities on basic services like public safety, parks, streets and other basic infrastructure.
Rapundalo, a Democrat who has represented the 2nd Ward on council for the last six years, did his best to characterize Lumm as a naysayer, arguing the city has spent the last 15 years cleaning up the mess made by Lumm and other council members from the '90s.
Lumm, who served as a Republican on council from 1993 to 1998, fired back at Rapundalo in recent weeks and rejected his characterization of her record.
At a neighborhood candidate forum in late October, Lumm called Rapundalo a liar and told the residents in attendance they deserve better representation.
Rapundalo losing his seat to Lumm means the strong majority on the 11-member council is whittled from eight to seven — reducing the majority bloc's voting power.
Rapundalo, one of Mayor John Hieftje's trusted Democratic allies, often aligned himself with the mayor and fellow Democratic council members and campaign supporters Sandi Smith, Tony Derezinski, Christopher Taylor, Margie Teall, Marcia Higgins and Carsten Hohnke.
Lumm is critical of many programs and projects Rapundalo and the council majority have supported, including spending on public art, the pedestrian safety ordinance, the proposed Fuller Road transit station, the new Ann Arbor Justice Center that houses police and courts, and the underground parking garage being built by the Downtown Development Authority.
Lumm said there's a time and place for everything, but she has argued this is one of those difficult periods in Ann Arbor's history when visions of new transit centers — such as the Fuller Road Station project — and public art are maybe just "nice-to-haves."
But questions remain about just how effective Lumm might be as a minority on council. She's the first to admit she had a hard time getting any of her proposals through in the '90s.
"I drove them all crazy," she said in an interview in October, recalling one council member told her: "Jane, you know we are never going to support anything that you bring forward."
It's still unclear what a victory for Lumm would mean for Fuller Road Station, a $121 million project that involves building a new transit center in front of the University of Michigan medical campus. Rapundalo is a staunch supporter of the project, which is expected to be a prime stop for a new federally funded high-speed rail corridor between Detroit and Chicago and a hub of activity for bus transit services in Ann Arbor.
Lumm said she doesn't support the current proposal, but the long-term vision could very well be in Ann Arbor's best interests.
Ryan J. Stanton covers government and politics for AnnArbor.com. Reach him at ryanstanton@annarbor.com or 734-623-2529. You also can follow him on Twitter or subscribe to AnnArbor.com's e-mail newsletters.