Posted on
Sun, Oct 23, 2011 : 5:59 a.m.
Rapundalo vs. Lumm: 2nd Ward race for Ann Arbor City Council heating up
By Ryan J. Stanton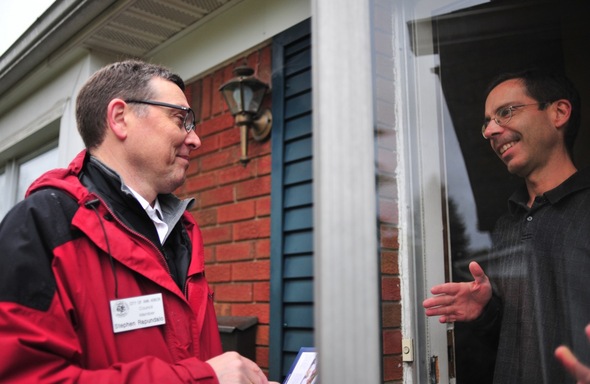 Ryan J. Stanton | AnnArbor.com
(Editor's note: AnnArbor.com will have another story taking a close look at some of the key issues that are shaping the 2nd Ward race later this week.)
After six years on the Ann Arbor City Council, Stephen Rapundalo faces perhaps his most formidable political challenge yet: seeking re-election against Jane Lumm.
The man who once ran for mayor as a Republican and lost to Democrat John Hieftje is now, a decade later, one of Hieftje's trusted Democratic allies on council.
But two weeks from now, his continued service representing the 2nd Ward depends on his ability to fend off Lumm, a former GOP council member running as an Independent.
It's a matchup that leaves political insiders saying it's anyone's guess who might prevail at the polls on Nov. 8, and it doesn't appear either candidate is taking any chances.
Lumm is campaigning on a platform of realigning the city's spending priorities on basic services like public safety, parks and infrastructure. She's critical of city spending on public art, the new pedestrian safety ordinance and many capital projects the city has taken on.
Rapundalo, a supporter of public art and capital projects like Fuller Road Station, has done his best to characterize Lumm as a naysayer and says the city has spent the last 15 years cleaning up the mess made by Lumm and other council members from the '90s.
"They got nothing done. Our infrastructure didn't get the attention it needed," he said. "There was a lot of brinksmanship and petty partisan politics and things like that."
Aside from the usual campaign mailings and knocking on doors, Rapundalo is doing things he hasn't done in past elections. He's launched a Facebook page for the first time, and as of late September he also finally has an official campaign website.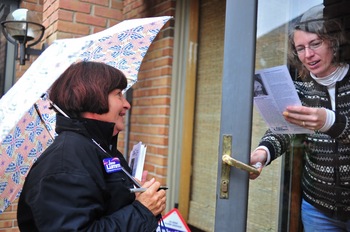 Ryan J. Stanton | AnnArbor.com
"We felt we needed all of those tools in our arsenal in order to get the message out," Rapundalo said, conceding: "She's a serious threat."
Further evidence Rapundalo is taking the race seriously is an e-mail he inadvertently sent to AnnArbor.com's Chief Content Officer Tony Dearing last week. The e-mail, intended for another recipient, reveals Rapundalo's tactical response to discovery of Lumm's efforts to get information out to residents about a restoration project planned along Malletts Creek in the 2nd Ward.
"As for the Mallet's Creek project — be sure to involve me in any meetings, etc., if there any, before the election — just so I look like I'm engaged," Rapundalo wrote in the e-mail. "Is there something I can write up for my e-newsletter and make myself look knowledgeable and at least neutralize her for the time being?"
Rapundalo declined to comment on the misfired e-mail or whether he intended to send it to Council Member Tony Derezinski, a supporter of his campaign.
Derezinski, D-2nd Ward, was copied on another e-mail about Mallets Creek that Lumm sent out to various residents on the same day, just hours before Rapundalo's e-mail.
Lumm said she's been pulling together information about the Mallets Creek project simply to keep 2nd Ward residents informed, as some have concerns about potential tree removal. The multimillion-dollar project includes bank stabilization work as well as building a 3.5-acre stormwater basin at County Farm Park in the form of a wet meadow.
"I became aware that there were concerns, just talking to neighbors," she said. "I didn't think anybody outside our little neighborhood knew about it. It wasn't because I was doing this to have some edge over Stephen Rapundalo."
Rallying support
Lumm served as a 2nd Ward representative on council from 1993 to 1998. She later waged a long-shot campaign for mayor as a Republican in 2004 and lost to Hieftje.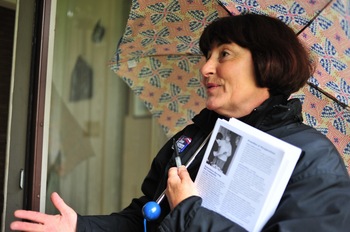 Ryan J. Stanton | AnnArbor.com
She said she wasn't planning on seeking office this year, but a number of local Democrats and Republicans recruited her to run. In recent months, she's assembled what most political insiders agree is an impressive list of supporters that transcends party lines.
The co-chairs of her campaign are Ingrid Sheldon, a Republican who represented the 2nd Ward on council from 1988 to 1992 before serving as mayor from 1993 to 2000, and Leslie Morris, a Democrat who represented the 2nd Ward on council from 1977 to 1983.
Also supporting Lumm are three other former Democratic 2nd Ward council members — Robert Faber, Barbara Bach and Seth Hirshorn — and Tom Wieder, the former vice chairman of the Ann Arbor Democratic Party. On the GOP side, former 2nd Ward council members Peter Fink, Joe Upton, Mike Reid, David Kwan and Clifford Sheldon are behind Lumm.
Rapundalo has a long list of mostly Democrats supporting him, including Council Members Sandi Smith, Tony Derezinski, Christopher Taylor, Margie Teall, Marcia Higgins, Carsten Hohnke and Mayor John Hieftje. Also supporting him are U.S. Rep. John Dingell, state Rep. Jeff Irwin, County Prosecutor Brian Mackie, and Downtown Development Authority board members Joan Lowenstein and Leah Gunn.
Rapundalo said he doesn't pay much attention to the party affiliation of his supporters, but one Republican supporting him is Patrick Putnam, who served on council with Lumm.
A handful of Democrats — including Higgins, Lowenstein and former Council Member Leigh Greden — recruited Rapundalo to run for council as a Democrat in 2005.
Rapundalo, who won his first election that year, differs from his opponent politically in that he considers himself socially liberal, while Lumm considers herself socially moderate. But both candidates consider themselves fiscal conservatives and both donated $250 to Republican Rick Snyder's successful campaign for Michigan governor last year.
"I did so largely with my MichBio hat on," said Rapundalo, president and CEO of the state's life sciences association. "It certainly became quite apparent Rick was going to win and I wanted to be sure that our voice was there in terms of issues that were important to us, like stem cells and such, which of course he supports unlike others in his party. Plus I've worked with Rick. I know his capabilities as a CEO and somebody who can lead."
Natural advantage
As politics go in Ann Arbor, Rapundalo has a natural advantage being labeled both a Democrat and an incumbent. But political insiders agree, an Independent candidate like Lumm with both name recognition and experience could give someone like Rapundalo a good challenge, and making matters more interesting is the fact that the race is set in the 2nd Ward.
County Clerk Larry Kestenbaum said the 2nd Ward has earned a reputation for being the most Republican-friendly of all five city wards. At one point in time, he said, it was almost unheard of for a Democrat to be elected to council from the 2nd Ward.
Ryan J. Stanton | AnnArbor.com
Kestenbaum said the fact it's an off-year election — when turnout is low and the ballot isn't filled with partisan contests that lead to straight-ticket voting — only helps Lumm's chances.
"It's almost meaningless as to what their party labels are and more so about their respective personalities and backgrounds," he said. "I think it's quite possible that Jane will win, whereas if she were running in an even-year election, I wouldn't give her much chance."
In the November 2010 gubernatorial election, 23,520 people in Ann Arbor voted for Democrat Virg Bernero, while 13,149 voted for Snyder. The margin was much smaller in the 2nd Ward, where 3,793 people voted for Bernero and 3,339 voted for Snyder.
Rapundalo's past performance at the polls also offers insight into just how close the 2nd Ward race might be. When he first was elected in 2005, he defeated Republican Thomas Bourque with 52.2 percent of the vote compared to Bourque's 47.6 percent.
In November 2007, Rapundalo just barely defeated write-in challenger Ed Amonsen to stay in office, getting 51.6 percent of the vote compared to Amonsen's 48.4 percent.
Rapundalo was reelected without opposition in 2009. In the August primary this year, he knocked off Democratic challenger Tim Hull, getting 57.4 percent of the vote compared to Hull's 42 percent — the closest of any primary contest this year.
Mike Reid, who served two terms as a 2nd Ward representative on council from 2001 to 2005, was the lone and last Republican on council when he stepped down. Reid said he had to make a tough decision this year whether to support Rapundalo or Lumm.
Other races this year
3rd Ward: Democratic incumbent Stephen Kunselman vs. Republican challenger David Parker
4th Ward: Democratic incumbent Marcia Higgins vs. Republican challenger Eric Scheie
5th Ward: Democratic incumbent Mike Anglin vs. Republican challenger Stuart Berry
"For me personally, it's a tremendously difficult problem," he said. "I know and like both of these candidates. Jane was an early supporter of mine when I ran for council and Stephen served as my campaign manager. But for me, it really kind of boils down to a single position that differentiates the two candidates, and I'm personally giving the nod to Jane."
Reid said the deciding factor was that Lumm is running an Independent campaign that seeks to remove partisan politics from the election process.
"I think it's certainly going to be a very close race," Reid said. "Both Jane and Stephen are well-known for their contributions to city hall. They both put in a lot of hours. It's going to boil down to which of the candidates can turn out the vote."
If past performance is any indication, at best about a quarter of the 2nd Ward's nearly 17,000 voters will cast ballots Nov. 8, and at worst less than 10 percent will head to the polls. In the August primary this year, only 6.4 percent of 2nd Ward voters showed up.
Both candidates are working to up that number.
"I'm knocking on doors, talking to people, asking them what's on their minds," Rapundalo said. "I don't take anything for granted. I run like I'm running for every last vote."
Lumm is doing the same.
"Stephen's the incumbent and I'm the challenger, so I see it as an uphill battle," she said. "And I'm certainly not taking anything for granted. I'm going to continue to work hard, as I'm sure he will. So yeah, I don't know. I'm just going to work hard."
Ryan J. Stanton covers government and politics for AnnArbor.com. Reach him at ryanstanton@annarbor.com or 734-623-2529. You also can follow him on Twitter or subscribe to AnnArbor.com's e-mail newsletters.