Posted on
Sun, Jul 15, 2012 : 1:05 p.m.
3 of 6 Washtenaw County lawmakers get passing grades in new Michigan Environmental Scorecard
By Ryan J. Stanton
The Michigan League of Conservation Voters has released its latest Environmental Scorecard, ranking state lawmakers on their environmental voting records.
But only three of the six lawmakers representing Washtenaw County in the Legislature received passing grades.
Sen. Rebekah Warren, D-Ann Arbor, scored a 100 percent for the 2011-2012 legislative session, followed by Rep. Jeff Irwin, D-Ann Arbor, who scored 92 percent. Rep. David Rutledge, D-Superior Township, scored 85 percent.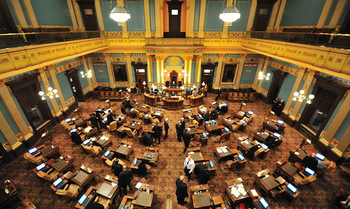 Ryan J. Stanton | AnnArbor.com
Rep.
Mark Ouimet
, R-Scio Township, scored 38 percent, Sen.
Randy Richardville
, R-Monroe, scored 33 percent, and Rep.
Rick Olson
, R-York Township, scored 31 percent.
The Scorecard is released biennially and is compiled with the help of environmental policy experts from across the state, tracking the most important environmental votes cast.
"While none of our elected officials received a zero, very few received a perfect score, either," said Lisa Wozniak, executive director for Michigan LCV. "We were able to find unanimity on issues such as invasive species, but there continues to be a devastating lack of real champions for Michigan's Great Lakes, air, land, water and wildlife."
Wozniak said the Scorecard gives citizens the power to quickly see whether their elected officials are representing them well on critical issues.
The online, interactive version of the Scorecard is available at www.michiganlcv.org. The full PDF can be found at http://bit.ly/mlcvscorecardpdf.
Overall, the LCV found the state Legislature was "below average" when it came to protecting Michigan's natural resources. The state House of Representatives averaged 48 percent, while the state Senate fared slightly better at 52 percent.
Party-line voting hurt the scores of both Democrats and Republicans. For instance, Democrats in the state House voted en masse against extending a fee collection deadline for the Department of Environmental Quality as part of their opposition to a larger budget package. That effectively denied most state House Democrats a chance at perfect scores
According to the LCV's analysis, party-line voting also hurt the scores of Republicans, limiting the highest House Republican score to 46 percent.
Warren was one of four senators to receive a perfect score, along with Steven Bieda, D-Warren; Morris W. Hood III, D-Detroit; and Hoon-Yung Hopgood, D-Taylor.
While the Senate had an overall score of 52 percent, a flurry of anti-conservation bills in late 2011 and early 2012 hurt the scores of Senate Republicans, many of whom had 80 percent scores through October 2011, according to the LCV's analysis.
After that, party-line votes to force roads through state lands, limit public recreation land ownership and weaken protections for shorelines, sand dunes, groundwater and the Great Lakes dropped their averages considerably.
Bruce Caswell, R-Hillsdale, and Geoffrey Hansen, R-Hart, had the highest Senate Republican scores at 50 percent.
"This Scorecard makes clear that our legislators too often forget that Michigan's natural resources are responsible for hundreds of thousands of Michigan jobs, billions of dollars from hunting, fishing, and tourism, and a priceless sense of pride in Michigan's unmatched outdoors," said Ryan Werder, political director for Michigan LCV.
The Michigan LCV is an Ann Arbor-based nonprofit group that considers itself the political voice for Michigan's Great Lakes, lands, air, and waters.
Ryan J. Stanton covers government and politics for AnnArbor.com. Reach him at ryanstanton@annarbor.com or 734-623-2529. You also can follow him on Twitter or subscribe to AnnArbor.com's email newsletters.