Posted on
Wed, Feb 23, 2011 : 5:58 a.m.
32-unit affordable housing project on city's west side wins approval from Ann Arbor City Council
By Ryan J. Stanton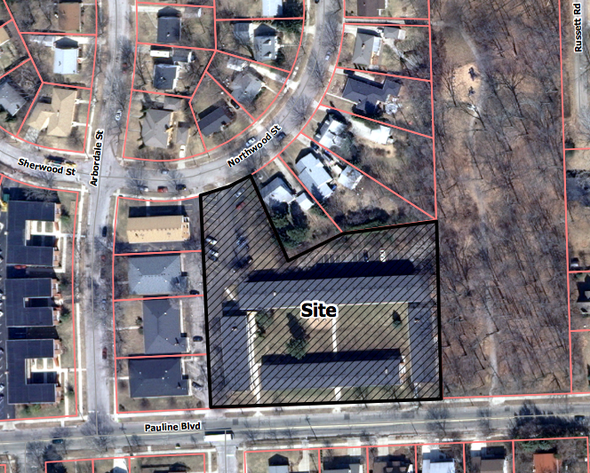 Ann Arbor officials gave the OK Tuesday night for nonprofit Avalon Housing Inc. to develop 32 new affordable housing units and a community center on the city's west side.
But it will be a net loss of 15 affordable housing units in the city since a 47-unit apartment complex is being demolished to make way for the new project.
The City Council voted 7-0, with four members absent, to approve the project site plan, allowing the Ann Arbor-based housing agency to demolish the four existing apartment buildings and construct six new buildings containing a mix of apartments and townhouses.
Also included in the plans are 39 surface parking spaces. The site is located just east of Arbordale Street at 1500 Pauline Boulevard — a stone's throw from Fritz Park.
"They'll all be supportive housing, and this is a great step forward as we secure funding," Michael Appel, Avalon's associate director, said after Tuesday's approval from council.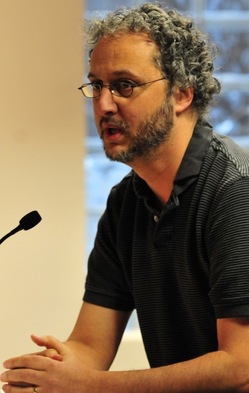 Ryan J. Stanton | AnnArbor.com
Avalon officials said they ideally hope to complete construction on the $8 million project toward the end of 2012 and start leasing units in early 2013.
"We'll be applying for tax credits from the State Housing Development Authority in March, and additional subsidy through the first half of this year," Appel said. "If all goes well, we'll wrap up our financing this year and start construction next year."
City planners said the development would comply with the R4B multiple-family zoning district the property lies within.
Now called Parkhurst Apartments, the current complex features 47 apartment units that are home to federally subsidized low-income residents.
The 32 new units are expected to include 6 one-bedrooms, 14 two-bedrooms, and 12 three-bedrooms in five buildings. A community center and a playground with commercial play structures is proposed to be located in the center of the site.
Though it's a reduction of 15 units — including most of the one-bedrooms — it preserves all of the two- and three-bedroom apartments, Avalon officials said. The development is expected to primarily house families, including about 40 children.
"While any decrease in affordable housing stock is unfortunate, the existing density at 1500 Pauline has been problematic, and is higher than other Avalon or public housing family sites in the area," Avalon officials wrote in a memo provided to council members.
Avalon officials said the current buildings are believed to have been constructed in the late 1950s or early 1960s. The Washtenaw Affordable Housing Coalition purchased the apartments in the late 1990s, and Avalon took over management in 2009.
According to Avalon officials, the Michigan State Housing Development Authority — a critical funding source for the project — determined last year through multiple inspections that it wasn't cost-effective to renovate the aging buildings due to their level of distress.
Design improvements are an added benefit of the project, Avalon officials said. In contrast to the current isolated layout with a closed-off courtyard, the proposal for 1500 Pauline opens the site to the neighborhood and includes a mix of traditional apartments and townhouses.
The new construction also will allow for the addition of barrier-free units and will be significantly more energy efficient, Avalon officials said. And it will have space for community gardens.
The inclusion of a small community center on site is a key component of the agency's supportive housing approach. It's being designed to provide a space for tenants to receive services, develop skills and build community — all of which is essential to helping people with histories of homelessness and disabilities, Avalon officials said.
Half of the units will have project-based Section 8 vouchers targeted toward special needs tenants with either a disability or a history of homelessness — assuring those tenants pay only 30 percent of their income for rent. Rent at the other 16 units without a Section 8 voucher are geared to be affordable to households at 30 percent of the median area income.
Existing tenants will receive financial relocation assistance.
The City Planning Commission recommended approval of the 1500 Pauline project in January. In response to a request from the Planning Commission, Avalon officials revised the plan to add a sidewalk connection from the public sidewalk to the playground.
Council Member Mike Anglin, D-5th Ward, called it a "very important" project on Tuesday. He said he's glad to see it come forward because the existing buildings have been problematic.
"Its location is primary in the city," he added. "You're within a walk of grocery stores, the bus stops right outside this building — so it's ideally situated."
Council Members Stephen Rapundalo, Christopher Taylor, Marcia Higgins and Carsten Hohnke were absent from Tuesday's meeting.
Ryan J. Stanton covers government and politics for AnnArbor.com. Reach him at ryanstanton@annarbor.com or 734-623-2529.