Posted on
Tue, Mar 13, 2012 : 1:41 p.m.
$3.4M Packard and Hill construction projects starting next month in Ann Arbor
By Ryan J. Stanton
Ann Arbor officials are inviting residents tonight to come learn more about a major construction project taking place along Packard Road starting next month.
The project includes the installation of new 12-inch ductile iron pipe water main from Platt Road to just east of Burton Road.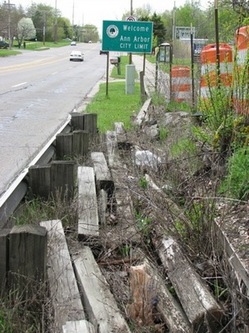 Courtesy of Tom Durant
After that's installed, the full width of Packard will be repaved. The work is expected to begin April 1 and be completed by Aug. 31.
In addition, Hill Street will be resurfaced.
Today's public meeting to discuss the project takes place at 7 p.m. at Pittsfield Elementary School, 2543 Pittsfield Boulevard.
According to information posted on the city's website, local access for vehicle traffic and pedestrian traffic will be maintained during the majority of the project, except for occasions when pedestrian traffic will be temporarily restricted within the construction zone.
Garbage and recycling collection, utility services and mail delivery will be maintained throughout the project, too, but the contractor may need to place temporary mailboxes at an alternative location if construction activities are blocking normal mailbox locations.
In some cases, the concrete curb or drive approach may need to be replaced in front of driveways along Packard or Hill. One day before restricting access to a driveway to perform that work, the contractor will leave a notice at a resident's door.
Once access to a driveway is restricted, the driveway will remain inaccessible for three to four days while the concrete cures.
Service to some of the Ann Arbor Transportation Authority bus stops adjacent to the construction area also could be interrupted.
Funds for the work on Packard, as well as upgrades to Hill Street, are approved in the city's fiscal year 2011-12 budget.
The Ann Arbor City Council unanimously approved an agreement with the Michigan Department of Transportation back in October for the $3.4 million project, about $2.9 million of which is for the upgrades along Packard and $450,565 of which will pay to resurface Hill.
Ryan J. Stanton covers government and politics for AnnArbor.com. Reach him at ryanstanton@annarbor.com or 734-623-2529. You also can follow him on Twitter or subscribe to AnnArbor.com's email newsletters.