Posted on
Fri, Aug 3, 2012 : 5:56 a.m.
$4 million in Susan G. Komen grants to fund breast cancer research at U-M
By Amy Biolchini
A new wave of grant funding from Susan G. Komen for the Cure will bring $4 million to researchers at the University of Michigan in Ann Arbor.
Overall, the organization is distributing $58 million worth of 154 grants for breast cancer research across 22 states and seven countries in 2012. That's down from 2011's allocations, in which the organization gave out $66 million in research grants.
At U-M, Dr. Max Wicha will receive the majority of the research dollars in $3.5 million for his work focused on targeting stem cells in triple-negative breast cancer in different racial populations.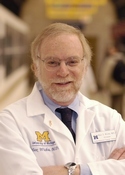 Courtesy of U-M
Other recipients are Dr. Yongchao Zhao, who received $179,996, for targeted breast cancer therapy research. U-M Komen scholars Dr. Daniel Hayes and Dr. Lori Pierce each received $250,000 to further their studies.
Wicha received the same amount from Susan G. Komen for the Cure in 2011 for his work, although the total amount given to U-M researchers from the organization is down by about $1 million from 2011 to 2012.
The mid-Michigan chapter of Susan G. Komen for the Cure will be hosting its third annual Ride for the Cure event Saturday in Ann Arbor.
Riders pledge to raise $500 to benefit the mid-Michigan chapter of the organization, and pick from a 30, 60 or 100-mile route.
Amy Biolchini covers Washtenaw County, health and environmental issues for AnnArbor.com. Reach her at (734) 623-2552, amybiolchini@annarbor.com or on Twitter.