New animal rescue group finds 100 homes for dogs in 6 months
Posted on Mon, Jul 11, 2011 : 5:57 a.m.
4 Paws Animal Rescue hopes to make a difference four paws at a time and Sandy, Findlay, Lilly, Petey and Charlie are among the 40 dogs in temporary homes that hope they succeed.
Founders Lara Nelson of Dexter and Michelle Hiller of Monroe began the new rescue organization in November and following an adoption event in Ypsilanti in late June, they've found homes for 100 dogs in less than 6 months.
Another adoption event is scheduled for July 16 at The Pet Emporium, 2394 E. Stadium Blvd., in Ann Arbor from 11 a.m.-3 p.m.
Courtesy photo | For AnnArbor.com
"I've always been an animal person," Nelson said, explaining that she was always looking on
www.petfinder.com
and forwarding to friends listings of animals in need of homes.
Her group has about 30 or 40 dogs still waiting for new loving homes, and adoption fees range from $150-$250. "They all have a story - recycle a dog," she said, adding that a lot of personal money is tied up in veterinary expenses.
"We're all volunteers and all animals are in foster care," Nelson said. "We take any and all dogs but focus on those in danger of being put to sleep."
However, for owners who want to surrender their dogs, "Our first response is to work with the owner to find ways to keep the dog."
Nelson said the group focuses its efforts on dogs in shelters that are at risk of being euthanized. She said they keep an eye on the dogs at the Michigan Humane Society, Taylor, Woodhaven, Wyandotte -- shelters, she said, that put dogs down after a short period of time if they are deemed unadoptable.
"We rescue a number of dogs from Ohio, where most of their shelters use gas to euthanize their dogs -- it's a painful and slow death for the dogs -- so we do everything we can and get the most urgent dogs into rescue," she said. The group is comprised of a group of about 40 volunteers who want to reduce the number of dogs that are euthanized in the area each year. Based in Southeast Michigan, 4 Paws also has dogs in foster homes in northern Ohio.
"Our biggest limitation is the number of foster homes," Nelson said.
Nelson and Hiller were members of another rescue organization before deciding to begin their own group that would put more emphasis on rescuing dogs "from high-kill shelters."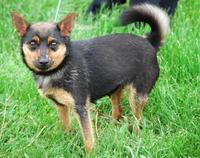 Courtesy photo | For AnnArbor.com
They help families keep dogs in their homes by assisting them with resources and educate people about the overpopulation problem when people don't spay and neuter their pets. "Education and support are our biggest goals," Nelson said.
"We support families who already have dogs as well as those who adopt a dog or a puppy from us," Nelson said.
The group is always looking for additional foster homes since they do not have a building, and the dog will end up in your home for a few weeks to a few months. There are applications on the 4 Paws Website, and the group provides food, basic supplies, veterinary care and guidance.
"The number of dogs significantly outnumbers the number of rescue groups, so even if each rescue were exactly alike, it would still not meet the need," Nelson said.
"You provide the love, basic training and home. The dog provides you with love, joy, and the satisfaction of saving a life," the Website says.
4 Paws is also looking for volunteers to assist in transporting dogs to and from events and shelters or to veterinary appointments.
The group is currently working on its non-profit status.
Nelson said she hopes that people looking for a pet will check adoption outlets and not buy dogs. "Look for a rescue and find a good match for you."