Posted on
Wed, Feb 6, 2013 : 5:58 a.m.
4 Skyline High School engineering students win Young Innovators Competition
By Danielle Arndt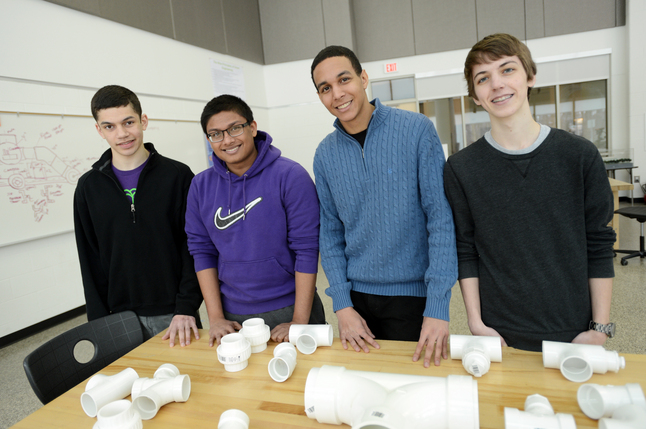 Melanie Maxwell | AnnArbor.com
Four
Skyline High School
seniors won first place in a statewide youth entrepreneurship competition.
The two pairs of students developed concepts, business plans and now are working on the prototypes for a water purification system using solar energy and a sonar device to help the blind navigate to be named 2012 Young Innovators.
Andrew Burns and Densu Dixon won $1,000 in the new or improved product or service category for their "HydroPod" concept. Vaughan Epperson and Swagat Tripathy took first in the new social solution or enterprise category, which also earned them a $1,000 prize, for their sonar project.
In addition to the cash prize, the students will receive up to 12 months of support and guidance from the foundation behind the Young Innovators Competition, the Prima Civitas Foundation and its Moving Ideas to Market initiative. The initiative is funded by a grant from the C.S. Mott Foundation.
Dixon said he and his classmates will have access to lawyers and professional product developers to receive assistance and advice on their designs. The ideal result would be for the students to garner additional funding and have their prototypes developed and mass distributed, Dixon said.
All four students are members of Skyline's Design, Technology and Environmental Planning magnet. As part of their magnet capstone course, the students began working in pairs to identify, research, design and construct a solution to an open-ended engineering problem.
Teacher Thomas Pachera calls it his "the sky's the limit" project.
He said it was sort of a fluke that his students entered the Young Innovators Competition. The class discovered the competition a few days before the deadline and scrambled to submit their business plans and product pitches. Pachera said he had three teams of students enter the competition, and the teams of Burns-Dixon and Epperson-Tripathy placed.
Pachera said this particular group of students is especially motivated and passionate about engineering. The boys often have texted their teacher on a Saturday night to tell him about a problem-solving discussion or engineering breakthrough they just had, Pachera said with a chuckle.
Both Burns and Epperson plan to pursue mechanical engineering in college post-graduation. Dixon will study environmental engineering at the University of Michigan and Tripathy's interest is in biomedical engineering.
For Tripathy, his team's sonar device for the blind directly correlates with what he hopes to do someday.
"I've always been intrigued by prosthetics," he said. "I just think they are really cool and there are so many ways, in my opinion, they could be developed better."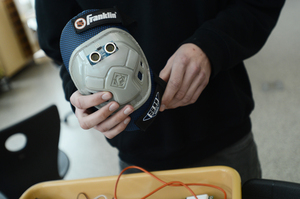 Melanie Maxwell | AnnArbor.com
Tripathy and Epperson explained their prototype involves installing ultrasonic sensors and a small motor inside of a kneepad. Epperson said the motor vibrates as the sonar technology detects an object in the vicinity of the individual wearing the kneepad. The motor will vibrate faster as the object becomes closer, he said.
"We think blind people should be able to be less reliant on others," Tripathy said, adding the idea is to create a sonar device that could be installed in anything, such as a belt or a vest.
Epperson explained current solutions for blind people involve the blind using their hands to navigate, such as through a cane or a seeing-eye dog.
"We wanted to create something that was hands-free," he said.
For Burns and Dixon, they had a number of unique ideas for possible projects, such as a raccoon-proof trashcan.
"But we wanted to do something that helped people," Burns said. "There also are not many solar energy water distillers out there in the market … or they were overpriced."
Most developing countries do not have access to clean water and about 1.5 million children die each year as a result of waterborne diseases, the duo found in its research.
The four students' projects, along with their peers' projects, also will be submitted to the Southeast Michigan Science Fair at Washtenaw Community College in March as well as the Michigan Industrial and Technology Education Society's (MITES) competition at Central Michigan University in May.
Watch the video below to see Tripathy and Epperson's winning concept.
Danielle Arndt covers K-12 education for AnnArbor.com. Follow her on Twitter @DanielleArndt or email her at daniellearndt@annarbor.com.