Posted on
Tue, Oct 16, 2012 : 2:59 p.m.
52nd District race turns ugly as Michigan Republicans fight to keep House majority
By Amy Biolchini
As the November election draws closer, both the Michigan Republican and Democratic parties have turned up the heat with attack ads in the race for the 52nd District seat in the House of Representatives.
Incumbent Rep. Mark Ouimet, a one-term Republican legislator from Scio Township, is defending his seat against opponent Gretchen Driskell, a Democrat and longtime mayor of Saline.
Negative campaign literature, television ads and automated calls are confronting voters in the 52nd District, which encompasses northern and western Washtenaw County.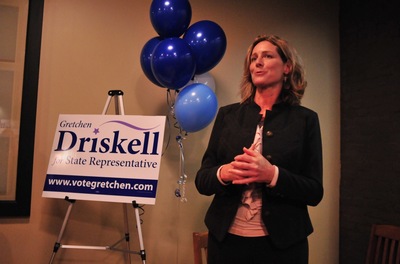 Ryan J. Stanton | AnnArbor.com
Both Driskell and Ouimet say the negative ads are coming from their respective political parties and not their campaigns.
"I wish that third parties wouldn't do those types of things," Ouimet said, noting that he hasn't reviewed anti-Ouimet ads. "You don't have any control over it -- and I prefer that it not occur."
The Michigan Republican Party is fighting to keep its majority in the House, and so the 52nd District race is important to both parties.
Michigan Democrats would have to win 10 seats in order to regain control of the House, said Bill Ballenger, political pundit and publisher of Inside Michigan Politics. There are about 11 races across Michigan in which Democrats have a chance of unseating the incumbent Republicans — one of which is in the 52nd District, Ballenger said.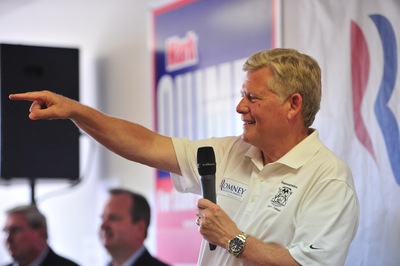 Ryan J. Stanton | AnnArbor.com
The odds are stacked against the Democrats gaining the majority, Ballenger said, adding that he believes Driskell has one of the best chances of turning a Republican-held seat into a Democratic one.
Campaign finance records indicate Ouimet has raised more funds than Driskell, but much of that comes from money he has loaned to his campaign.
The ads from the Michigan Republican Party criticize the amount Driskell has spent on travel as mayor of Saline and claim she voted to raise her salary eight times.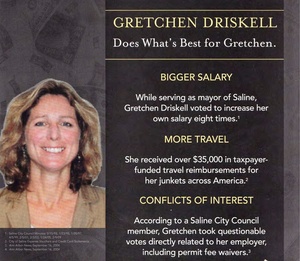 "I represent the community, and I do it to learn how to save money for the community," Driskell said of why she's traveled using money allocated by the city for training purposes. "I believe it's important to learn about how to make things better."
In emails sent by Driskell's campaign to her supporters, she's openly stated her aversion to the approach taken by the attack ads.
"We're five weeks from Election Day, and my opponent is running scared. How do I know? Well the wave of negative ads is one good indication. The better one, however, is that he has resorted to making — and in many cases, making up — outrageous attacks against me," according to the email from Driskell's campaign.
Driskell said the ads are pulling public information out of context.
For elected officials in Saline, a Local Officers' Compensation Commission meets in odd years to put a recommendation forward to the council for salary increases.
The increases, which are based on a market study of compensation rates for elected officials in neighboring communities, take effect unless the council acts to deny the increase - but many times the Saline City Council votes on the matter regardless, said Saline City Clerk Dianne Hill.
Driskell's annual compensation has been $4,000 since 2009, Hill said.
When Driskell started as a mayor in 1998, she made $3,200 per year and now makes $4,000 per year. Driskell said she's rejected salary increases proposed by the committee more times than she's approved them.
Driskell said ads published by the Michigan Democratic Party against Ouimet target his voting record on bills in the Michigan House.
Ouimet said he hasn't seen the attack ads, but has heard of at least one accusing him of cutting funding to public education.
"What they fail to mention is that money is federal money," Ouimet said.
Ouimet said halted stimulus dollars from the federal government resulted in about a 1.4 percent decrease in funding to education institutions.
"It's an unfair statement," Ouimet said of the accusations.
Several ads published by We Are the People Michigan — a group that markets itself as anti-Republican and fighting for the middle class — accuse Ouimet of giving handouts to large corporations and raising taxes on seniors.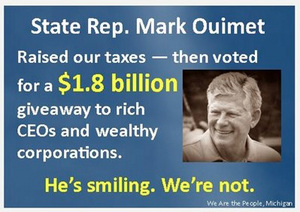 Courtesy of We Are the People Michigan
Not true, says Ouimet.
Ouimet said the tax breaks were for small "mom and pop" business organizations that decreased taxes from 23 percent to 6 percent. With regard to retirees, Ouimet said there was a tax on pensions that changed. Retirees with 401k plans and those over the age of 65 saw no difference, Ouimet said.
Washtenaw County has four representatives in the State House. The 53rd and 54th districts are heavily Democratic, and are currently represented by Jeff Irwin, D-Ann Arbor, and David Rutledge, D-Superior Township, respectively.
Rep. Rick Olson, R-York Township, currently in the 55th District seat, is not running for re-election after the district was re-drawn to be more Democratic.
That leaves the 52nd District — which Ballenger called the only chance the Republicans have for representation at the state level in Washtenaw County.
A Driskell win in the 52nd District — assuming the 55th District goes to Democratic candidate Adam Zemke — would mean Washtenaw County would be represented by all Democrats in the State House, Ballenger said.
Ballenger said the odds are stacked against the Democrats picking up 10 seats to claim a majority — and so all of the county's representatives risk being in the minority at the state level.
"(Washtenaw) county would be out of it — out of control," Ballenger said.
However, if the Democratic Party is able to pull out a win in the House, all of the representatives from Washtenaw County would be in the majority, Ballenger said.
"It's kind of like feast or famine," he said.
Amy Biolchini covers Washtenaw County, health and environmental issues for AnnArbor.com. Reach her at (734) 623-2552, amybiolchini@annarbor.com or on Twitter.