Posted on
Wed, Mar 6, 2013 : 5:58 a.m.
Plans approved to bring 53 new apartments to Ann Arbor's west side
By Ryan J. Stanton
Nine buildings containing 53 new apartments are slated for construction at the northwest corner of West Liberty Street and South Maple Road in Ann Arbor.
The Ann Arbor City Council gave final approval to the Blue Heron Pond project site plan for 2536 W. Liberty St. at its meeting Monday night.
The 7.8-acre site previously was planned as the 87-unit West Towne Condominiums project and was approved in 2005, but those plans expired in 2008.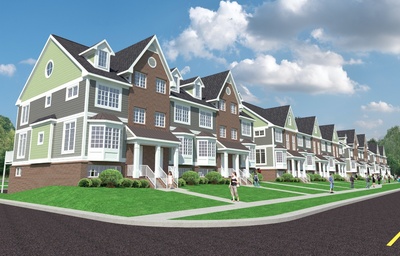 Rendering from architect Brad Moore
Ann Arbor-based Norfolk Development Co. now wants to finish building a scaled-back version of the project, which is being called Blue Heron Pond. Instead of condos, the development is expected to consist mostly of two- and three-bedroom rentals.
Jim Franke of Norfolk Development Co. previously stated rents would range from $1,500 to $1,800 per unit, which is the price range of the existing units.
An 11-unit apartment building stands on the property where developer Michael Concannon originally proposed an eight-building condo development in 2005.
Financing issues and the economic downturn stalled the project, and then lender Fifth Third Bank sold the loan to Norfolk. The existing building on the site was constructed in 2006 and was vacant until last spring when the new owner purchased the property.
Norfolk received approval from the council to construct 53 additional apartment units for a total of 64 units on the site, a reduction from the 87 units previously approved.
The estimated cost of construction is $4.2 million.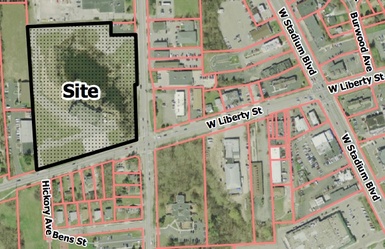 City of Ann Arbor
The nine new buildings proposed will be located around a wetland and four of them will front on West Liberty Street.
The project is proposed to be phased, with the four units along Liberty and associated parking constructed first, and the remaining five buildings constructed in the second phase.
The units will range in size from 980 to 2,577 square feet.
Each unit will have a one-car attached garage and interior bicycle parking. There will be a total of 36 surface parking spaces distributed in nine small parking lots on the site.
The project's architect, Brad Moore of J Bradley Moore & Associates, told city officials Monday night the project team had met with neighbors and addressed all of their concerns. According to Moore, the new plan is less intensive, buildings have been downsized and open space has been increased.
City Planner Matt Kowalski noted the city code requires a minimum of 55 percent useable open space, and a minimum of 65 percent useable open space is proposed.
Moore said the project is expected to start in the spring with the buildings that front on Liberty, and it is anticipated that all the buildings would be finished in 15 to 18 months.
Ryan J. Stanton covers government and politics for AnnArbor.com. Reach him at ryanstanton@annarbor.com or 734-623-2529. You also can follow him on Twitter or subscribe to AnnArbor.com's email newsletters.