Posted on
Tue, May 29, 2012 : 4:38 p.m.
6 highlights from Snyder's speech on Mackinac Island and why he isn't satisfied
By Ryan J. Stanton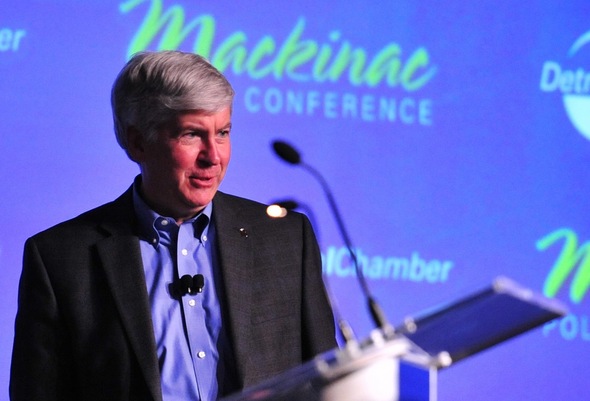 Ryan J. Stanton | AnnArbor.com
Related story on MLive.com: Michigan Gov. Rick Snyder: Budget 'balancing act' left room for tax relief, more education funding
MACKINAC ISLAND — Gov. Rick Snyder used his opening remarks at the Detroit Regional Chamber's annual Mackinac Policy Conference to say he isn't satisfied.
"Now is not the time to be satisfied," he said. "I'm not satisfied at all with where we're at. We have to avoid complacency. We have to avoid being content. We should actually be accelerating and that's why I'm excited about this conference."
Here are six other key highlights from Snyder's opening remarks as the three-day conference kicked off Tuesday inside the Grand Hotel on Mackinac Island.
Addressing a crowd of several hundred business leaders, politicians, nonprofit executives and educators, the former Ann Arbor venture capitalist said he liked the main themes of this year's conference: Innovation, collaboration and competing in a 21st century global marketplace.
1. Veteran unemployment. Snyder decried the fact that Michigan has the second highest unemployment rate of Iraq and Afghanistan veterans at 29 percent. The state also ranks last in the country for utilization of benefits available to them. "That's simply unacceptable and the people that can do a lot to solve that problem are us," Snyder said.
2. 80,000 job openings. Snyder highlighted the state's Pure Michigan talent portal at www.mitalent.org, which connects people with jobs in Michigan. "There are over 80,000 open jobs on mitalent.org. If we filled those 80,000 jobs, we would drop our unemployment rate by over 2 percentage points. That's cool. That's huge."
3. Public-private collaboration. "That's a huge issue that we just need to do better on," Snyder said. "Too often we've gotten in silos. We have a silo of the public sector, a silo of the not-for-profit sector, a silo of the private sector. And if you think about it, too often we'll look to one sector saying, 'Solve this problem.'" Snyder said all three sectors must come together.
4. Global marketplace. "Everything we're doing, we should be asking how we export it. Every single item," Snyder said. "We're a state that makes things, whether we grow it, build it, manufacture it. We should be selling to the globe. And then we should be saying, 'We're the place to build it. If you're someplace else in the world, come here.' "
5. Bragging rights. Despite his lack of satisfaction, Snyder touted the state's successes. "We actually are having great success here, but we have a problem: Michiganders are too humble. We don't brag well," he said. "We have to speak up more. We are the comeback state in the United States right now." Snyder urged the crowd to "go tell everybody else in the country we're the comeback state," but not to be arrogant. "It's time for us not to brag, not to be arrogant, but to point out the facts that we're back and we're going to keep coming back."
6. On the conference itself. "Do not make this a nice event. Make this an event that makes a difference. We control the fate of Michigan. All Michiganders do together."
Ryan J. Stanton covers government and politics for AnnArbor.com. Reach him at ryanstanton@annarbor.com or 734-623-2529. You also can follow him on Twitter or subscribe to AnnArbor.com's email newsletters.