Posted on
Tue, Apr 13, 2010 : 3:15 p.m.
63 Saline teachers get pink slips
By David Jesse
Sixty-three Saline school district teachers found pink slips waiting in their mailboxes when they reported to work this morning.
The layoffs are part of the district's attempt to pare down its budget. After a series of budget reductions, the district is facing a $3 million budget shortfall for next school year, district administrators said.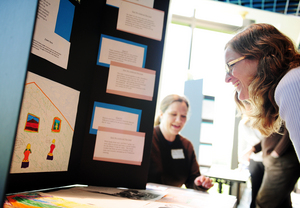 File photo
Of the 63, the district expects to eliminate about 20 full-time positions, said Steve Laatsch, the district's assistant superintendent and spokesman.
But 63 notices had to go out because of teacher contract rules on seniority and federal mandates on who can teach what subjects and grades. It's a somewhat complex system in which teachers in axed positions can bid on other jobs they're "highly qualified" for, thus bumping lower seniority staff.
The school board will be presented with the names of the teachers who received pink slips at tonight's school board meeting, which starts at 6:30 p.m. at Liberty School.
Another factor in the reduction of positions was the decision earlier this school year to close Houghton School, Laatsch said.
"We've got a laundry list of additional cuts that (Superintendent Scot Graden) has been talking to the community in meetings about," Laatsch said.
Staff members who received notices will gather in a meeting this week to talk about the moves and the options they have.
"Is it likely everyone in there will be out of a job? No. Is it likely everyone in there will have a job? No," Laatsch said.
David Jesse covers K-12 education for AnnArbor.com. He can be reached at davidjesse@annarbor.com or at 734-623-2534.