Posted on
Sat, Jun 29, 2013 : 5:59 a.m.
7 people you probably didn't know went to the University of Michigan
By Kellie Woodhouse
It's common knowledge that the voice of Darth Vader and the Queen of Pop went to the University of Michigan.
But did you know that Alice from "The Brady Bunch" studied in Ann Arbor? Or that Selma Blair —of "Legally Blonde" fame— studied photography at U-M?
While James Earl Jones and Madonna are jewels in U-M's crown of celebrities and successful attendees, they're far from alone. AnnArbor.com looked at a recent article on the U-M Heritage website and identified seven of the most surprising people you probably didn't know went to the school.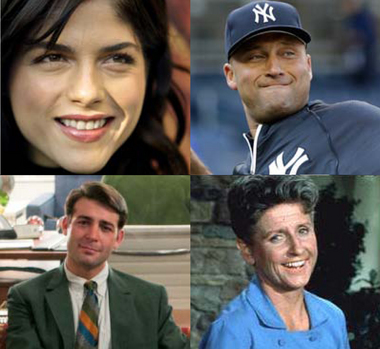 AP and file photos
For example, you probably know the founder of Google and the CEO of Twitter went to U-M, but did you know the creator of the iPod studied engineering at the school in the 1990s and is now a vice president at Apple?
Selma Blair
If you've watched "Legally Blonde" and found yourself cursing the annoying and evil Vivian Kensington, who actually turns out to be quite nice by the movie's end, then you've actually cursed a U-M graduate. Or at least a character portrayed by an actress who graduated in 1994 with degrees from U-M's College of Literature, Science and Arts and the School of Art and Design.
Blair, a 1995 graduate, grew up in Southfield and transferred to U-M from a school in New York City. She moved back to the Big Apple a week after graduating. She's acted in "Cruel Intentions" and "The Sweetest Thing."
Ann B. Davis
Alice Nelson might not have shared the last name Brady with the Brady Bunch clan from the 1970s hit TV series, but she was definitely family. She's also a 1948 graduate of U-M's School of Music, Theatre and Dance who lived in Stockwell Hall. Davis originally thought she would study medicine, but ended up switching her studies to performance art. And it was well worth it: the New York native has a star on the Hollywood Walk of Fame.
Tony Fadell
Have you ever owned an iPod? The iPod revolutionized the way people listened to music on the go, and it was created by a 1991 U-M graduate who studied engineering. Fadell is from Grosse Point and was a member of the Psi Upsilon fraternity during his time at U-M. He also lived in East Quad. He went on to serve as senior vice president of Apple's iPod Division and in 2010 started his own company, Nest.
Derek Jeter
Before Jeter wore New York Yankees pinstripes, he wore maize and blue. To be fair, the famous Yankees shortstop only attend U-M for a semester in 1992, but according to rumor he still makes it to Wolverine home games from time to time.
Jeter grew up in Kalamazoo and took classes in the College of Literature, Science and Arts before leaving Ann Arbor - and a full athletic scholarship— to go pro after being drafted by the Yankees. He lived in Couzens Hall. Due to his father's urging, the Yankees reportedly promised Jeter his college expenses would be covered if pro baseball didn't work out and he wanted to go back to school.
"I never got my degree from Michigan because my baseball career took off," Jeter told Sports Illustrated a decade ago. "But I'd like to return some day, like Rodney Dangerfield did in 'Back to School.' I'm not sure if I could see myself sitting in classes when I'm 40 years old, though."
Betty Smith
The "A Tree Grows in Brooklyn" novelist didn't receive a high school degree, but she did attend classes at U-M when she moved to Ann Arbor with her first husband, a law student, in 1919. They lived on Hill Street. Smith had two daughters while living in Ann Arbor and won the school's prestigious Avery Hopwood Award. She later divorced her husband and moved to North Carolina.
William Shawn
Shawn is another successful Wolverine who left Ann Arbor before graduating. Shawn was editor of The New Yorker for 35 years, from 1952 to 1987, a time when the literary news magazine's influence grew substantially. He attended U-M in the mid-1920s and lived at 408 Thompson St. The notoriously private editor died in 1992.
James Wolk
Wolk is a 2007 graduate of U-M's theater program who has found success in television hits like "Mad Men" and USA's "Political Animals." Wolk originally intended to be a stage actor, but he landed the lead in a Hallmark television movie soon after graduating. Wolk is from Farmington Hills.
This article has been corrected to reflect Tony Fadell's current job.
Kellie Woodhouse covers higher education for AnnArbor.com. Reach her at kelliewoodhouse@annarbor.com or 734-623-4602 and follow her on twitter.