Posted on
Fri, Sep 9, 2011 : 6:32 p.m.
City Place apartments appears ready to move forward; 7 houses could be demolished
By Ryan J. Stanton

Ann Arbor
officials say all indications are that Ferndale-based developer
Jeff Helminski
is poised to move forward soon with demolition of seven houses along South Fifth Avenue, marking the beginning of construction on a
controversial project known as City Place
.
Helminski, one of the development partners, has been in talks with Ann Arbor officials about moving forward on the project. On Friday afternoon, an engineering consultant representing the developer submitted a petition to the city seeking to revise the approved site plan.
"Every indication has been that they are ready to move forward with construction," said Wendy Rampson, the city's planning manager.
For the last few years, controversy has surrounded City Place — a project that calls for knocking down a row of century-old houses along South Fifth Avenue, just south of William Street and downtown, and constructing two box-like apartment buildings. Those buildings, containing 24 dwelling units, would be separated by a 36-space surface parking lot.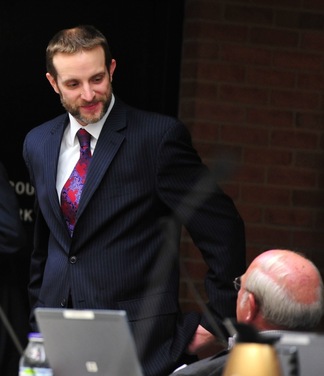 Ryan J. Stanton | AnnArbor.com
The project site plan was begrudgingly approved by the
Ann Arbor City Council
in September 2009, despite concerns about aesthetics and whether the project fits the character of the neighborhood. It legally conformed with city codes, so the council felt it had no choice but to approve the project.
Until now, it's been uncertain whether the project would go forward, but the amendments to the site plan are a sign that construction may not be far off.
"We met with their contractors, who indicated they had been working toward the demolition permits, so they have signed the development agreement, and that is being routed through the city to complete the signatures," Rampson said. "We haven't received construction drawings yet."
Proposed modifications to the site plan include:
Reconfiguration of the internal floor plan, including optional loft levels for third-floor apartments
Elimination of a redundant hydrant
Revisions to the parking lot landscaping and photometric plans
Addition of rear porches
Expansion of lower-level window wells
Minor window placement and exterior material changes
Rampson called those "minor changes" and said they can be approved by the city's planning staff without going to the Planning Commission or City Council.
In the past, Ann Arbor developer Alex de Parry, another partner in the project, was seen as the face of City Place. He was almost always the one to appear before the city representing the development, but some suspect he's distancing himself from the project now, while it appears Helminski has assumed a lead role in pushing forward with City Place.
Rampson said de Parry wasn't there when the city met two weeks ago with Helminski and a representative from Grand Rapids-based Wolverine Building Group, the general contractor on City Place, to talk about moving forward with the project.
Neither de Parry nor Helminski could be reached for comment for this story.
Helminski is better known as the face of the Moravian, another development in the same neighborhood that the City Council rejected in recent years. The website www.moraviancompanies.com no longer exists.
"It's notable that an out-of-town developer seems to be the person who is going to take this over, because I doubt anybody who had ties with Ann Arbor would want to be associated with the project," said attorney Tom Luczak, a neighbor who has fought City Place.
"I'll wait and see how it looks. I hope he makes it as attractive as possible," Luczak said. "And for the community's sake, I hope he uses local union contractors."
The Germantown Neighborhood Association has fought to stop the City Place project over the last few years. In response, de Parry offered a revised project in late 2009 called Heritage Row, which promised to preserve the seven house and build new apartments behind them.
De Parry toiled over the project and revised plans to accommodate the wishes of residents and city officials. Heritage Row still fell one vote short of getting the eight votes it needed to win approval from council last summer, and the council never voted on de Parry's revised version.
The council finally agreed in February of this year to let de Parry bring the revised Heritage Row proposal back through the city's plan review process for a reduced fee.
Considering de Parry was in his fourth year of trying to convince the city to approve a redevelopment of residential property at 407-437 South Fifth Ave. — and that he had paid more than $42,000 in plan review fees — the council cut him a break and agreed to charge only $2,000 to go through the process again. De Parry had 90 days to officially resubmit plans for Heritage Row to the city's planning department, but he never submitted them.
Council Members Mike Anglin and Carsten Hohnke, who represent the 5th Ward, could not be reached to comment on the possibility of City Place going forward.
Ryan J. Stanton covers government and politics for AnnArbor.com. Reach him at ryanstanton@annarbor.com or 734-623-2529. You also can follow him on Twitter or subscribe to AnnArbor.com's e-mail newsletters.