Posted on
Tue, Apr 16, 2013 : 5:59 a.m.
8-hour Ann Arbor council meeting ends with no action on DDA changes or high-rise project
By Ryan J. Stanton
After several hours of debate, some bickering and little action, Ann Arbor City Council Member Chuck Warpehoski called it like he saw it at 3 a.m. Tuesday.
"We're not getting anything done," said Warpehoski, D-5th Ward, urging his peers on council to adjourn the meeting that started eight hours earlier at 7 p.m. Monday.
The unanimous decision to postpone the remainder of the council's agenda until May 6 came as council members were making little progress negotiating their way through proposed ordinance changes affecting the Ann Arbor Downtown Development Authority.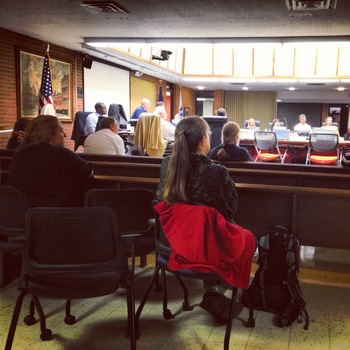 Ryan J. Stanton | AnnArbor.com
No final action was taken on the
changes
proposed by Council Members
Stephen Kunselman
, D-3rd Ward, and
Sumi Kailasapathy
, D-1st Ward.
Council Members Marcia Higgins, D-4th Ward, and Kailasapathy left the meeting early because they had to work Tuesday morning. Without them present, the divided council struggled to muster the six votes needed to amend the proposal on the table.
Mayor John Hieftje pushed for stripping out language that would place term limits on DDA board members. He argued term limits are ineffective and lead to inexperience.
The vote was 5-4 in favor of no term limits, with Hieftje getting support from Sabra Briere, Christopher Taylor, Margie Teall and Warpehoski, but that fell short of the six votes needed.
One change put forward by Briere did pass unanimously. It calls for having the DDA start submitting lists of its proposed capital projects to the city for review during the city's capital improvement plan process — and annual DDA budgets that break down capital costs.
"There's been a lot of question in the community about the DDA acting carelessly with their funds without council approval, and it's my goal to begin to address that," Briere said.
What mostly caused Monday night's meeting to run long was two back-to-back public hearings where dozens of residents and community leaders spoke for hours. One hearing was on the DDA ordinance changes and the other was on a 14-story high-rise proposed for 413 E. Huron St.
The overwhelming majority of those who spoke were against the 413 E. Huron project, which never came up for a vote before the meeting adjourned.
The overwhelming majority of speakers also came out in support of the DDA, urging council to vote against any proposal that would slow the DDA's tax revenue growth.
The fear among many who spoke was that could hinder the DDA's ability to find extra room in its budget to fund affordable housing grants and other programs.
Council members heard from representatives of downtown business associations, the Ann Arbor Art Fair, Zingerman's, Food Gatherers, Arbor Brewing Co., the Ark, the YMCA, the city's Housing and Human Services Advisory Board, Avalon Housing, Dawn Farm, and others representing the area's homeless population, including multiple people from Camp Take Notice.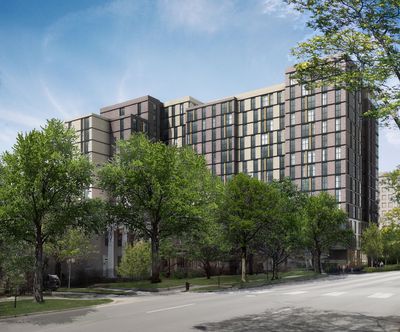 Humphreys & Partners Architects
The DDA is partially funded through TIF — or tax-increment financing — revenue, meaning it captures the increase in taxes resulting from new construction and improvements downtown.
The changes Kunselman and Kailasapathy are proposing would take roughly $931,000 in TIF revenue away from the DDA in the next fiscal year starting July 1, according to the city's estimates.
That includes $559,000 going back to the city, $196,000 to Washtenaw County, $124,000 to Washtenaw Community College and $52,000 to the Ann Arbor District Library.
City officials said the DDA would lose another $173,000 a year starting in 2014-15 from the elimination of personal property taxes, but that's a separate issue.
Hieftje noted the TIF fund balance is expected to drop to $441,860 in 2015-16 and to $264,816 in 2016-17, according to the DDA's 10-year plan. He and DDA officials cautioned against doing anything that could drop the fund balance so low that the authority can't take on new projects.
Council Member Jane Lumm, an Independent who represents the 2nd Ward, suggested it's not so doom and gloom. Although roughly $931,000 would be redirected back to the other taxing authorities, most of that is new revenue that the DDA hasn't even budgeted.
Lumm, who supports putting new limits on the DDA, said the DDA would retain roughly $3.57 million in annual TIF revenue, which is about $280,000 less from what's projected in the current year.
"So what folks are characterizing as 'draconian', 'the sky is falling,' 'dismantling the DDA' — it's all about a $280,000 year-to-year reduction to the DDA's revenues, which is equivalent to about a 1 percent reduction for this $25 million annual operation," she said.
Kunselman at one point pushed for postponing the DDA ordinance changes to the council's second meeting in June, but he couldn't get support.
Hieftje said he had a better idea and urged Kunselman to go along with putting the issue off until after the August primary election to take politics out of the mix. Kunselman, who didn't appreciate the mayor's suggestion that his proposal is politically motivated, said he wants to get the issue taken care of by June so the TIF calculation method is clarified before July tax bills go out.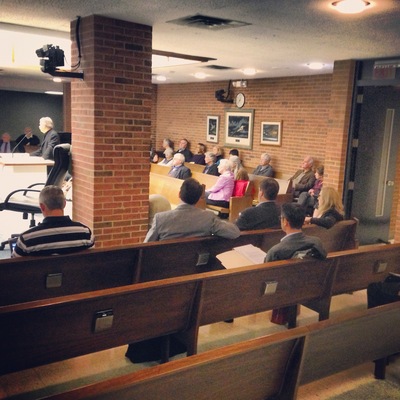 Ryan J. Stanton | AnnArbor.com
Lumm fired back at Hieftje for injecting politics into the discussion. She said it seems like he tries to personally discredit people with opposing viewpoints.
"You tried that with me once as well," Lumm told the mayor, "and I think you would be better served to simply argue the merits of your position, rather than attempt to personally discredit those who may occasionally disagree with you. I think it's unfortunate that the rhetoric has risen to such an uncivil level with personal insults and accusations."
Kunselman assured the mayor his top priority is bringing clarity to the TIF capture methodology. He said he's looking out for the other taxing authorities and also doesn't want to harm the DDA.
"It's not about playing politics," he told the mayor. "We can make it that way if you want to keep talking that way, but I explicitly asked for collaboration."
Kunselman said he feels like he's been the victim of an "outright character assassination" in the last month. He said he'd prefer to work with the mayor on the issue.
"I'm willing to try to collaborate — that's why I want to have this postponement to reach out to the treasurer and to the mayor, to find if there is something we can do to address the TIF calculation methodology," Kunselman said.
The DDA ordinance changes and the 413 E. Huron project will be back on the agenda when the council meets May 6, which also is when a public hearing will be held on the city budget. The public hearings for both the DDA proposal and 413 E. Huron will continue at the next meeting, but anyone who spoke Monday night or Tuesday morning can't speak again on the same hearing.
Even though the 413 E. Huron project has been scaled back, residents who spoke out said they still feel it's out of character with the historic neighborhood to the north.
The proposed building has been reduced by 8,351 square feet to 263,504 square feet — or a floor area ratio of 659 percent, down from 680 percent.
The number of apartment units has been reduced by eight to 208 and the total number of bedrooms has been reduced by 20 to 513.
Vehicle parking was reduced in an earlier revision by 8 below-grade spaces to 124 spaces. Bicycle parking has been increased by 10 Class-A spaces to 185.
There also have been a number of architectural changes, and the overall color palette of the proposed building has been lightened.
"Also, more wood is proposed at the street level, including wood windows and wood siding and ceiling for the covered southwest entrance," city planners wrote in a memo to council.
Ryan J. Stanton covers government and politics for AnnArbor.com. Reach him at ryanstanton@annarbor.com or 734-623-2529. You also can follow him on Twitter or subscribe to AnnArbor.com's email newsletters.