Posted on
Thu, Dec 10, 2009 : 1:59 p.m.
8th annual Shop With A Cop event brings holiday cheer and presents to local children
By AnnArbor.com Staff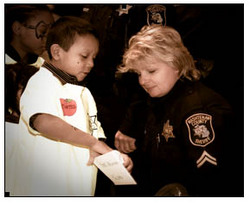 Washtenaw County children got the chance to visit with Santa, see a magic show and, most importantly, go shopping at Meijer on Zeeb Road as part of last night's Shop With A Cop event.
More than 50 law enforcement personnel attended the event, held at Creek Side Middle School in Dexter. They spent the evening with 60 children from around the county for a night of festive fun.
Along with visiting with Santa, the children enjoyed crafts, face painting from Colors the Clown and more.
Now in its 8th year, the event was hosted by the Washtenaw County Sheriff's Department with help from Chelsea and Stockbridge police departments. The event also had wide support from many community businesses and organizations.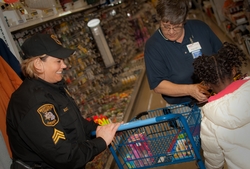 Donations were received from Dexter Community Schools, Lincoln Community School, Ypsilanti Public Schools, Meijer's on Zeeb Road, Dexter Busch's, Wal-Mart on Ellsworth Road, Dexter's Country Market, Big Lots on Ellsworth Road, Dexter Village Bear Claw, Subway on Whittaker Road, Kmart on Washtenaw Ave, Subway on Ecorse Road, Aubrey's Restaurant on Whittaker Road, Save a lot on Washtenaw Ave, the Dollar Store on Washtenaw Ave, and Chipotle on Washtenaw Ave.