Posted on
Wed, Oct 20, 2010 : 9:33 p.m.
John Dingell, Rob Steele differ on solutions to 'political gridlock,' other issues in 15th District debate
By Heather Lockwood
U.S. Rep. John Dingell pledged to protect Medicare and Social Security, while Republican opponent Rob Steele called for a repeal of the federal health care law and an end to out-of-control government spending.
The two candidates went head-to-head Wednesday night at the Monroe County Community College La-Z-Boy Center before a crowd of several hundred people in their first — and likely only — public debate.
Steele, a Republican, is attempting to unseat the country's longest serving congressman in the Nov. 2 election. They're competing for the 15th District congressional seat, which covers parts of Washtenaw and Wayne counties, and all of Monroe County.
Each candidate was allowed a two-minute opening statement and a one-minute closing statement. During the hour-long event, they were given a one-minute initial response and 30-second rebuttals to each question asked.
About half of the questions were related to domestic issues, and half to foreign policy.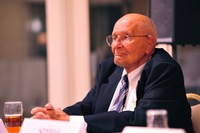 Ryan J. Stanton | AnnArbor.com
In his opening statement, Dingell stressed his priorities of "protecting" Medicare, Social Security and the economy.
"I intend to fight hard for you, as I always have. And to see that government and big business are held accountable."
Steele, an Ann Arbor cardiologist, reminded the crowd of his political inexperience and referred to himself as a "career community member."
"I'm not a politician. Like many of you, I was born and raised in a small town in Michigan," Steele said. "I never wanted to be involved in politics, I just knew I had to step up at this time."
He added, "It's time we send a career community member and a career business owner to fix these problems."
When asked about what they would do to turn the state and the national economy around, Dingell said it is necessary that "trading partners treat us fairly." He called for an end to "currency manipulation" and "unfair trading practices."
Steele called for a repeal of the health care bill and a reduction in what he says is "out of control" federal spending.
"Money gets sent to Washington and goes into a black hole," Steele said. "Washington doesn't know how to take care of communities. Money goes there and it disappears."
On the topic of education, Steele said: "The problem with public school education is not the requirement for more money. We need more effective schooling."
Dingell said that the federal government must assist the states with "proper funding and establishing standards" for schools.
"This country needs to spend more time, money and energy on education," Dingell said.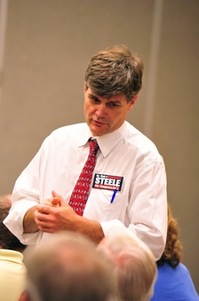 Steele criticized the national health care bill, saying it "makes virtually every single (problem) worse."
"We need to start over and fix the problems that are there," he said.
To which Dingell replied, "I have the curious belief that health care is a right, not a privilege." And, he added, access to health care for Americans is "necessary for a healthy, competitive America."
"Maybe the good doctor would like to tell us which parts of that bill he would like to repeal," Dingell added.
And when asked about the "political gridlock" in Washington, Dingell said, "I want to see a political party on the other side of the aisle that I can work with."
"I remember when Congress used to work because the Republicans used to cooperate," he said.
Steele said, "If you want to end the partisan gridlock in Congress, send me to Washington, D.C. — I'm not a politician."
There was laughter from the crowd when Dingell replied that it was the first time he had heard someone say "the solution to the problem was to send someone who doesn't know anything about it."
On allowing gays to openly join the military and ending the "don't ask, don't tell" policy, Steele said he would follow the advice of military leadership and would support whatever decision it made.
Dingell said, "I see no reason why a citizen should be denied the right to serve their country."
In his closing remarks, Dingell said, "Dr. Steele, you are uttering the exact thoughts of those who were saying they would privatize Social Security," and urged Steele to tell the audience which particular parts of the health care bill he would want to see eliminated.
Steele responded, "If you had accepted more debates, we would have been able to discuss those things."
Steele said he has accepted debate requests from the Southern Wayne County Chamber of Commerce and the Ann Arbor/Ypsilanti Chamber of Commerce. So far, Dingell, D-Dearborn, has not agreed to those debates.
Steele again attempted to use his political inexperience to his advantage by saying, "You need to vote for me, not the career politician who's had 55 years to fix these problems."
Rae Calvin, of Carrollton, Michigan, said she was impressed with Steele's performance in the debate.
"I thought Steele won, but I like him better," Calvin said. "Dingell's been (in Congress) way too long."
Calvin said if she wasn't a Steele supporter before the debate, the event "swung" her "the rest of the way."
"I've been a Democrat all my life, until now," she said. "I'm not a Democrat anymore."
John Bendzick, of Dearborn, said he thought Dingell won the debate.
"I just felt that the substance related to Dr. Steele was much lacking," Bendzick said. "I'm just walking out of here a little on the numb side."
"Mr. Dingell is far more prepared (to spend the next two years in Congress). ... Dr. Steele, he might be a good doctor, but he needs to spend the next two years practicing medicine in Ann Arbor."
Heather Lockwood can be reached at heatherlockwood@annarbor.com.