Posted on
Sat, Sep 10, 2011 : 5:59 a.m.
A soldier's life, shaped by 9/11 and heading back to war
By Juliana Keeping
Tearing down the highway in a black Chevy S-10 pickup, Adam Betz knew he was heading toward war.
On that day, Sept. 11, 2001, the 20-year old Marine raced from his parents' home in Tecumseh toward the burning Pentagon in Washington, D.C.
As the events of that day and the warfare that followed unfolded over the next 10 years in the Middle East and Central Asia, they shaped almost every aspect of his adult life.
Ten years later, Betz - still a soldier - will be knee-deep in preparation for another deployment on Sept. 11, 2011. It will be his fourth.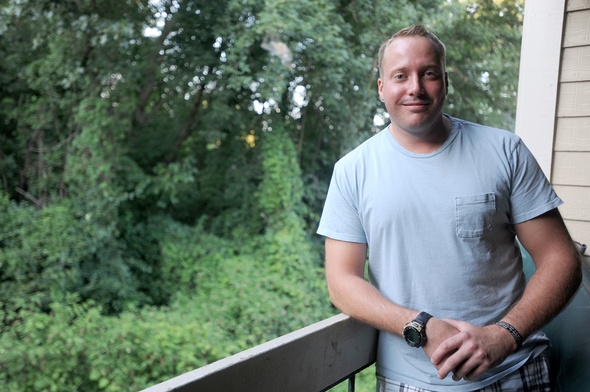 Angela Cesere | AnnArbor.com
The Pittsfield Township resident is one of about 800 Michigan soldiers scheduled to deploy in several months to Afghanistan despite a U.S. troop drawdown there that began in July. Betz is 30 now and a 1st lieutenant with the Michigan Army National Guard's 1st Battalion,125th Infantry Regiment. Its call sign is the Viking Battalion.
The deployment will be the largest single-unit deployment from the state since World War II, said Lt. Col. Ryan Connelly, the battalion's commander.
Today, as much of the nation prepares to mark the 9/11 anniversary, the infantry unit begins training at Camp Grayling, a sprawling National Guard training facility that spans three counties in northern Michigan.
What does the 9/11 anniversary mean to Betz today? It's behind his pending deployment. Other than that, Betz spouts bemused bitterness.
"It's almost like Christmas for people. It's the one day a year people go to church," he said. "Sept. 11 is the one day people realize - 'Oh yeah, we're still at war.'
"That's what it is to me. I know I sound like a crotchety old Korean War veteran, but that's what it is to the American people. The other 364 days a year most people don't even realize we're still at war.
"For those of us in the military, we're at war every ... damn day."
On 9/11, the Marine had been recovering from a night of partying, drinking coffee on his parents' couch when footage of hijacked planes hitting the World Trade Center flashed across the screen. He was three days into a two-week leave.
Betz had been stationed at the Marine Barracks in Washington, D.C., since October 1999.
As the news of the 9/11 terrorist attacks broke, he called the barracks, located about four miles from the Pentagon. Leave was cancelled; he was told to report.
He was on the road by mid-morning.
For as long as Betz can remember, he'd wanted to be a Marine. There was no singular moment that led him to the decision. No sharply dressed classroom visitor nor mesmerizing military commercial that drew him into it. His reasons were not political, although he did feel somewhat patriotic about the endeavor.
It was a chance to earn his keep as a U.S. citizen. The idea of being a Marine, he said, also sounded "manlier," more interesting and challenging than college, which he didn't want to attend.
He signed up at 17 and left for boot camp in 1999 at 18 years old, the day after graduation from Tecumseh High School. Life as a Marine suited him. He got through two years as a "boot" - the derisive term Marines use to describe new guys. He burned off excess aggression in bar fights and eventually earned status as non-commissioned officer, a squad leader in charge of 14 other men.
On 9/11, he passed cops going 90 miles per hour or above on the highway and none stopped him.
The Marine in the truck headed toward the Pentagon would lose five friends in battle and then three to suicide, all events that spun out of 9/11. Deployments inspired him to marry quickly, then end the marriage. He would discover a desire and talent at teaching and go to college.
He knew none of this as he arrived at the nation's capital to find the typically clogged D.C. highways empty. As he neared his barracks, smoke from a Pentagon partially crushed at 9:37 a.m. that day by American Airlines Flight 77 billowed across the highway. It was an eerie scene.
"You could clearly see, there was a big hole in the Pentagon, fire, debris everywhere," he recalled.
He soon was cleaning up that wreckage.
"A week after the events happened, we were asked to help clean up the Pentagon," he said. "It hit on the Army and Navy side. We showed up to help clean up. We cleaned up for a couple of days, and finally, the Army asked us to let them take care of their own guys. They were pulling bodies out and they wanted to take care of their own guys."
Betz was posted at the barracks to defend the U.S. Capitol building and perform ceremonial duties with the Honor Guard. He and other Marines stationed there volunteered instead to deploy.
On Oct. 7, 2001, the United States and Britain launched air strikes against targets in Afghanistan. The move followed the Taliban regime's refusal to hand over Osama bin Laden, whom the U.S. held responsible for 9/11's four hijackings and deaths of 3,000 Americans, and the country's cooperation with bin Laden's al-Qaeda terrorist organization.
Nearly 10 years later, bin Laden is dead, killed by U.S. forces in Pakistan in May. It's estimated that the conflicts that followed his 9/11 attacks have killed an additional 225,000 people, both in and out of uniform. That includes 6,000 American troops and a conservative estimate of 137,000 civilians from Iraq, Afghanistan and Pakistan, according to a June report by the Cost of War project at Brown University's Watson Institute for International Studies.
Searching for blame
In December 2001, Betz boarded a ship to the Philippines from Camp Pendleton in California with the 2nd Battalion, 4th Marine Regiment.
His unit was charged with running missions in support of the Afghanistan war against an obscure terrorist organization called Abu Sayyaf, supporting a SEAL team operation and running humanitarian missions.
Men he served with occasionally took fire that was "no big deal," but were not allowed to return it under the rules of engagement in the area at the time, he said. He returned home in fall 2003.
His service in the Marines had come to a close but he missed the brotherhood of the infantry, he said. He joined the Michigan National Guard shortly after his return, partly because the adjustment to civilian life was difficult.
"It's hard to see how selfish people are back here. How people are just jerks about driving, about how impatient they are and how they complain about things. I have a hard time readjusting after deployments," he said.
Betz' initial plan post-deployment entailed drinking a lot of beer and not much else. That wasn't enough for him, it turned out.
The turning point had come in the military when he was called upon to give classes on historic battles to fellow Marines. He enjoyed it, and got positive feedback from fellow infantrymen and his commanders. Drawing on that experience, he decided to study history and social studies to pursue a career as a teacher.
He enrolled at Washtenaw Community College before transferring to Eastern Michigan University.
Viking's War
Follow 1st Lt. Adam Betz and other Michigan National Guardsmen and women during their training and deployment to Afghanistan on AnnArbor.com. The year-long multimedia initiative is called Viking's War. Betz and others will be filing video reports from the Afghanistan during their deployment. Follow the reports on AnnArbor.com, as well as Facebook and Twitter
As Betz began a new life at home, the Marines he had served with in the Philippines deployed again - this time to war-torn Iraq.
In the April 2004, five Marines he'd served with in the Philippines lost their lives during battles with insurgents in Al Anbar Province. Three more Marines whom Betz counted as close friends committed suicide following the same deployment. One of them was on hold with the Veterans Administration when he hung himself with a telephone cord, Betz said.
At home, the former Marine searched for blame and put some of it on his own shoulders.
"I was home," he said. "There's a lot of guilt there, too, because I decided to get out. I would have been there with them if I had re-enlisted to the Marine Corp instead of going to college."
Feeling increasingly isolated on campus, Betz began a chapter of Student Veterans of America, a nonprofit organization that lends support to veterans on campus.
'Like my brothers'
Five years after Betz joined the National Guard, in 2008, the Viking Battalion was called to deploy to Ramadi, Iraq, the provincial capital of Al Anbar and the same place some of his friends had died four years earlier.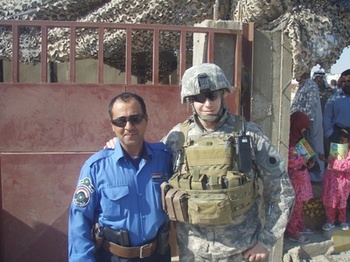 Photo courtesy of Adam Betz
He married his girlfriend of six years in a courthouse ceremony shortly before the deployment.
"I never complained when the deployment came up. I was chomping at the bit to get back in the swing of things by 2008," he said.
Despite the enthusiasm, the deployment would take a huge personal toll on both of them, he said.
In Ramadi, Betz served as a platoon leader in charge of 40 National Guard soldiers. Part of their job was to train the Iraqi police at the provincial government center, a site where Betz said one of his Marine friends had been killed in 2004.
Some of the prospective policemen had the habit of misfiring weapons in the direction of U.S. soldiers. The misfiring felt a lot like pot shots.
When he got back in December 2008 there were problems and tension between him and his wife that counseling didn't solve. He declined to go into detail.
When the opportunity for a fourth deployment came up, he could have stepped down. But he chose to go.
"I didn't feel pressure from my unit to stay in," he said of the Viking Battalion. "It's a decision I chose to make."
"These guys literally are like my brothers," he explained. "If they're doing something difficult or dangerous, you're going to go there to back them up. 'Cause you want to make sure they make it home. You're more concerned about them than yourself. That's why I love the infantry so much."
The choice to deploy again hurt the already strained marriage. She filed for divorce; it was finalized in May 2010. Betz earned his college degree later that year.
Today, Betz is on leave from his position as a military representative with Davenport University, where he helps students take advantage of benefits offered through the Post-9/11 GI Bill.
His continued military service now has nothing to do with the patriotism he'd felt as a young man, he said - even though on Aug. 31 he had 'Don't tread on me' tattooed on his left pectoral, under a timber rattlesnake, the message and symbol used on the flat of the Continental Marine Corp during the American Revolution.
The words and image are overlaid on crossed rifles, which signify the infantry. The fist-sized tattoo he added to his body follows a 'USMC' tattoo across his right bicep he got during his Marine days.
On this next deployment, he'll serve as the second in command of a company of 250 men - the Viking Battalion is composed of six companies based out of cities all over Michigan. Headquarters Company is the largest and based in Flint.
Whlie training begins today in Grayling, the deployment is scheduled in the New Year, though at any moment, orders could change.
Betz considers his primary mission to get all soldiers home alive.
And he considers himself less naive than the 20-year old in the truck, tearing toward the unknown. He drinks better beer, and skips the fights. On Thursday, his last night home for over a year, he chose to sip whiskey and smoke from a corn cob pipe, sitting in a large brown leather chair, his primary claim from the divorce. He packed, then watched a few episodes of The Daily Show.
What hasn't changed?
He still drives a pickup. And he's still barreling toward war.
This series is funded by George Polk grant affiliated with the George Polk Awards program at Long Island University.
Juliana Keeping covers general assignment and health and the environment for AnnArbor.com. Follow Viking's War on Facebook and Twitter
Reach her at
julianakeeping@annarbor.com
or 734-623-2528.
Follow Juliana Keeping on Twitter