Posted on
Sun, Nov 18, 2012 : 12:51 p.m.
A photographer's perspective of shooting a high ropes crane rescue simulation
By Daniel Brenner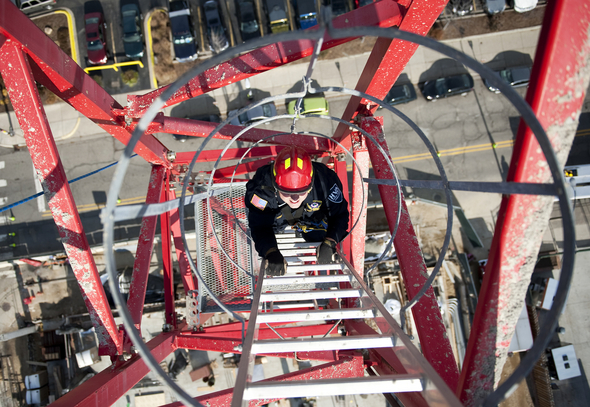 Daniel Brenner | AnnArbor.com
Related: Rescue team simulates crane rescue on downtown Ann Arbor high-rise (WITH GALLERY)
After seeing an assignment to photograph an emergency medical rescue simulation on Sunday, I knew the event would yield some dynamic photographs. I did not know, however, I would be climbing a 164-foot crane to get them.
After arriving on scene, I began talking to the technicians and shooting a couple pictures. Because it was a construction site, I was given a hard helmet and assumed this would be the extent of the intensity of my morning. I was wrong.
Because this was many of the participants' first experience being in a high-rise crane, the preparations and safety precautions took quite a while. After a few uneventful moments went by, I convinced an emergency rescue technician to wear a GoPro helmet camera and hoped for the best.
After he started to climb, another technician suggested I go up as well. My heart skipped a beat. I immediately sought team director Dan Cain and asked for permission. I explained to him I have no fear of heights and would be extremely careful. He didn't hesitate to say yes. I removed the items from my pockets, put on some gloves, secured my camera gear, and approached the ladder.
I was warned the structure would sway about halfway up because of the wind. Honestly, I wasn't concerned. The trek was long and repetitive, but it had a nice view of Ann Arbor. Upon reaching the top, there were about seven rescue technicians harnessed in hanging off the side or on top on the crane. Ropes was going in just about every direction and commands were being screamed over the high, whistling winds.
There was barely enough room for me and my camera. After documenting a successful rescue simulation and filling up a memory card, I made my descent. I remember feeling extremely excited about the pictures and footage from the video camera. I grabbed the GoPro and left for the next assignment of the day.